Pastel-colored villages perched on rugged cliffsides with boats laying near the harbors. This is probably the most known postal card view of the Cinque Terre towns. There is a good chance you have once seen a picture of these famous villages of the Italian Riveria. Magnificent views by sunset on a summer night pop into mind, and they are even better in real life! The five fishing villages are undeniably one of Italy's most famous getaways, no wonder this place is on many people's travel bucket lists.
In this travel guide to the 5 towns, we will take you along all the best places and viewpoints that Cinque Terre has to offer. Further, we share our recommendations and travel tips so you can enjoy this slice of heaven on the Italian coast to the fullest. Practical information on how many days you need, what's the difference between the villages, and how to get to them, this guide got you covered for your trip to Italy's five lands. Last but not least, the best places to stay if you want to spend a night (or more) and the best places to have the most delicious food and Aperitivo! Because what is a trip to Italy without enjoying some of the best food in the world? In the end, we included our perfect 3-day Cinque Terre overview which you can easily take over or alter to your liking.
No time to read now? Pin it to Pinterest for later!
* Disclosure: This post contains affiliate links. We will receive a small commission if you book through our links. This is at no extra cost to you. This way you're helping us write awesome travel guides and keep providing you with free content. We only recommend products we like and trust ourselves.
Travel Guide to the Cinque Terre Towns
These five picturesque villages are absolutely breathtaking and are worth a visit, even if you can only squeeze in one day. We ourselves were always dreaming of going but at the same time fearing it might turn out overhyped and just be one big tourist attraction park. Although you can't get around the fact that the Cinque Terre towns are really popular and can get busy at some points, we were happily surprised. In the end, Cinque Terre exceeded our expectations and turned out to be even more beautiful. You can definitely enjoy Cinque Terre's beauty in a serene way.
Cinque Terre 10 Must-Do Activities
Hike one of the trails that connects the five villages for epic views
Grab a pizza and enjoy the sunset in Riomaggiore's marina
Climb the Belfort Tower at Doria Castle in Vernazza
Find yourself at a quaint little bar in Corniglia and try out the local wine
Discover the many breathtaking viewpoints of Vernazza
Explore the vineyards of Cinque Terre during a wine tour
Have a beach day at one of Monterro's refreshing beaches
Enjoy some Italian Aperitivo at Nessun Dorma with the most iconic view
Eat fresh fried seafood out of a cone from Tutti Fritti in Riomaggiore
Go on a romantic private boat tour during sunset and watch the villages from the water
What are the 5 Towns of Cinque Terre?
Contrary to what some people think, Cinque Terre is not one destination. It's a collective name for 5 fishing villages that stretch along the Italian Riviera coastline. They are located in the Liguria region of Northern Italy, halfway between Genoa and Pisa. The name Cinque Terre means Five Lands or Five Villages, which is pronounced as cheen-kweh teh-rreh. From North to South, the five towns are Monterosso al Mare, Vernazza, Corniglia, Manarola, and Riomaggiore.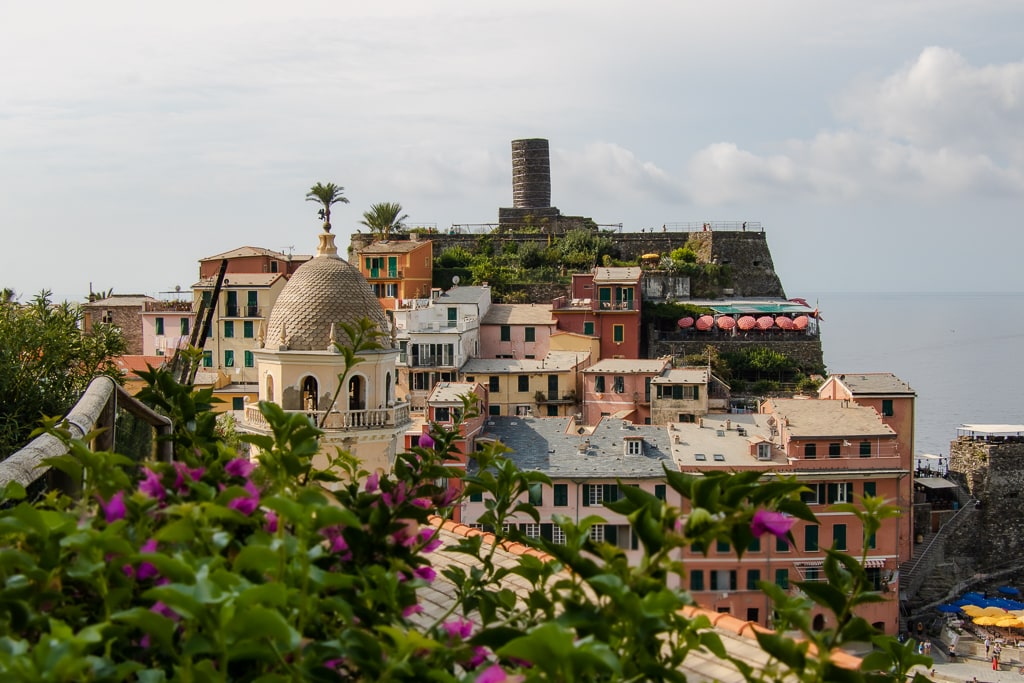 Each of the villages has its own charm and atmosphere with its colorful pastel-painted houses perched against steep cliffs. Together they are part of the National park of Cinque Terre (or Parco Nazionale Delle Cinque Terre), of which the hilltops offer amazing walking routes between each of the towns. The park only covers 38 square kilometers but is packed with some of the most beautiful scenery you will ever see. A mix of dramatic rocky cliffs, the clearest blue water, terraced vineyards, and charming coastal villages. Since 1997 the whole area is recognized as UNESCO World Heritage Site, Italy's smallest and oldest national park.
Surrounded by green mountains with olive groves, the scenery with its tiny picturesque colorful houses simply looks like a painting. Each of the villages is nestled against these rugged cliffs, making them strikingly photogenic. The magnificent coastline draws a staggering 2.4 million visitors a year. From five sleepy fishing towns to one of the most popular spots on the Italian coast, you can say Cinque Terre went through quite a transformation. Since cars are banned inside, you can really soak in the historical character of these century-old coastal villages. Whether you are into hiking, enjoying some amazing Italian food, swimming in the blue water, or taking one of the boat tours, there is something for everyone in the beautiful towns of Cinque Terre.
Practical Information About the Cinque Terre Towns
Is Cinque Terre Worth visiting?
As you might have guessed Cinque Terre became quite an incredibly popular tourist draw, with an influx of around 2.5 million visitors every year. Like many other famous Italian places like Venice, the villages battle with over-tourism. Unfortunately, this is an inescapable reality if you wish to visit. Cinque Terre is high up on many travelers' bucket lists, so saying that they can get really crowded is an understatement.
Even though the place became an Instagram mecca and it's one of the most visited places in Italy, we still think it's really worth visiting (preferably for multiple days). Just like many other popular destinations in the world, it's popular for a reason. The beauty and ambiance of the five villages are unmatched and also exceeded our expectations.
However depending on when you go, the time of the day, and the year, you are able to enjoy the serenity of the fishing villages. It is possible to find off-the-beaten paths so that you can enjoy a more quiet and authentic Cinque Terre. Starting your days early and spending the night gives you the opportunity to explore the villages when the one-day trippers are gone. The hiking trails which connect the 5 towns are the best way to slowly enjoy Cinque Terre and have the best authentic experience. The quiet paths take you along the local's vineyards and gardens, treating you to some amazing smells and spectacular green views along the coastal lines.
What are the Cinque Terre towns known for?
The colorful houses | Of course, this is the main attraction and what Cinque Terre is known for. The vibrant pastel facades of the quaint little houses of the villages built on the rocky cliffs along the beautiful coastline.
The Picturesque harbors | Since the villages are located along the coastal line, 4 of the 5 villages are reachable by boat through their harbors. These give you some magnificent views of the villages, the perfect hangout spot to spend an afternoon and take a refreshing dip in the water.
Great Hiking Trails with stunning nature | The five villages are connected by the Blue Hiking Trail, taking you on a scenic road along the coast.
Mouthwatering Italian Cuisine | This region is known for pasta pesto and some heavenly fresh focaccia bread that you have to try! Of course, fresh seafood as the towns is fishing villages located right next to the water. Anchovies are one of the local favorites, perfect to have as an appetizer with local wine.
How many days do you need in Cinque Terre?
There are many tourists that visit Cinque Terre on a day trip from one of the closeby cities like Milan or Florence. And yes it is possible to see all 5 villages in one day since they are rather small. However, this would be a hectic day where you only catch a glimpse of each town.
Hopping from one village to another in one day doesn't give you the chance to fully soak up the atmosphere. You would be missing out on the true Cinque Terre experience. Such as enjoying some lovely Italian Aperitivo, spending a relaxing afternoon at the beach, or hiking one of the trails.
Ideally, you want to be spending at least 3 days in Cinque Terre to fully experience all it has to offer. We personally booked 4 nights to have 3 full days and it was perfect (you can find our 3-day itinerary overview at the bottom of this article.). It allowed us to slowly discover each town, as well as Levanto (right next to Cinque Terre where we stayed), hike the trails, and really enjoy La dolce vita which Italy is known for. Each village has a different atmosphere at each time of the day, so by spending multiple days you can always return to one for sunset and dinner.
Moreover, spending a night in Cinque Terre allows you to experience them without the tourist crowds. We noticed that most tourists started to arrive by 11 am, so we loved getting up early and spending our mornings walking through the narrow streets of the villages when everyone was still asleep. Strolling around after dinner when the tourist masses are gone and sitting by the water with almost no soul around is the ultimate way to experience the true magic of Cinque Terre!
What is the best time to visit Cinque Terre?
During the summer months, Cinque Terre will get very busy. Besides international tourists, you will also have a lot of local tourism in August since Italians have their holidays. So considering that the villages aren't really big, you will encounter big tourist crowds. Accommodation gets booked up pretty far in advance and temperatures can get scorching hot, which is not ideal if you love hiking.
Unless you have your heart set on ideal swimming conditions, the best time to visit Cinque Terre would be during the shoulder seasons. This would mean during spring (April, May & June) and fall (September & October) when the crowds are more moderate. You might find better prices for accommodation during these months compared to the high season. Temperatures during the day are pleasant & comfortable, so perfect for exploring the villages and hiking the trails, but it can cool off in the evening. Keep in mind though that the months of April, May, and October have the highest likelihood of rain.
Although the villages can also be pretty during the winter months (from November till March), it's not really advised to visit either. Many businesses, tours & activities are closed during the off-season, and although you might have the paths mostly to yourself you risk that the hiking trails are closed off due to the weather conditions.
Should I purchase the Cinque Terre Card?
Regarding the question of whether or not to get the Cinque Terre Card, we would advise you to make the calculation and see if it's worth it. Most of the time it does! If you know that a one-way train ticket between the Cinque Terre towns costs 5 euros per journey, you easily get your money's worth out of the card. The ticket makes your day easier since you don't have to buy a new train ticket each time you travel between villages.
There are two types of cards available: The Cinque Terre Trekking Card and the Cinque Terre Train Card. The first one gives you access to the trails from Monterosso to Vernazza and the trail between Vernazza and Corniglia (other trails are free). A 1-day ticket for an adult costs 7,5 euros and for 2 days 14,5 euros.
The second card gives you besides access to the hiking trails also unlimited train travel on the line from Levanto-Cinque Terre – La Spezia. A one-day card for an adult cost 18,20 euros, 2 days 33 euros, and 3 days 47 euros. The validity of the cards always runs until midnight.
Personally, we advise you to get the combi-card so you have everything covered. Some of the viewpoints, like the one in Vernazza, are part of the hiking trails that you can only access with a card. You can purchase the Cinque Terre cards at every train station or at one of the Tourist Information points in one of the towns, Levanto or La Spezia. For more information on the Cinque Terre Card, updated prices, and special prices for seniors, kids, and groups check out the Cinque Terre Card Website.
How to get to the towns of Cinque Terre?
Although the Cinque Terre towns are located somewhat more remotely, surrounded by the mountainous landscapes near the coast, there are a few ways to get there.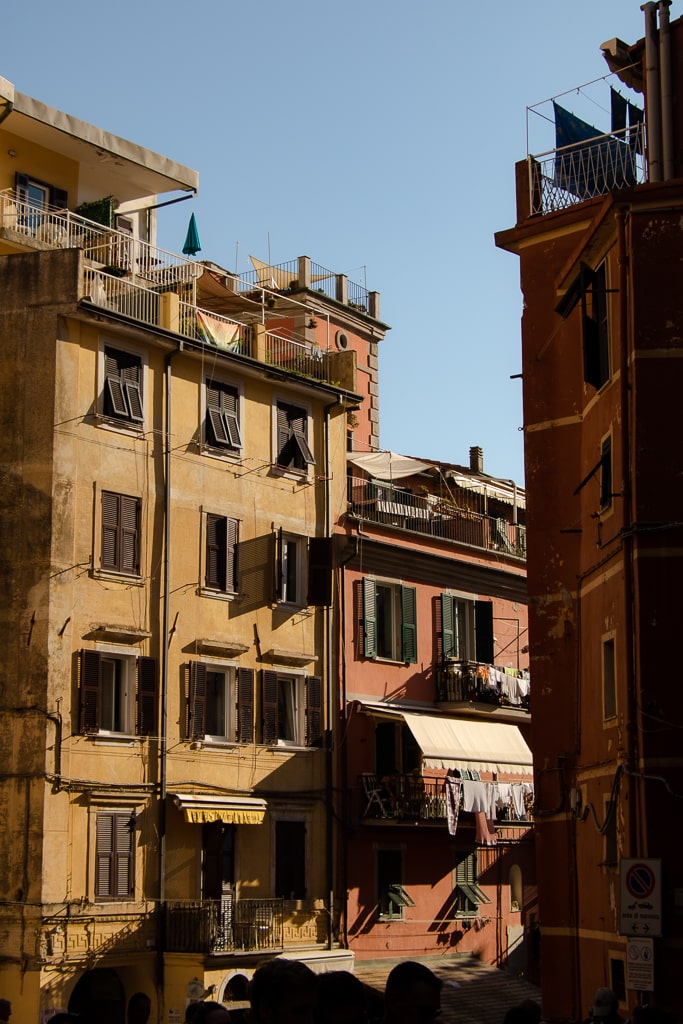 Cinque Terre By Plane
The area of Cinque Terre doesn't have its own airport, so if you are traveling from outside Italy via plane you best book tickets to Pisa, Milan, or Genua. From both these cities, you can easily travel to Cinque Terre by train or book a day trip.
Cinque Terre By Train
The easiest way to travel to Cinque Terre from major neighboring Italian cities, such as Florence or Pisa, is by train. Many people book a day trip to the five villages, but as mentioned it's worth spending a couple of days here. 
When you are coming from Genua, you will have to take the train in the direction of La Spezia (the city located south of Cinque Terre). Coming from Florence you will first need to take the train to Pisa, after which you will have to transfer to another train to La Spezia from where you take the specific Cinque Terre train. If you are coming from Milan, it will take you around 3 hours to get to the villages. Take first an intercity train to Livorno, from where you can transfer to a local Cinque Terre train as well. You can book and check timetables for Cinque Terre (direction La Spezia or Levanto) on the Trenitalia website. 
To give you an idea of the travel times from neighboring major cities:
Genoa to Cinque Terre: ~ 1 hour
Pisa to Cinque Terre: ~45 min
Florence to Cinque Terre: ~ 2 hours
Milan to Cinque Terre: ~3 – 3.5 hours
Cinque Terre By Car
Are you planning on doing a road trip through Italy? Then traveling by car is definitely the best way to see the country. However, it's not possible to enter the 5 towns of Cinque Terre by car. You will have to leave your car in a nearby city such as Levanto or La Spezia and travel further from there to the villages. Parking in these places is definitely more accessible and also way cheaper. So that's exactly what we did since we were traveling from Bologna.
We opted to book accommodation in Levanto, where we parked our car near the train station during our 3-day stay. Levanto is the first city north of Cinque Terre, above Monterosso, where all the trains pass through anyway. So just like La Spezia (the city south of Cinque Terre), it's really easy to travel between the villages. Some people also opt to park in Monterosso, the first and biggest of the five villages, but the parking fees are very high here and the area is hard to reach.
How to get around the towns of Cinque Terre?
Be aware that Cinque Terre is a pedestrian-only area and that cars are not permitted in the towns (except for commercial vehicles). So as mentioned if you are traveling by car through Italy, you will have to park it at a parking lot in a nearby city such as La Spezia or Levanto (which can get pricey). There are three ways to get from one village to the other in Cinque Terre: By Train, by boat, or by hiking.
Train
The easiest way to travel between the villages of Cinque Terre is by train. Every village is only around 5 minutes apart by train and it costs you €5 per ride. You can buy your tickets directly at the train station or via the Trenitalia website. As mentioned it's a good idea to look into the Cinque Terre Card! Trains run frequently, during the day you will never have to wait more than five minutes. It's the most comfortable, fastest, and inexpensive way of traveling. All train stations (except Corniglia) are located right in the heart of each town, so very accessible.
TIP | To check real-time train timings download the Trenìt app. This one really comes in handy!
The app definitely is useful in case of strikes, which can happen. On one of our days, we had some major delays. Although it's unlikely you run into strikes, it's always good to check any planned strikes, for which you can check the following (Italian though) website or check upfront with your accommodation.
If you are traveling from Genoa (Genova) you have to take the local train towards La Spezia, the train stops at each village. If you are coming from La Spezia take the Cinque Terre Express in direction of Levanto (and Vice versa if you come from Levanto).
Hiking
Hiking is one of the best ways to fully experience Cinque Terre and a popular way of traveling between the five towns. The most popular trail is the Blue Path (or Sentiero Azzurro) which goes along the coastline connecting the five villages over a total 12-kilometer-long path. You are only allowed to hike with the Cinque Terre Card between Monterosso and Vernazza, and between Vernazza and Corniglia. Currently (2022) the hiking trail between Manarola and Riomaggiore (also known as Via dell' Amore) is closed until the summer of 2024. Hiking one of the trails is an absolute must-do on your Cinque Terre itinerary. You will enjoy some of the most serene and beautiful views of the villages, surrounding mountains, and the bluest waters.
There are many more free trails available, such as the one from Levanto (the city north of the five villages) that go to Monterosso. We can highly recommend doing this one, it's a lovely trail, and you won't encounter many other tourists on the way. In all honesty, the hike is more on an intermediate level, the internet might say easy, so you do need appropriate footwear. There are also higher-situated hills trails that are often open between the villages. Always make sure to double-check with a local or tourism office about your hiking plans if the trails are open and accessible (sometimes they are closed due to storms or landslides). Depending on the season (winter mostly) some of the trails are completely closed due to safety measures.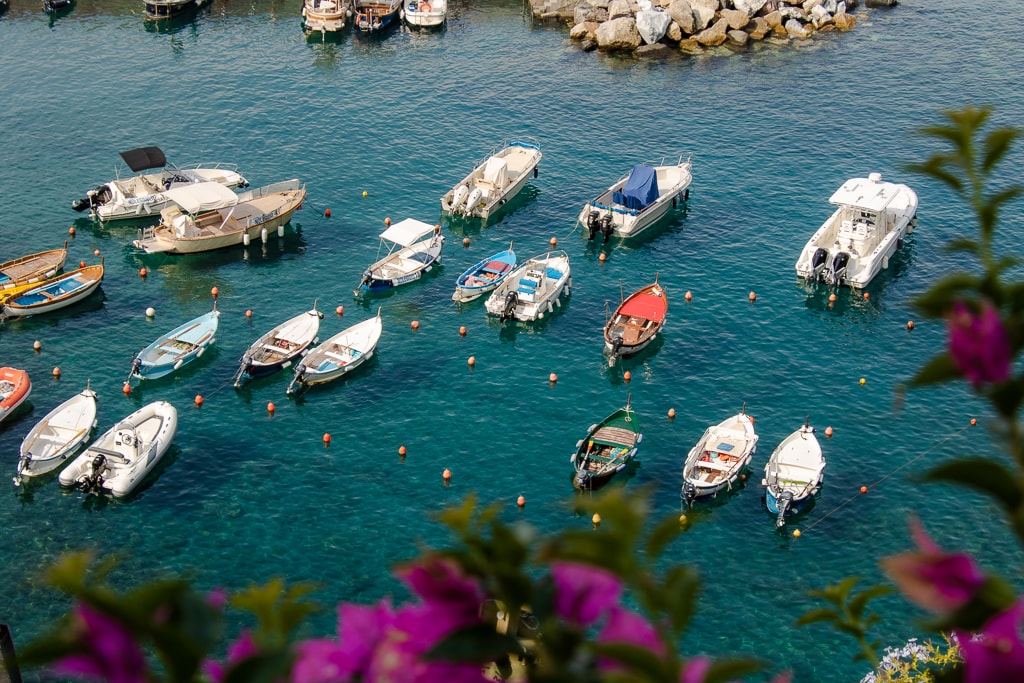 Boat
Another fun way to visit the villages is by taking a boat on the gorgeous turquoise water. This way you can see the colorful fishing villages along the beautiful coastline from another perspective. There is a ferry that runs between the villages from the end of March until the end of October. They run frequently, starting from the ports of La Spezia and Portovenere, and make stops in Monterosso, Vernazza, Manarola, and Riomaggiore. Since the village of Corniglia doesn't have a harbor, the ferry doesn't make a stop there. The best way is to purchase a half-day or one-day ticket (starting from €30), which gives you unlimited access and makes it easy to hop off of the ferries. One-way tickets with the ferry start at €5 (prices depend on destination). For more information on prices and timetables check the website here.
If you don't mind splurging there are also private boat tours available, for example, a romantic boat ride during sunset accompanied by Italian aperitivo.
Is a Cinque Terre Tour necessary?
If you are thinking of doing just a day trip to Cinque Terre from one of the bigger cities like Milan or Florence (that are located more than 1,5hour away) and you don't want the hassle of figuring out transportation yourself, then booking an organized tour is a good idea. Depending on where you are coming from it might be a pain to get to Cinque Terre by public transportation. So booking a tour that takes care of all the logistics for you might be interesting. This way you can be sure to not miss any of the major highlights of Cinque Terre during your day visit:
What to pack & bring for Cinque Terre
The below is not imperative, but it can make your travels more worry-free, definitely if you decide to go hiking:
Sun protection | Make sure to bring some sun protection in the form of sunscreen, a hat, and sunglasses. We went at the end of August and the sun got scorching hot before noon. As a sunscreen for the face we can recommend Sun Bum Original SPF 50 Sunscreen Face Lotion, and for body Sun Bum Original SPF 50 Sunscreen Lotion, both are oil-free, water-resistant, and reef friendly.
Mosquito repellent | We highly recommend bringing some mosquito repellent when going in the summer. Definitely for the evening, but you might also encounter some while hiking if you start early in the morning.
Descent footwear | For the trails we advise you to wear sturdy footwear because parts can get really rough. Especially if you lack experience and expect rougher terrain, it is necessary to wear shoes that give you extra support, grip, and stability on difficult surfaces such as pebbles and gravel. For men, we can advise the Salomon Men's X Ultra 4 Mid GTX Hiking shoe. For women the Salomon Women's Supercross GTX W Hiking Shoes. Even in the villages themselves, you will want to wear a sneaker if you plan to walk a lot, those streets aren't made for stilettos!
Daypack | As a backpack to store sun protection, water, and some snacks we love the light daypacks from Deuter. We also use their bigger model 'Deuter Giga' if we need to bring more stuff like a laptop.
Water Shoes | Only Monterosso has a sandy beach, all the other villages have harbors where you can go swimming but they have sharp rocks everywhere. These can get really painful for your feet, so bringing water shoes might be more comfortable.
Things to do in the 5 Towns of Cinque Terre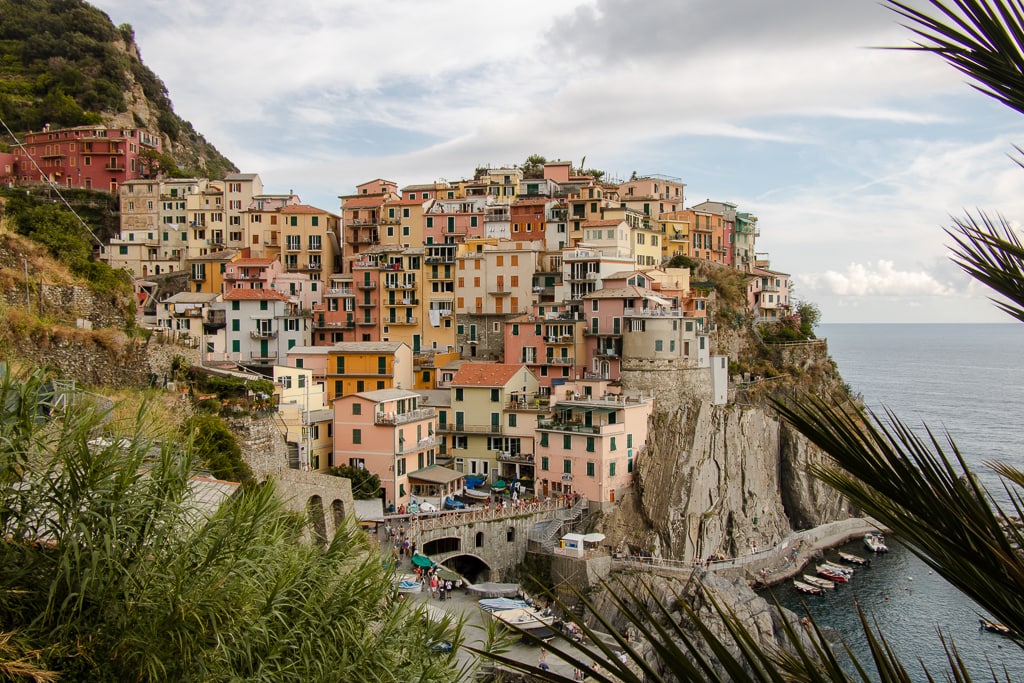 There are no specific must-see sights in Cinque Terre since the 5 towns are one big open-air museum by themself. Visiting Cinque Terre is all about strolling around and exploring each of the quaint colorful villages, the hiking trails, and the beautiful scenery along the way. The best thing to do is relax, indulge in some gelato, Italian Aperitivo, and soak up the atmosphere and stunning views. However, with that being said, there are plenty of things to do to keep you busy for some days!
Monterosso al Mare – Cinque Terre
Ready to spend an afternoon relaxing on the beach? Monterosso al Mare is the largest and most northern village of the five. It's home to the only sand beach in Cinque Terre, filled with sunbeds and its iconic orange & green striped umbrellas. Most parts of the beach are private, where you can reserve a sunbed with an umbrella for around €15 for a full day. There are also many people relaxing on the rocks further up, which are free to enjoy.
Grab something to eat like focaccia or cornetto, enjoy a drink like a coffee or Aperol spritz in one of the many beach bars or stroll through the little shopping streets. The town exists in two parts, old and new, which are separated by the train tunnel.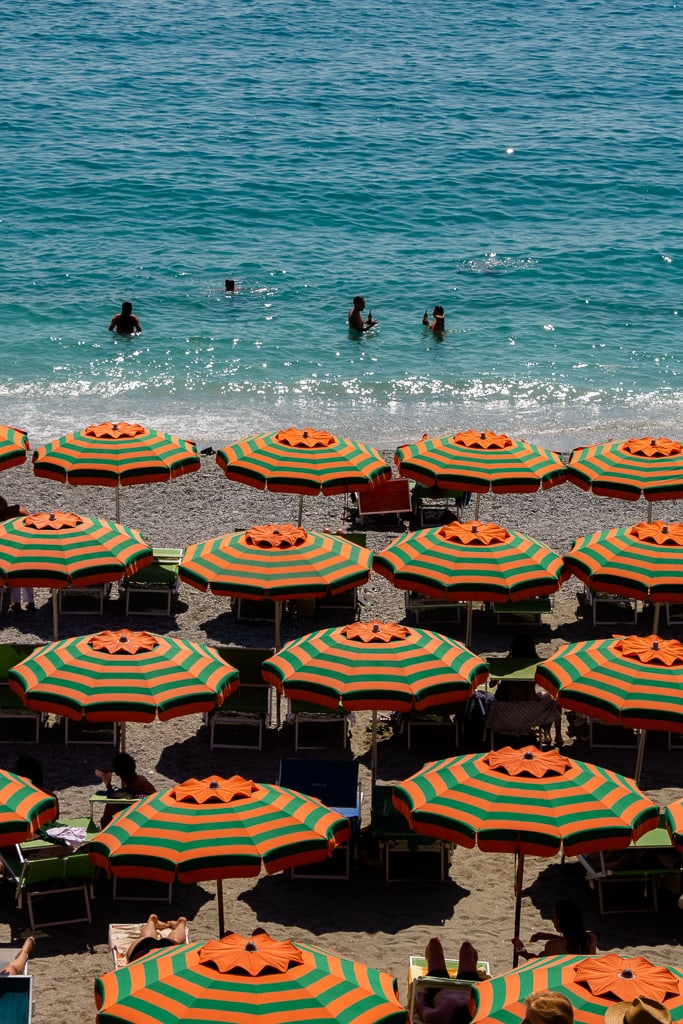 MONTEROSSO AT A GLANCE
BEST PHOTO SPOT | The platform before the tunnel (in between the new and old town of Monterosso), from here you can spot the Scoglio de Monterosso (the big rock in the water), in front of the beach with its iconic colorful umbrellas.
BEST THINGS TO DO | Take a refreshing dip at the beach, stroll through the old town, walk along the beach promenade, soak up some sun at the beach, and visit Oratorio di Neri (a church decorated with skulls & skeletons)
As you can imagine, this particular village is most beloved among families with children because of its beach. It also has a large selection of restaurants and is the most "resort-like" kind of place in Cinque Terre. So unless you are coming with kids and have your mind set on laying on the beach, the other villages are way more impressive in our opinion.
Vernazza – Cinque Terre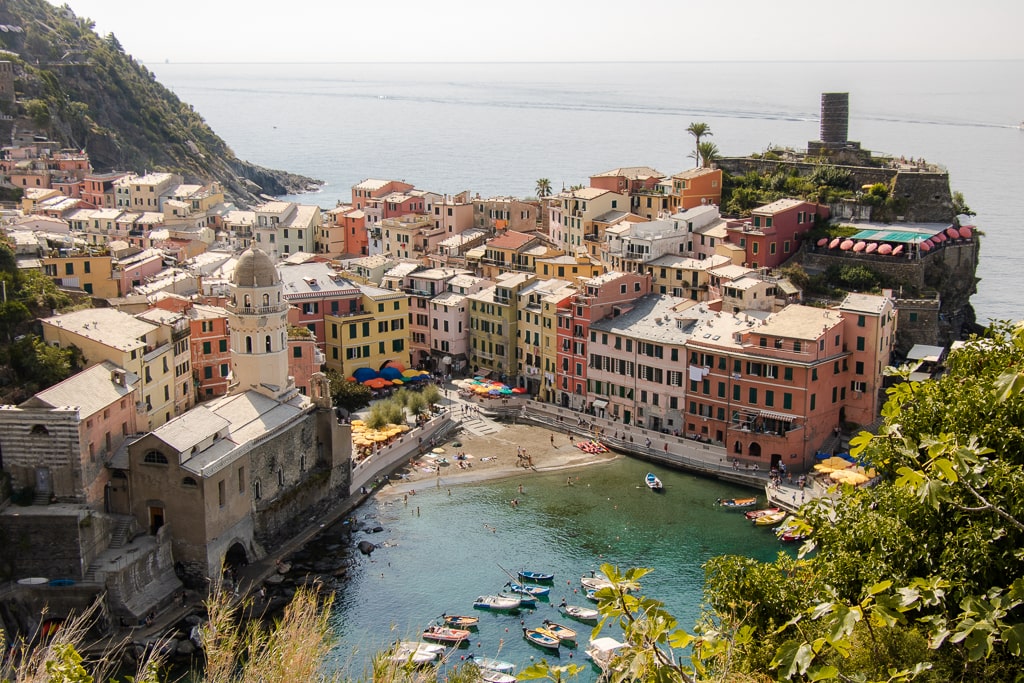 Vernazza is by most people considered the most beautiful village of them all. And we can't argue with that! With its cute little alleyways filled with small shops selling local products. The vibrant main square Piazza Marconi with cozy bars and restaurants overlooking the harbor. The views of the marina with its rugged coastline, while enjoying a walk on the promenade. We wandered around here for at least half a day. Make sure to explore the many sidestreets, where you will find one cute corner after another. And of course, a day in Italy wouldn't be complete without some gelato. Head over to Gelateria Vernazza for some delicious creamy gelato for a fair price.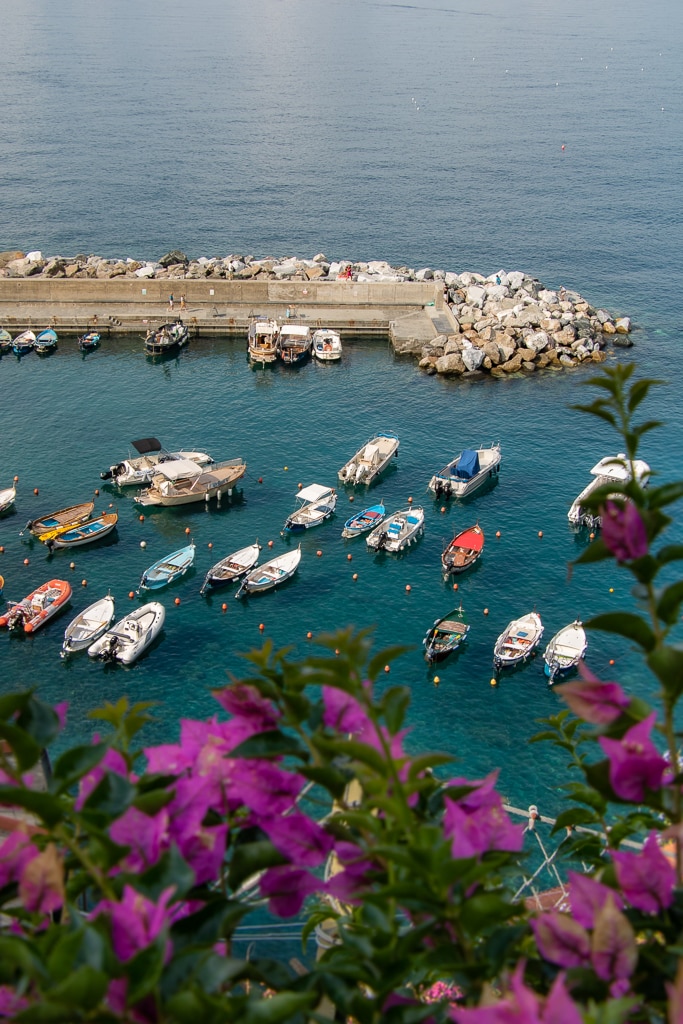 VERNAZZA AT A GLANCE
BEST PHOTO SPOT | Vernazza has two amazing viewpoints on each side of the town. They are located at the start of the Blue Path, on the trails to Monterosso and Corniglia. To get to these viewpoints you will need the Cinque Terre Card (even if you don't intend to go hiking).
BEST THINGS TO DO | Hiking up to the viewpoints, wander around the central square of Piazza Marconi, stroll along the waterfront promenade, get lost in the narrow little streets, Climb the Belfort tower at Doria Castle
Climb the Belfort of Doria Castle
The moment you arrive in Vernazza, the Belfort tower immediately catches the eye. This medieval tower is located within the ruins of the 13th-century Doria castle. From here you can enjoy a beautiful view of the colorful harbor and turquoise surrounding water. The castle itself is the longest-standing fortification in all of Cinque Terre. You can reach the castle from the narrow staircase located next to the harbor.
ENTRANCE FEE | €1,50 per person
OPENING HOURS | From September till April 10 AM – 7 PM; From May till August 10 AM – 9 PM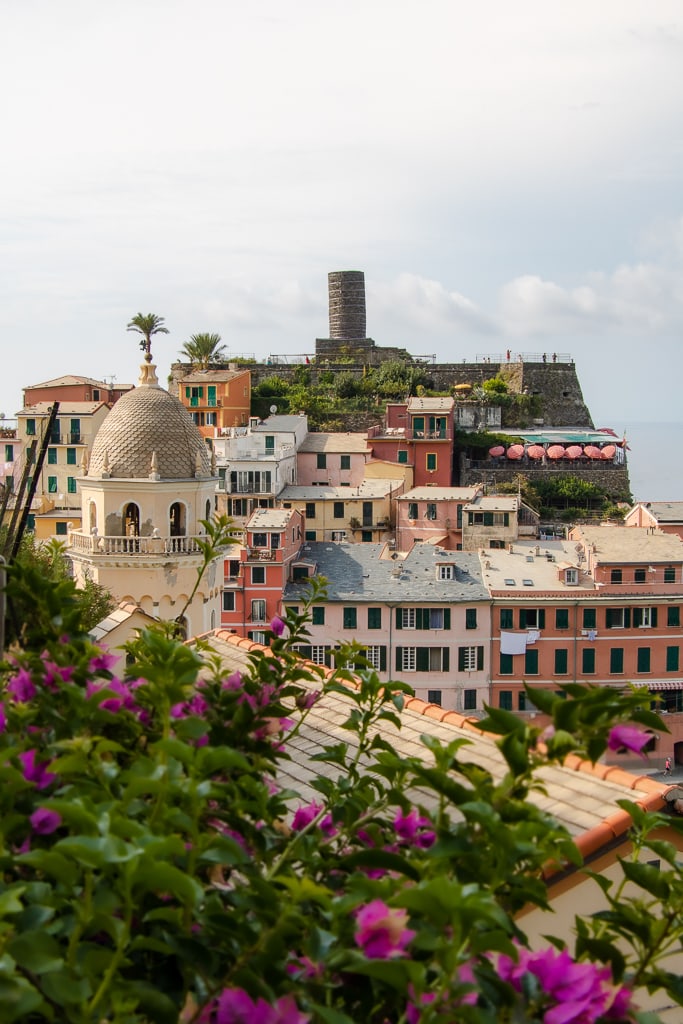 The many viewpoints of Vernazza
The best part of Vernazza is that, unlike other villages that usually only have one postcard-worthy viewpoint, it has four viewpoints of its picturesque village. On the Blue Trail Hike, you will pass the first one when approaching the village coming from Monterosso, and the other one from Corniglia. The good news is that even if you don't feel like hiking you can still access these magnificent viewpoints:
Sentiero Azzuro viewpoint towards Corniglia | When you leave the train station go immediately to your left, towards the vineyards where you will see a pathway going to the hill left of the town. This is the way to the beginning of the Blue Trail towards Corniglia. The viewpoint is only around five minutes up the trail and is not part yet of the paid section.
Ruins of Doria Tower | You can't miss this one, it's the historic castle in the middle of town on top of the hill
Vernazza harbor | Head towards the main square where on the left you have a path leading you towards the water from where you can admire the town from the water's perspective
Sentiero Azzuro's viewpoint towards Monterosso al Mare | From the main square head to the right of town towards the old church of St. Margaret. The stairs next to it will lead you to the Blue Trail towards Monterosso. To get to this viewpoint it's around 10 minutes up the trail, however, to see the magnificent viewpoint for a panoramic view over the harbor of Vernazza, you will have to purchase the Cinque Terre Card since it's in the paid section of the trail.
Corniglia – Cinque Terre
The hidden gem of Cinque Terre
Corniglia is the smallest of the five villages with only 200 inhabitants and the least visited. One reason for this might be the nearly 400 steps you have to climb to reach the clifftop village from the train station. Not gonna sugarcoat it, it was quite something, definitely in the burning heat of august. But just like with any hike, oh so rewarding once you reach the top! Ok, if you really don't want to hike up, let me ease your mind, there is a little shuttle bus you can take. Although we heard you have to wait quite a bit and there are not many seats. Another way to reach the village is by coming from the Blue Path from Vernazza. Corniglia is the only village without a harbor so you cannot visit it by boat.
Nonetheless, this village was our absolute FAVORITE and a true gem. Since it's not (yet) overrun by hordes of tourists in its quaint little streets, we absolutely adored soaking in the atmosphere here. It feels less touristic and out of the five, it has the most authentic feeling. Before traveling to Cinque Terre we read multiple times the advice on skipping Corniglia if you run out of time and have to cut a village. We strongly disagree, of course, and we always advise you to make up your own mind. All we can say is that Corniglia is magical.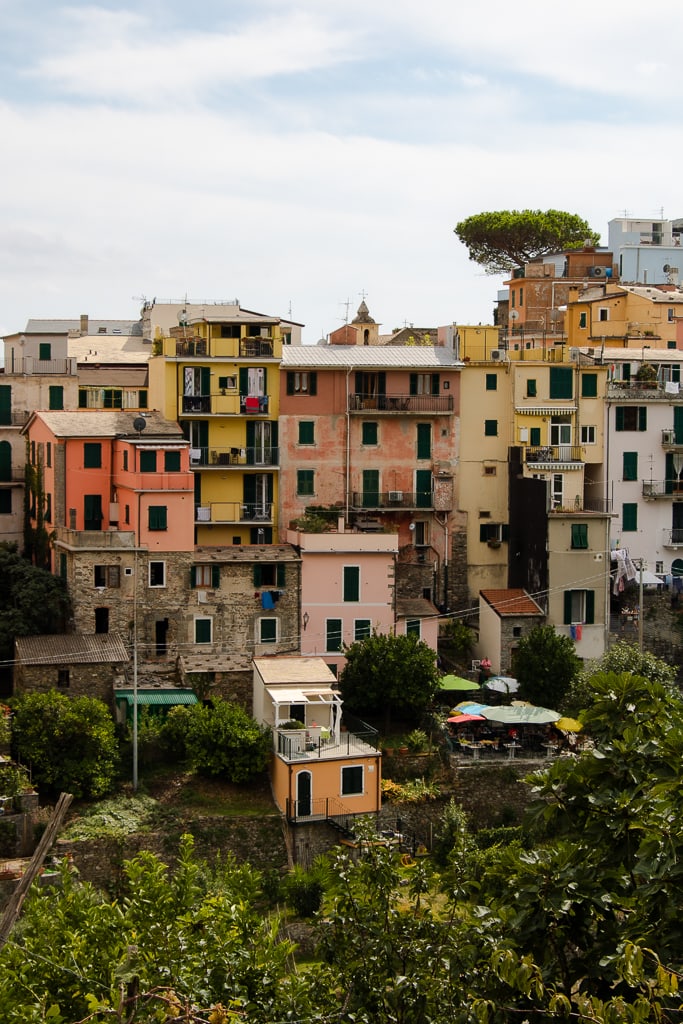 CORNIGLIA AT A GLANCE
BEST PHOTO SPOT | The tiny cozy streets of Corniglia
BEST THINGS TO DO | Enjoy the breathtaking views of the panoramic viewing platform, admire the hillside views, sidetrack from the little streets of the medieval town, and taste the local delicacies and wine at Pan e Vin
Wander through the medieval old town
We took our sweet time going into the little shops filled with local products and souvenirs. The charm of Corniglia really lies in its narrow alleyways and hidden side passages. So make sure to once in a while go off the center road, because there are many hidden beauties to find there.
When you reach the hilltop at the end of the stairs you will find yourself at an intersection of the town. From there you have the option to explore the left or right side. Most of the shops and bars are situated on the left side. Our favorite place to grab lunch was Bar Pan e Vin, where you can try out many of the local delicacies as well as their delicious local wine. The staff was really knowledgeable and helpful, making our experience even more memorable. If you are craving gelato, head over to Alberto Gelateria, they have a wide variety of flavors but we insist you once try the Basilicum e Limone flavor. It became our new favorite since our visit to Cinque Terre, a local specialty!
Find your way through the colorful houses, passing by the square of the Santa Catarina church. At the end there is the viewing platform of Corniglia, giving you breathtaking views of the Ligurian Sea, and the rugged coastlines and you can even spot the other villages from here. The other side of the village also has a lovely viewing point. Since Corniglia sits on top of a terraced hill, you have the perfect vantage point of the surrounding vineyards. Views for days!
Manarola – Cinque Terre
The most famous view of Cinque Terre? That's Manarola!
Manarola. Of all the five villages this is probably the most photographed one. If you have seen a picture of Cinque Terre before, it likely was the iconic view of this one. Manarola is often a popular base to stay for visiting the villages as it has a nice selection of restaurants, a sunbathing harbor, and plenty of accommodation available. It doesn't have an actual beach, but the charming harbor exists out of humongous rock blocks where people enjoy the sun and take a plunge into the bright turquoise waters for refreshment in summer.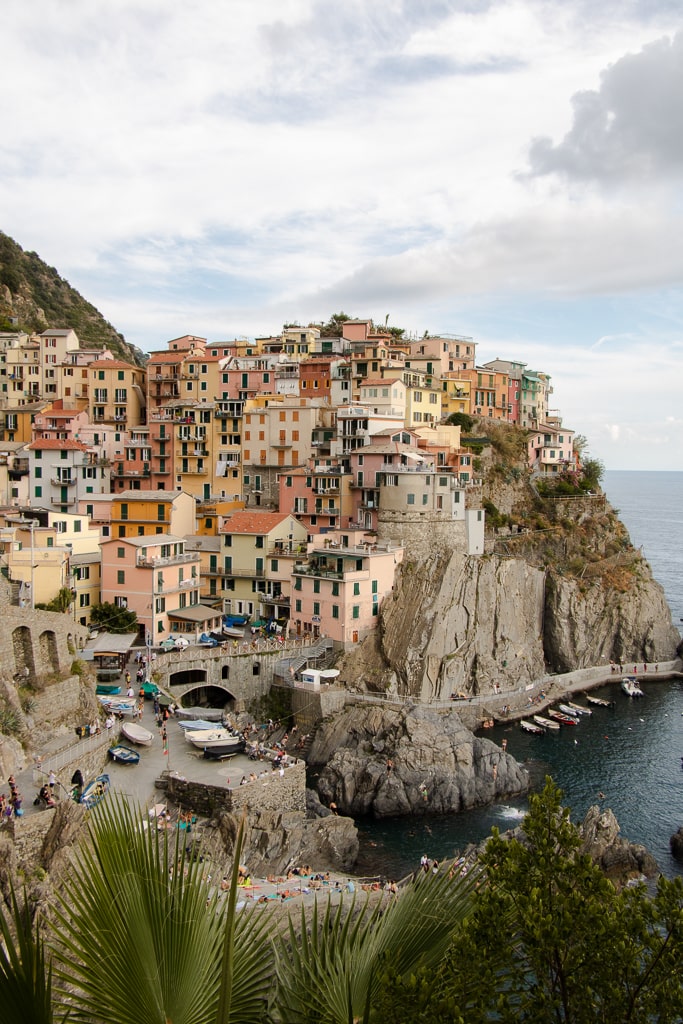 Not to forget its beloved viewpoint, which is best to visit for sunset. If you want to get that exact picture, head over to the hill on the opposite side of town, called Punta Bonfiglia. Manarola's promenade along the waterfront is the perfect place to end the day while enjoying the sunset. Watching the setting sun changing the colors of the pastel facades is a view like no other.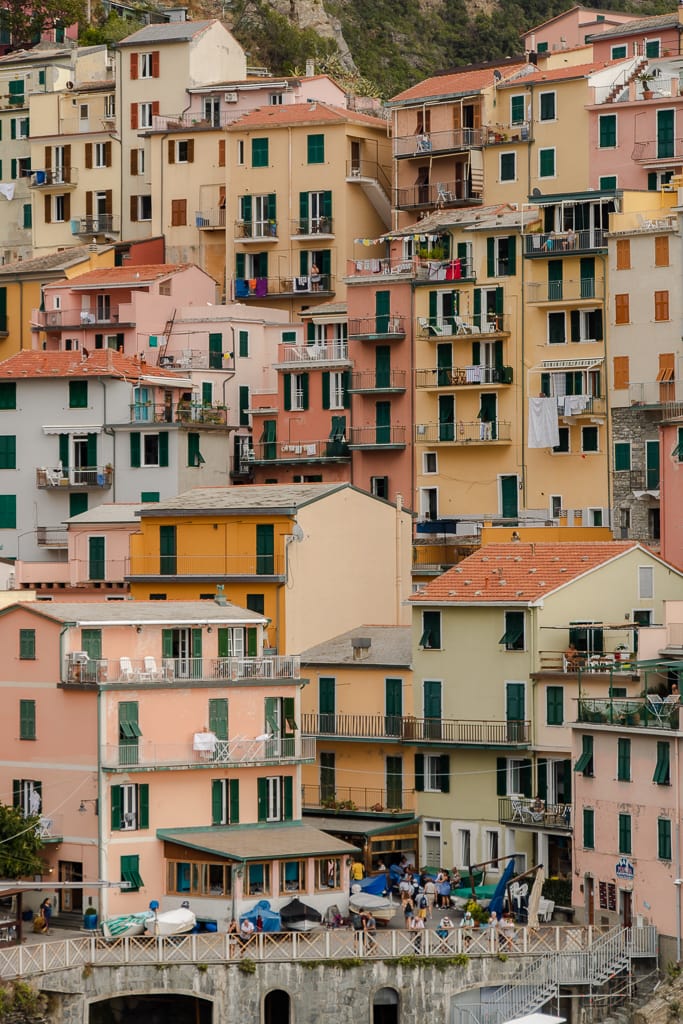 MANAROLA AT A GLANCE
BEST PHOTO SPOT | The promenade of Manarola & Punta Bonfiglia. It's the most infamous and spectacular view of the colorful houses of Manarola and its harbor.
BEST THINGS TO DO | Best village to visit for sunset, take a swim in its small harbor with fishing boats, try out the famous local wine Sciacchetra, wander the waterfront promenade to the hill opposite town.
Enjoy the sunset from Nessun Dorma
From here you can also reach the Instagram-famous Nessun Dorma, known for its delicious appetizer plates & cocktails. Pretty sure you have seen pictures of this place on Instagram before! It's super popular, so expect long queues to get in. The restaurant is perched on the hill overlooking the town. The perfect setting to enjoy a romantic night with a breathtaking vantage point over Manarola. Good to know is if you want to get a table here you can't make reservations upfront. You have to download their app, to put yourself on the waiting list on the day of your visit. Once your number is almost up you can head over to enjoy some delicious bruschettas and Italian aperitivo.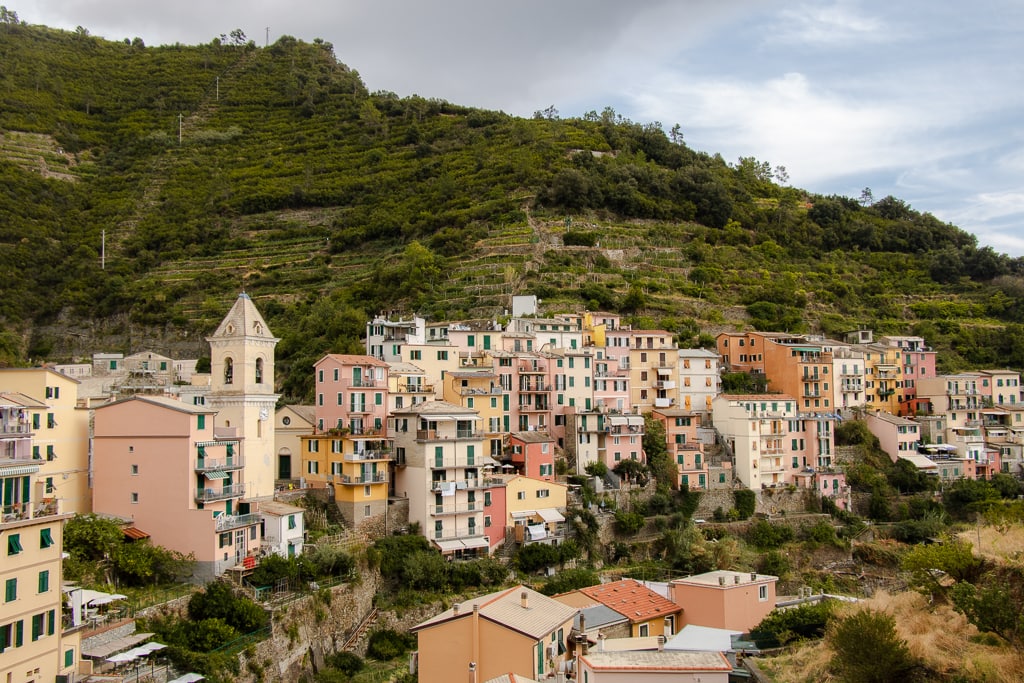 Viewpoint from the vineyards
Another amazing viewpoint, lesser known, is from the vineyards! Not many people go here, even though it's not that hard to reach. When you leave the train station, turn to the right on the Via Antonio Discovolo. Keep following the street up until you reach the church San Lorenzo. Right before the church, you will see a sign with 'Volastra Corniglia'. This is the start of the trail towards Corniglia, which takes off between the beautiful vineyards of Manarola. Even if you don't intend to hike all the way to the next village it's worth getting up there. After not even 5 minutes you will be rewarded with a magnificent view without all the tourists. If you actually want to really taste the vineyards of Manarola, you should try out their famous white wine, Sciacchetrà.
TIP | A fun activity is to join one of the wine tours through the vineyards. These usually include a tasting and where you learn more about the whole process.
Riomaggiore – Cinque Terre
Riomaggiore, the southernmost town of Cinque Terre, offers a great ambiance to spend the afternoon. The village offers many activities and tours to enjoy from its harbor and is the most popular one to rent a boat to catch the views from the water. It's the second-largest town with the largest population in Cinque Terre, yet it feels really tiny. It's home to one of the most postcard-worthy views, lively bars, and tasty seafood restaurants.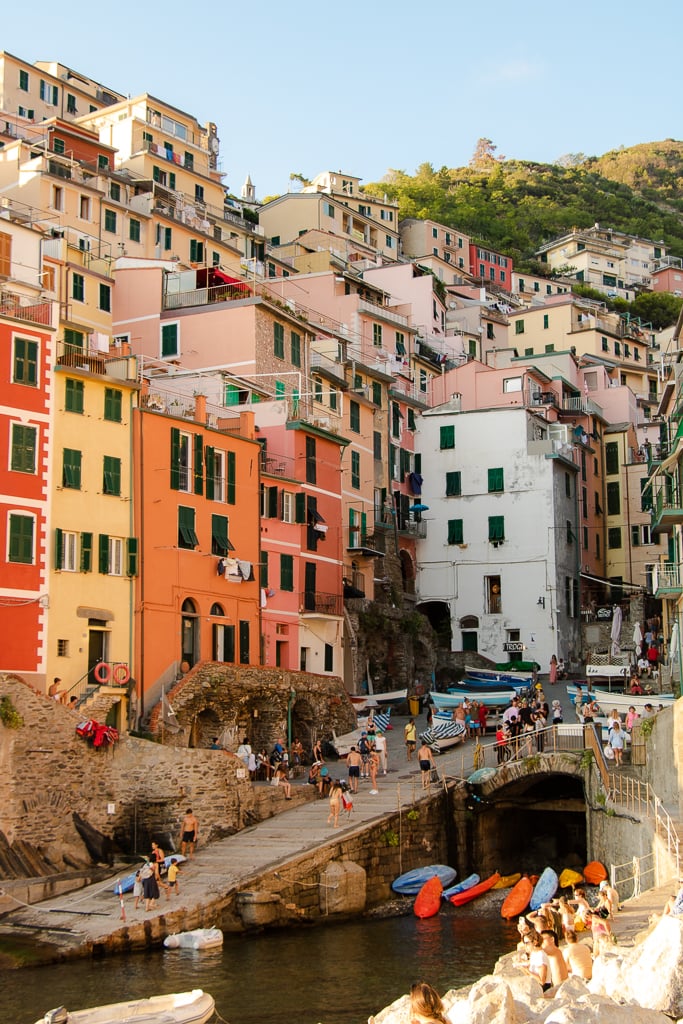 RIOMAGGIORE AT A GLANCE
BEST PHOTO SPOT | From the rocks in the marina & from the viewing platform in front of La Conchiglia
BEST THINGS TO DO | Spend sunset at the marina, enjoy pasta pesto for dinner, get takeaway pizza, and chill at the harbor
TIP | Cinque Terre is absolutely breathtaking as it is, but how about watching it from a boat? Rent a boat to catch the sunset and end the day with an epic view of Cinque Terre.
The most popular viewpoint is from the terrace in front of La Conchiglia. However, the best vantage point is from the rocks in the harbor. Install yourself on a blanket and enjoy some people's watching and check out the colorful houses and fishing boats. Many people also go for a swim or cliff jumping. Riomaggiore has one of the most photogenic harbors in Cinque Terre. So don't be surprised that you will have to share the place with many other tourists. If you want to avoid bumping elbows and standing in line for a picture come in the early morning.
Get some takeaway food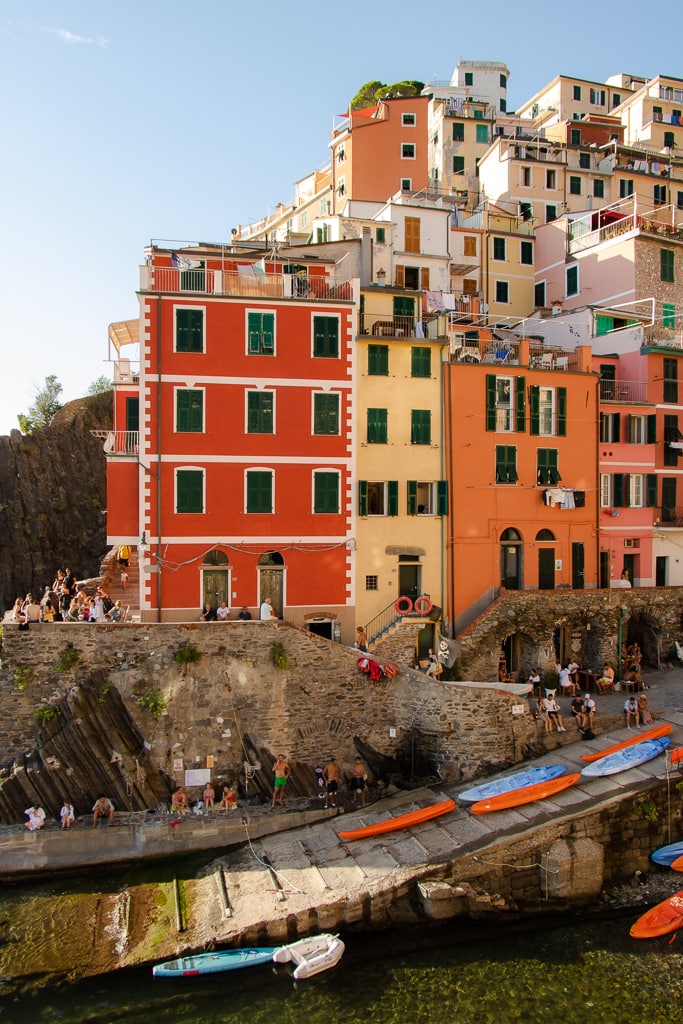 Bit unusual suggestion for Italy maybe, but the best way to experience Cinque Terre is by getting takeaway food. How you might ask? By grabbing your favorite snack on the go and installing you on one of the rocks at the harbor. At sunset, you will spot many people with pizza boxes and drinks in their hands heading out for the harbor.
There are many restaurants & shops that have the most delicious food to take away. Since Cinque Terre is located at the sea, they have the freshest & most delicious fish at hand. Next to focaccia is a fish cone a popular snack around here, a local delicacy! We didn't have the chance to try it out ourselves, but basically, it's fried fish served in a paper cone, like those usually for fries (again these are Belgian, NOT French ;). Tutti Fritti in Riomaggiore is one of the most popular fish and chips takeaway places.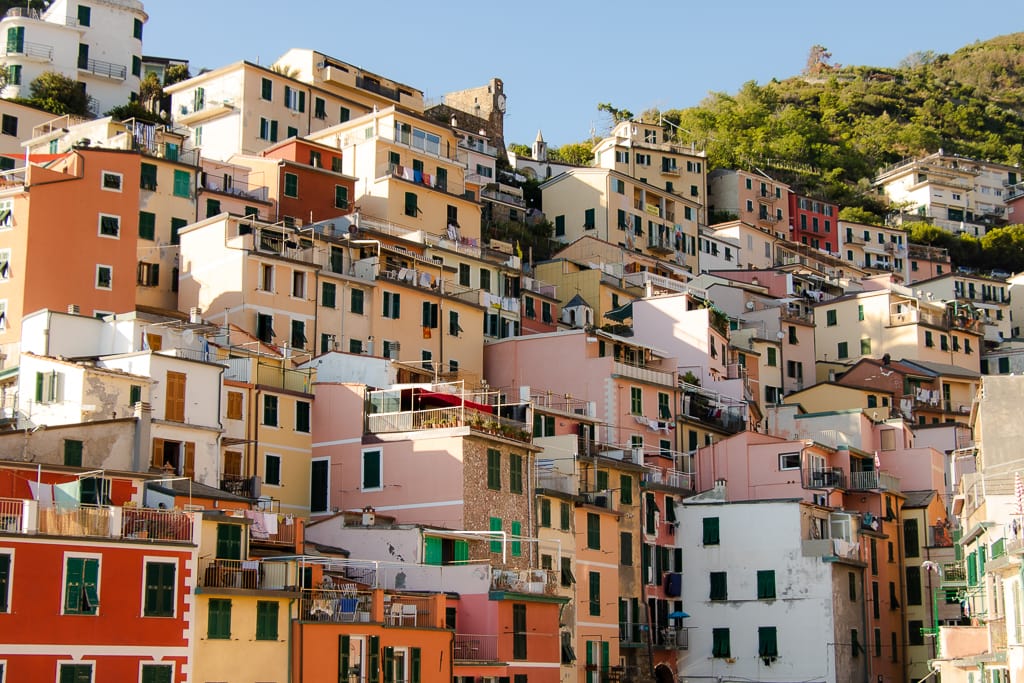 And of course, we are in Italy, so we opted for the takeaway pizza option! Pizzeria Kepris is the only place you should go get your pizza. It was phe-no-mi-nal. It was one of the best pizzas I had in my life. All their pizzas have names of local places, which is a super fun idea. I took the Manarola with fresh buffalo mozzarella and Moritz had the Corniglia with a sunnyside-up egg. If you still have some space at the end, their tiramisu looked divine! Not only is take-away a fun thing to do, but also a great way to cut your travel costs in this touristy and often pricy region.
Where & what to eat in the Cinque Terre Towns?
One of the main highlights of your Italy travel must be trying out all the delicious food. And Cinque Terre shouldn't be an exception for that! Believe me, if I tell you I had some of the best food in my life so far, and even dare to claim the best pizza. Check out our recommendations below to find where you can find this one. We kick off with some places in Levanto, the first city north of Cinque Terre, where we stayed during our trip. In the next section on where to stay, you can find more information about Levanto and why we recommend booking there. Now let's get into the flavorsome food first & which dishes you have to try.
What food to try out when in Cinque Terre?
Pasta Pesto | Simple dish, yet delicious. While in Cinque Terre you have to try the pesto since it has its roots in the Liguria region. Especially when prepared as Trofie al pesto, it's absolutely divine.
Seafood | You are right at the source of fresh fish as the villages are located near the mediterranean sea. A popular snack you will find is Fritto Misto or fried seafood, served in a cone. Also, the anchovies, mostly a specialty of Monterosso, go heavenly with the local white wine as an appetizer.
Cinque Terre Wine | Besides Aperol Spritz as Italian aperitivo you should order the local white wines. The towns are surrounded by vineyards and produce several local wines.
Focaccia | Another Italian staple piece that originated in the Liguria region. This bread is a delicious takeaway snack for all the village discovering.
Gelato | Of course, you will find gelato everywhere in Italy, but this region is known for its Basilico e Limone flavor (so basil with lemon). The flavor blew our minds, so good & refreshing, you have to try it out for yourself!
Krapfen | This is no secret to German readers, but Italians also love their Krapfen for breakfast! It's like a doughnut without the hole, made from sweet fried yeast filled with chocolate or pistachio.
Levanto Restaurant Recommendations
Gattabriga – A lovely restaurant with friendly service, located in a small alley. They only have a limited amount of tables, so making reservations is a must. The food and atmosphere are excellent and their local white wine was fantastic. We first had the ravioli carbonara, which was finger-licking good. Moritz had the beef steak and I went for the sea bass filet, both were absolutely delicious.
The White Goose – If you are craving a burger one evening, this is the place to go. We were recommended this place by our host and it didn't disappoint, we honestly didn't have such a good burger in a long time! An amazing explosion of flavors, juicy meat, and delicious potato wedges on the side.
La Picea – This pizzeria has won numerous awards and first prizes in pizza competitions. Which makes it of course super popular, so a reservation is needed. We absolutely enjoyed their pizzas, they are a bit on the pricier side but the quality is definitely worth it. We tried the Gola, which comes with burrata, parma ham, and truffle, and the Profumi Liguri, with yellow & red cherry tomatoes, burrata, and homemade pesto. These were the best pizzas of our lives.
Bar da Brigida – For some nice cocktails & Aperol spritz with some appetizers at the end of the day you have to go to this cozy place. They have a super nice outdoor space with a lovely atmosphere.
Gelateria Basilico e Limone – The gelato from here is out of this world. It's the place where you have to try the Basilico e Limone gelato, as the name suggests. Honestly, we went here every evening! 😉
Pasticceria Bianchi – Really nice place to have that Krapfen breakfast with a typical Italian cappuccino. This place is set in a lovely antique setting and has a wide variety of different sweets, pastries, and typical Italian breakfasts. Most importantly, amazing coffee!
Monterosso al Mare Restaurant Recommendations
Miky – If you want to splurge on a fancy dinner, this is a restaurant we got recommended a lot. They are known for their excellent local Ligurian cuisine and seafood dishes.
Enoteca da Eliseo – Lovely wine bar with outdoor seating where you can enjoy some amazing local wines with small appetizers and classical music playing in the background.
L'Ancora della Tortuga – Privately located in a small lane, it's the perfect place to have a romantic dinner with ocean views. Known for their excellent food and service, here you will definitely enjoy an evening to remember.
Gastronomia San Martino – This is one of the most beloved places in Monterosso, located in the pedestrian lanes with a cute little terrace. Fresh and flavorful food, such as seafood & pesto pasta, at affordable prices.
Focacceria Antonio Enoteca – If you want to enjoy a quick snack for lunch, to sit, or to take away, Focacceria Antonio has a wide variety of delicious focaccias.
Vernazza Restaurant Recommendations
Ristorante La Torre – This place is located outside of the town center on the path to Corniglia. It's a ten-minute walk from the station, but so worth it, if not only for the amazing views of Vernazza. So if you want to enjoy some good food & drinks with some of the most breathtaking views, go here. The Trofie al Pesto is often recommended.
Il Pirata delle Cinque Terre – Also outside the tourist area, this restaurant is run by two Sicilian brothers, known as the Cannoli brothers. You can go here for breakfast, lunch & dinner at affordable prices. You gotta try their cannolis and pistachio creme pastries.
Il Gattaccio – For a quick lunch, grab a fresh fish sandwich here. They have high-quality fresh fish every day, with a variety to choose from. We can recommend the one with tuna and the amazing green pesto known from the Liguria region.
Gelateria Vernazza – For your daily fix of gelato go to this popular shop in the heart of Vernazza. Recommended flavor as always is pistachio!
Corniglia Restaurant Recommendations
Bar Pan e Vin – This must have been one of our favorite places during our stay in Cinque Terre. Not only do they have some amazing local specialties and wines on the menu, but also the atmosphere and friendly service made our visit unforgettable. Lovely & helpful staff with a lot of knowledge about their products. We would go here again without a doubt.
KM0 – Just on the other side of the street you find a quaint little courtyard under the trees. It was full at the time of our visit but it looked really nice. We saw that they offer local craft beers and Cinque Terre wines with some lovely snacks like bruschettas.
Terra Rossa Corniglia Winebar – On the other side of Corniglia you find this wine bar with an amazing view over the wineries. Enjoy a glass of wine in their relaxing outdoor seating while watching the sunset. They don't have many tables so reservations are recommended.
Alberto Gelateria – Another gelato place with many creamy flavors, including the famous Basilico e Limone flavor that you have to try.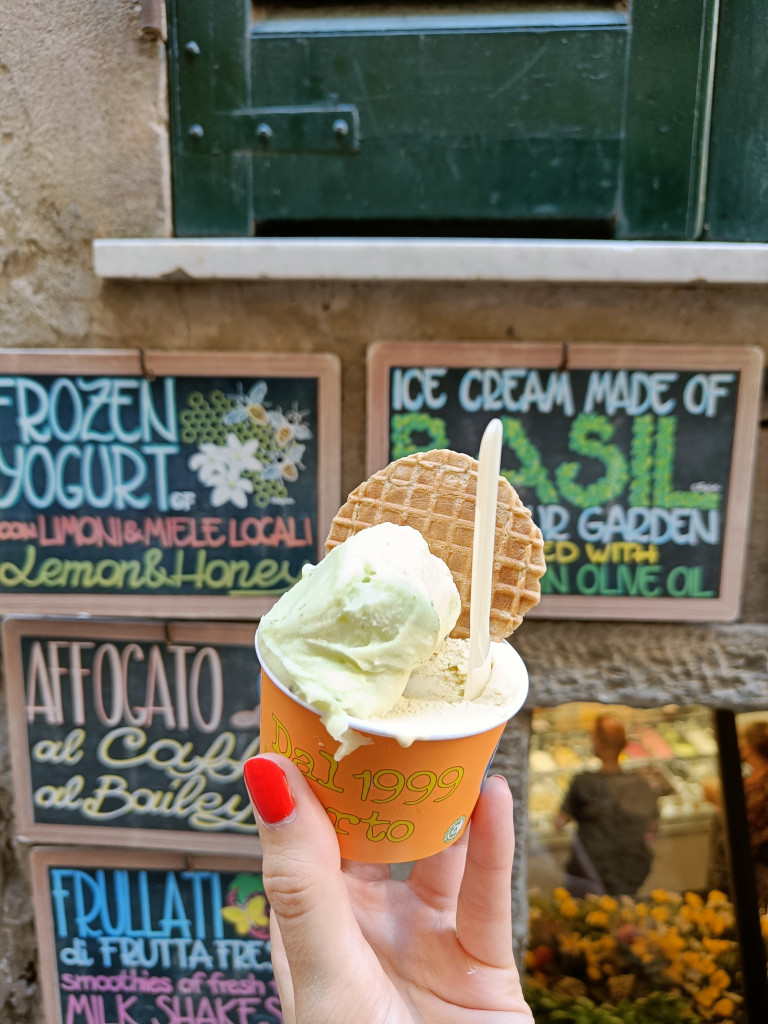 Manarola Restaurant Recommendations
Nessun Dorma – Probably the most famous place in all of Cinque Terre to have an Italian Aperitivo. Get in line for one of their Instagramable appetizer plates or bruschettas with an Aperol Spritz while overlooking the harbor of Manarola.
Trattoria dal Billy – Beloved establishment serving popular dishes like truffle pasta, seafood, and tiramisu with some wonderful views.
Gelateria 5Terre – Small shop that serves their gelatos in edible bowls with edible spoons!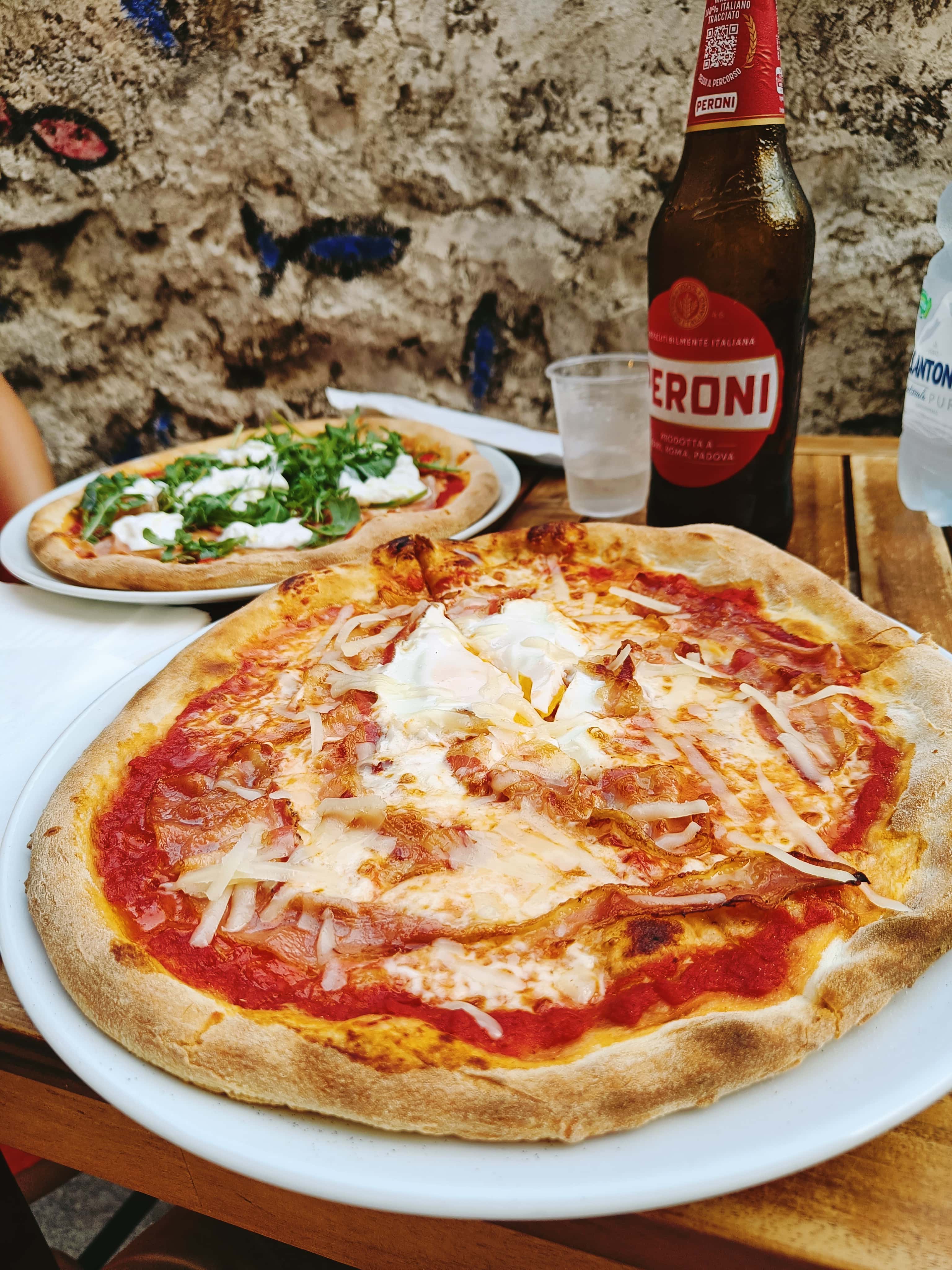 Riomaggiore Restaurant Recommendations
Osteria La Torpedine – For amazing authentic food prepared with local ingredients. Enjoy one of the most memorable dinners in this tucked-away restaurant with a relaxed atmosphere. Making a reservation is essential since there are only a limited amount of tables available.
Kepris Pizzeria – Located near the train station, tucked away in a little alleyway. It's the ideal spot to pick up your pizza when arriving or leaving Riomaggiore. These pizzas were absolutely delicious and come in second after Picea Levanto as some of the best pizzas we ever ate! They name their pizzas after the Cinque Terre towns and are freshly made with some high-quality ingredients.
Old School – This cute little place is located a bit higher in the village near the church of San Giovanni Battista. They don't only have delicious ice cream but also fresh smoothies and lovely breakfasts with an incredible view.
Where to stay in Cinque Terre?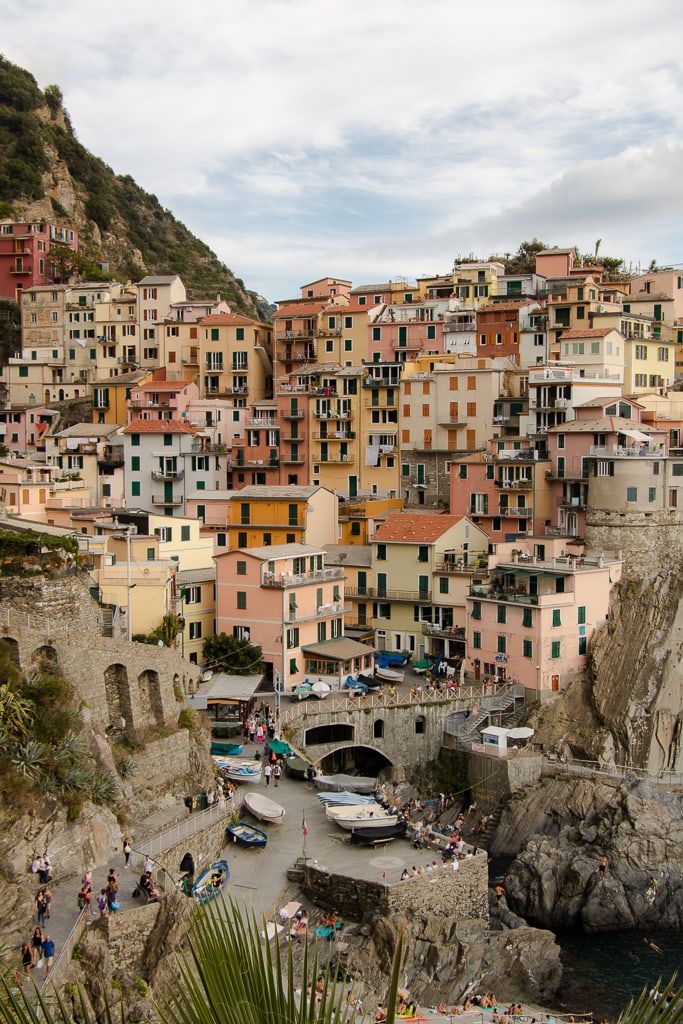 As mentioned we recommend spending at least 3 days in Cinque Terre. There are multiple options for booking accommodations. Many people want to have a full-on Cinque Terre experience by staying in the heart of one of the towns. By staying in one of the five villages you can really soak up the atmosphere in the evenings. Picking a village for your stay depends on the character of the village that appeals to you the most. As well as the best accommodation suitable to your budget. In our opinion, it doesn't make much sense to stay in different villages during the length of your stay. Pick one as a home base and explore the villages from there.
Given the small size of the villages and their intense popularity, make sure to book well upfront. Places tend to be fully booked out already 4 months upfront. Also in general there aren't that many places to stay, so you can imagine they are gone quickly. With the exception of Monterosso, there aren't really hotels around, you will be more looking at guest houses or apartment rentals. Unsurprisingly, the places in Cinque Terre tend to be far from affordable even for plain & underwhelming places. Also, keep in mind that the prices for restaurants are a bit higher within the 5 villages.
So if you are looking to travel more on a budget in Cinque Terre, considering staying in one of the bordering towns like Levanto or La Spezia is a good idea! Both towns are located on the Cinque Terre train line, so it's easy to get around. As they are less overrun by visitors, they have a more local feel to them.
Staying in Levanto
Since we were traveling by car (we made stops in Bologna and Verona along the road), we preferred to stay in a nearby city where we could easily park our car. Our eyes fell on Levanto after researching, which is located north of Cinque Terre. It's a smaller town compared to La Spezia, another popular option to stay for visiting Cinque Terre. However, we chose Levanto for its cozy authentic Italian vibe, which has much to offer and is definitely worth a visit.
We parked our car right at the train station. From there it only takes 5 minutes with the train to the first village of Monterosso. We got a parking card from our stay at Amar which made it possible to park for free instead of €25 a day, super grateful for that! So as you can see it was really easy traveling from Levanto to the 5 villages. Levanto turned out to be the perfect home base for our stay. It's a cozy town with many lively bars and restaurants, markets, and cute little shops. Since it has a big sand beach you will see many Italian families taking holidays here.
Our accommodation in Levanto
We absolutely fell in love with our stay in Levanto, called Amar. It's right in the center but still located on a quiet street. There are only five rooms available, each with its own themed color, we had the pistachio one. The room was spacious, modern, clean, and with all the needed facilities. The best part was the view from the window! Our host was super helpful and provided us many with tips. We noticed that it's not common to have breakfast included in these regions, also given there are more apartments & guest houses than hotels. Nonetheless, our host made sure to leave some snacks every day as a gesture, which was really sweet.
As mentioned above, a major advantage of Amar is that they provide you with a parking card. With this card, you can park for free in many places around town (like near the station) or at a reduced price (by the sea). We can highly recommend this stay and would without a doubt book again here in the future.
GOOD TO KNOW | Given that most properties in Cinque Terre and the surrounding regions are apartments or guesthouses, there is no official reception. So make sure to well coordinate your check-in with your host in order to get access to your room. Many hosts reach out via WhatsApp and will discuss a time and place to meet up for the key.
Accommodations in Cinque Terre
Below you can find some nice reviewed properties from each of the towns in Cinque Terre (at a more affordable price range) that you can consider for your time visiting. We kept in mind things like airconditioning (you will want this if you go during summer); location within the town and walking distance to the water; ensuite bathroom (there are often places where you have shared bathrooms); and the possibility of booking a room with a balcony and/or sea /city view:
Cinque Terre 3-Day Itinerary
Cinque Terre Day 1
Hike the trail from Levanto to Monterroso al Mare
Have lunch at Gastronomia San Martino
Explore the old town of Monterosso
Relax at Monterosso Beach
Take the train to Riomaggiore
Explore Riomaggiore Town
Get pizza to-go at Kepris Pizzeria
Enjoy the sunset at the marina
Cinque Terre Day 2
Hike the Cinque Terre Trail from Monterosso to Vernazza
Explore the town of Vernazza
Take a refreshing dip at Vernazza Harbor
Have lunch at Ristorante La Torre or Il Pirata delle Cinque Terre
Take the train to Manarola
Explore Manarola Town & shop for souvenirs
Take a plunge at the harbor in Manarola
Enjoy the views with Aperitivo at Nessun Dorma
Cinque Terre Day 3
Take the train to Vernazza
Hike the Cinque Terre Trail from Vernazza to Corniglia
Find yourself at Bar Pan e Vin for some local delicacies & wine
Wander the quaint little streets of Corniglia
Re-visite your favorite village for Aperitivo
Take the train to Levanto
Eat the best pizza in your life at La Picea
Stroll the town of Levanto at night
Get Basilico e Limone ice cream at Gelateria Basilico e Limone
We hope this travel guide to the towns of Cinque Terre helped you out. You can show some ❤ and support for the blog and help us share more adventures! Our travels are entirely self-funded, so any show of support is greatly appreciated. It allows us to keep writing helpful travel guides and gathering information to make it easier for people to discover the world.
Pin it to Pinterest for later!