The Best 15 things to do in Shanghai, China
Shanghai, or the city of lights of the East. This high-paced place has everything to offer that you can expect from a dynamic metropolis. From stunning architecture, breathtaking skylines, mouth-watering food, crazy nightlife, and ancient water towns. You name it, this city has it. As one of China's biggest cities, there is so much to explore. You will stumble upon some spectacular modern skyscrapers as well as traditional Chinese architecture. Shanghai truly is a beautiful contrast of old meets new.
No time to read now? Pin it to Pinterest for later!
* Disclosure: This post contains affiliate links. We will receive a small commission if you book through our links. This is at no extra cost to you. This way you're helping us write awesome travel guides and keep providing you with free content. We only recommend products we like and trust ourselves.
The best 15 things to do in Shanghai
These 15 things to do in Shanghai are the perfect way to prepare for your first visit to this vibrant city. Luckily the city's transport system is highly efficient and can get you to the other side of town in no time. This way you can enjoy your stay and its sights to the fullest.
The Bund
The Bund or Waitan, this iconic landmark is without a doubt at the top of every tourist's 'Things to do in Shanghai' list. When you stroll along the riverside promenade you can enjoy the colonial-era architecture at the waterfront. Across the Huangpu River on the other side, you will marvel at the impressive Pudong skyline.
The best time to visit this spectacle is probably around sunset when the lights are starting to jump on. You will have the most magical view, as soon as the whole skyline is lit up and flashing with vibrant colors. Just be prepared for the enormous crowds of tourists that will be joining you. Early bird? Go at sunrise and join the small groups of pensioners for some morning tai chi while enjoying this beautiful backdrop.
TAKE A RIVER CRUISE | Book a cruise to experience Shanghai's city lights on the Huangpu River
Pudong skyscrapers
When you think of Shanghai you automatically think of skyscrapers and big city lights. You should really get to see these iconic skyscrapers from "up close", and take the metro to Lujiazui, the city's financial district. Fyi: Shanghai's metro system is super easy, fast, and cheap! Once you go up you will find yourself on this elevated skywalk surrounded by skyscrapers. The prominent Oriental pearl tower definitely pops out with its special shape and colors.
Enjoy an afternoon walk by the riverside, after which you go up to one of the towers. Here you can feast your eyes on the magnificent view over the whole city. Stick around to watch the city by sunset. The spectacle really starts once the city lights switch on everywhere around. We can suggest going up to the Shanghai Tower or Shanghai world financial tower. From up here, you will get the highest and best spot to soak in all of the surrounding beauty.
TIP | Create a timelapse with your phone from the view as an epic memory!
Did you know? The Pudong area with the current skyline we know today was just a fishing village before the nineties? The Oriental Pearl Tower was the first skyscraper to be built in the famous waterfront area in 1994.
Old Town
The Old Town must be the best place to get a feeling of what 'traditional' China would have been like. With its amazing ancient-looking architecture, small alleys, temples, and pavilions. Join the hectic shopping streets filled with small bazaars that sell handicrafts, folk art, and souvenirs for back home. Don't forget to haggle, prices are never fixed! Find your way to the tons of street food stalls that have all kinds of Chinese snacks on display. You can find here so many delicious snacks from figurine dumplings, pan-fried buns, and rice rolls to Xiao Long Bao.
FOOD TOUR | Book a food tour in Shanghai and try out local authentic food
Don't forget to make a stop at the City God Temple, a Taoist temple right in the Old Town. If you decide to stick around until the evening falls, you will get to experience all the colorful illuminated lanterns. Most of the buildings such as the tea houses are lit up, and really cozy to walk around!
Yuyuan Gardens
If you are already in the Old town, you should definitely stop by the Yuyuan Gardens. The entrance is right in the center of the Old Town across from the famous Huxinting Teahouse. This garden is the best example of a traditional Ming Dynasty garden with its decorated ponds, bridges, and colorful pavilions. The place is more than 400 years old and covers 6 scenic areas. Although it's a popular place, you can still find some serenity here. The perfect escape from the hustle and bustle of the city.
In my first week in Shanghai, I spent a full afternoon at the Yuyuan Gardens. I really enjoyed taking my time here and finding my way through all the small paths. Soaking up all the beauty of this place while being accompanied by some traditional music in the background.
Jing'An Temple
When you stand in front of the Jing'An temple, you get the perfect image of what Shanghai stands for. It's tradition meeting progress – old meeting new. This well-restored temple dates back long before the neighboring towers and shiny shopping malls came into the picture. This sacred Buddhist temple with golden details and impressive statues really stands out against its modern background and the blaring horns from the busy West Nanjing road. The site consists of three main halls that date back to around 1880. Inside the temple, you can find both Buddhist and Daoist idols. Furthermore, the biggest Jade Buddha statue in China was given a central place. Inside the main court area, there is a large shrine where people burn incense. Often you will also see people trying to throw in coins for good luck. However, it's not as easy as it sounds.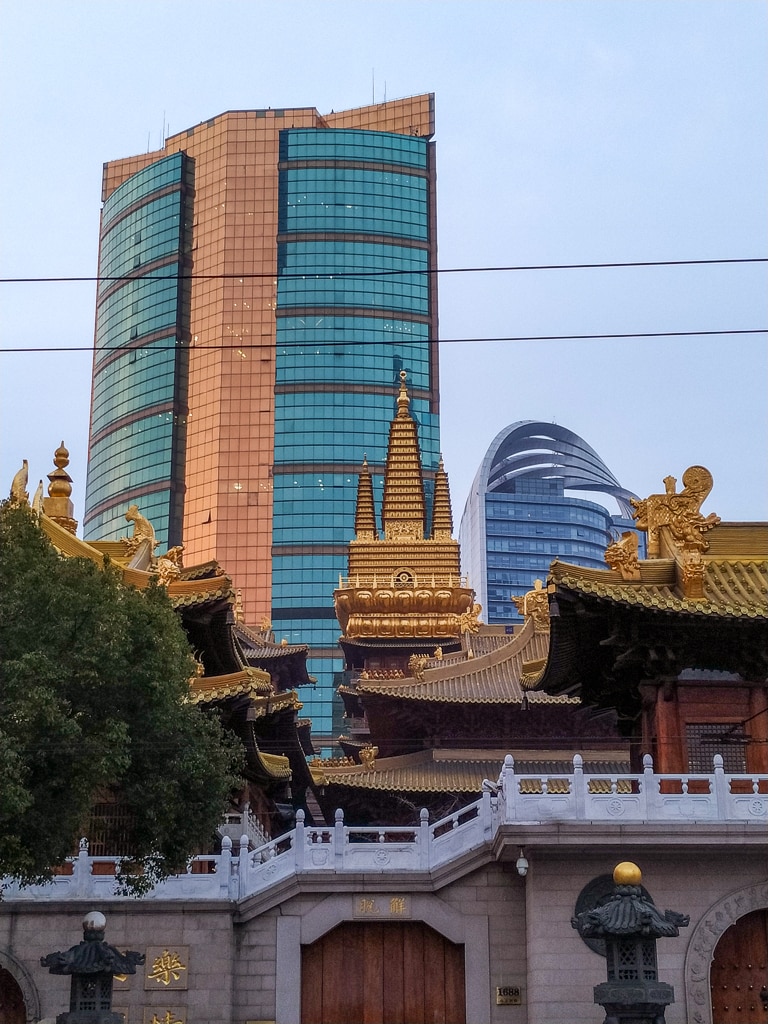 Jade Buddha Temple
Another must-see temple when you are in Shanghai is the Jade Buddha temple. This one is located more north of the Jing'an district. The temple is a former Buddhist monastery built at the beginning of the 20th century in Song Dynasty style. This sacred shrine is characterized by its bright yellow walls, symmetrical halls, and a central courtyard. The center of attention must be the 2 meters sitting Buddha statue. It was crafted from pure white Burmese jade and has a robe of precious gems. Further, you will find an abundance of other Buddhist statues and relics. This temple might be a bit outside the area of other sights, but it's definitely worth the visit.
M50 art district
Looking for a more edgy and hip area to hang out for an afternoon? Then the contemporary art district of M50 (short for Moganshan 50) is the way to go. This industrial complex is home to the city's best art galleries and is often compared to New York's Soho. It showcases upcoming local artists and commercial prints next to more sophisticated, provocative pieces. Next to being a very photogenic spot it also offers some cozy coffee bars to sit back and enjoy the neighborhood's atmosphere.
1933
This one doesn't make it often on the 'Best things to do in Shanghai' lists, which is truly a pity. 1933 is a former slaughterhouse that has been transformed into an industrial-looking shopping complex that hosts creative spaces, shops, and bars. The most interesting part though is the labyrinth of bridges and the photogenic angles of the place. The surrounding area of Hongkou district makes the trip even more worth it. The district is characterized by small water streams featuring shikumen houses and traditional Shanghai-style buildings along the side. It's an upcoming hip neighborhood and less crowded since it's not that known yet by tourists. I think from all the areas we visited, we were most pleasantly surprised by this part of the city. Truly a hidden gem!
Nanjing road
Nanjing Road or Nánjing Lù, Shanghai's most famous pedestrian shopping road. It attracts crowds of tourists, but a must-experience to witness the neon lights signs. There will be no escaping anyways since this road leads you right up onto the famous Bund. Along this long road, you will find all types of shops going from more exclusive boutiques on the Westside to souvenirs and crafts on the Eastside. While wandering around you will also be treated to some entertainment and street performances along the way. You can even take a small train ride down the street to soak it all in.
People Square
When continuing West of Nanjing road, you will eventually end up in the heart of the city at People's square (Rénmín Guangchang). It's the city's main public green space and the host to several museums. You can find the Shanghai Museum, Shanghai City Hall, Grand Theatre, and Shanghai Urban Planning Exhibition Center here. We can recommend the last one if you are interested in seeing how the city evolved over the years and what the future plans are. The park is a tranquil getaway but at the same time, it's always active. Many elderly gather here to play games, practice music or Tai Chi and perform Chinese line dancing in groups.
TIP | If you visit People Square during the weekend, you will be surprised by the famous Shanghai Marriage market. This is a matchmaking event where parents gather to find a suitable partner for their child. Colorful umbrellas are being displayed throughout the park, with attached the biography of their children. Fun/ sad fact: a lot of times the children don't even know their parents are trying to hook them up with somebody. And who knows you might just get matched ;p.
Shanghai Museum
If there is one museum you need to put on your 'Things to do in Shanghai' list, it's the Shanghai Museum. It's the best way to get a better perspective on Chinese history and it gives you a broad overview of Chinese art. The modern-looking museum is located right in People's square, so you can't miss it. The museum features various exhibitions and collections, showing ancient bronze sculptures & relics, ceramics, calligraphy & paintings. One of our favorite parts is the one showcasing the arts of Ethnic Minority groups. The exhibition is on the top floor and displays dresses, artifacts like masks, and furniture.
French Concession
Want to experience some European kind of flair while being in Shanghai? Then head over to the trendy French Concession. It was once home to the French government during colonial times, which left this part of the city with a unique architectural street style. While spending time here, you will stumble upon some tea houses and residential houses that make you think you are somewhere in Western Europe. The streets are filled with upper-design boutiques and you will find yourself surrounded by fashionistas dressed in the latest Paris Fashion Week trends.
Xintiandi
In the former French Concession part of the city, Xintiandi gives the best example of local stone-gate houses or Shikumen architecture. In this pedestrian-friendly area, you will discover some of the best dining and drinking establishments. A few of them are more western style if you are craving some Western food. This posh area is truly an attraction by itself, but also comes with a higher price tag. The places that you find here are more international fine dining spots and upscale boutiques. So expect western prices compared to other areas of the city. The best time to visit is more towards the evening when the street lights turn on and the area comes alive with people and music. Further, it holds some historic significance since Xintiandi is the birthplace of the Communist Party in China.
Tianzifang
In this part of the town, you can also find Tianzifang, a vibrant shopping neighborhood. Tianzifang is known for its traditional shikumen architecture and charming narrow alleys. It is mainly an arts and crafts district, filled with a bunch of boutique gift shops, art galleries, and clothing shops. In the past, it was more of a residential area, and a lot of the old character remains thanks to the small lanes and well-preserved houses. It's the perfect counterpart to the big shopping malls and intimidating skyscrapers. We definitely enjoyed this area by night, since it contains a bunch of restaurants, numerous food stalls with delicious street food, cozy cafés, and music bars.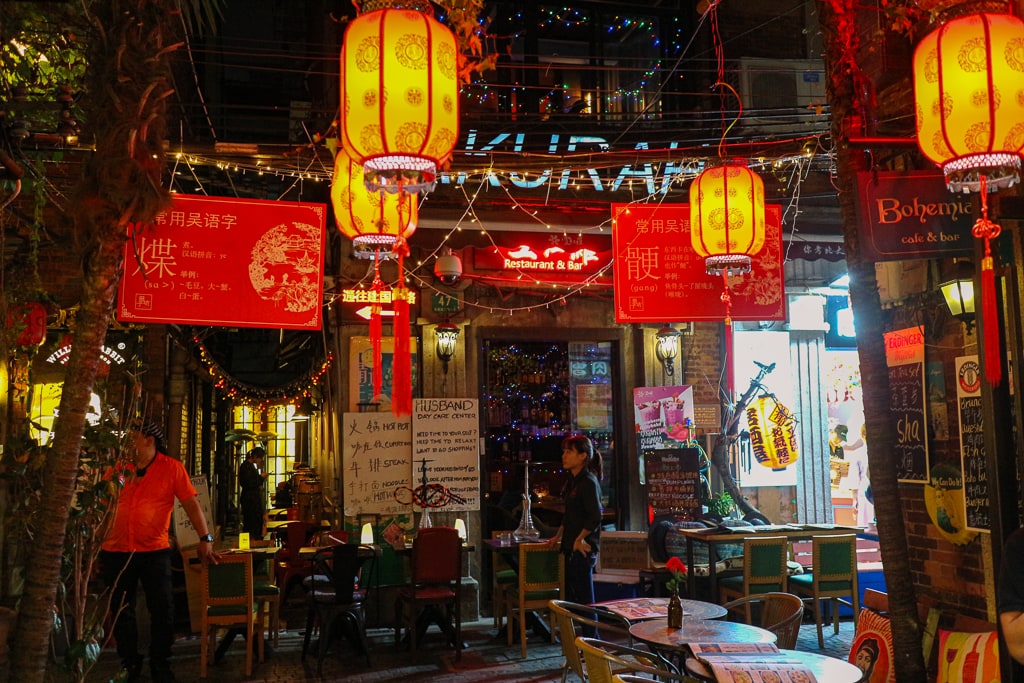 Wander around in a nearby Watertown
We saved one of our personal favorites for last. Depending on your itinerary, we highly recommend counting in one day to visit a nearby water town of Shanghai. They are located outside the city center, of which Qibao and Zhujiajiao are only a 1-hour metro ride away. You can get a glimpse of the true traditional Shanghai during the old Chinese dynasty. You will definitely want to spend a full day here.
These water towns consist of small water streams, with cozy alleyways and bridges, wooden-style houses, and a lot of street food stalls. Zhujiajiao is one of those ancient water villages where it will feel like you have been transported back in time. Another option is Qibao, which is a bit on a smaller scale, but perfect if you only have an afternoon to spare. It's an old residential area filled with pavilions and traditional tea houses along the water lanes.
We hope to have inspired you to travel to Shanghai with this 'Best things to do in Shanghai' post. Let us know in the comments if you are planning on traveling there! Or maybe you have been already, what was your favorite thing to do or see? Any other recommendations? We are totally in love with this city and love discussing it, so feel free to drop your Shanghai stories down below!
We hope this post helped you out. You can show some ❤ and support for the blog and help us share more adventures! Our travels are entirely self-funded, so any show of support is greatly appreciated. It allows us to keep writing helpful travel guides and gather information to make it easier for people to discover the world.
Pin it to Pinterest for later!