Bruges. A medieval city known for its scenic canals, charming cobblestone streets, and colorful gingerbread-like houses. Often referred to as the Venice of the North, the place simply exudes historic splendor and fairytale ambiance. No wonder the entire historic center was labeled World Heritage Site by UNESCO. It's considered one of the most beautiful cities in all of Europe, making it a stop you shouldn't miss out on your European travel itinerary. Indulge in some of the best chocolate in the world, cruise the canals during a boat tour or immerse yourself in the many historical sights. There is something for everybody and enough to keep you busy for a whole weekend in Bruges.
This complete weekend guide to Bruges takes you along all the must-see architectural landmarks, where to stay, and where to go for the most mouthwatering food. Furthermore, we share some insider tips, things you must know for your first time visiting, and the best places to get your chocolate fix. We guide you through this picturesque town for your two-day city trip and ensure you make the most of it. Ready to get lost in the cozy narrow streets and fall in love with Bruges?
No time to read now? Pin it to Pinterest for later!
* Disclosure: This Weekend in Bruges post contains affiliate links. We will receive a small commission if you book through our links. This is at no extra cost to you. This way you're helping us write awesome travel guides and keep providing you with free content. We only recommend products we like and trust ourselves.
How to Spend the Perfect Weekend in Bruges
Bruges, or Brugge in Dutch, is located in the North West of Belgium, in the province of West Flanders. Being situated in the Flemish part of the country, people here mostly speak Dutch. The town is fairly close to the North Sea and the Netherlands border. To give you an idea, it's about a 20-minute drive to the coast and around 3 hours to Amsterdam. Bruges can be easily visited from other cities in Belgium such as Ghent and Antwerp. Brussels, the capital city of Belgium, is just a 1-hour train ride.
The well-preserved medieval town is small and compact making it easy to explore on foot. The lively market squares are linked by the many cobbled lanes and canals that run through the whole city. The place is so absolutely picture-perfect that you will find it difficult to put your camera away. Besides its extended waterways, which gave Bruges the nickname Venice of the North, the Flemish city is mostly famous for its gilded medieval architecture.
Its first fortifications were built in the 1st century, but it was only in the Middle Ages that Bruges prospered as an important trading hub under the Hanseatic League. The historic city used to be surrounded by stone wall reinforcements with 7 gates. Only 4 remain today, with the best preserved one the Kruispoort located at Langestraat. Handicrafts such as traditional lace making are a big part of Bruges' history, which you can still learn more about in certain lace shops today.
Most of the city can be seen within a day, but if you like to immerse yourself and soak up all the wonderful attractions, we would highly recommend spending a weekend in Bruges.
Things to Do on a Weekend in Bruges – Day 1
The charming Belgian town has a wonderful array of remarkable landmarks, local boutiques, cozy neighborhoods, museums galore, mouthwatering cuisine, and an immense selection of beers. Bruges has many things to see and do, which are best explored on foot. Let's get started!
Explore Market square and climb to the top of the Belfry
We are kicking off our weekend in Bruges in the heart of the city, at Market square (or Grote Markt). Take your time to wander around this pedestrian square, because it's surrounded by plentiful beautiful historic buildings. Pay attention to the many horse-drawn carriages and bikes passing through though. Feast your eyes on the colorful step-gabled guild halls, the Provincial Palace, cute little shops, and restaurants. Above it, all towers the iconic Belfry tower (or Belfort).
TIP | Climb to the top of the Belfry to get the best bird's eye views of Bruges
The medieval bell tower was originally built in the 13th century as an observation post. Its 47 bells were used to alarm the city in case of fires or other dangers but also announce the time and festivals. Today the Belfry tower is the most prominent symbol of Bruges. If your fitness allows it, climb to the top of the 83-meter-high tower. After conquering its narrow spiral staircase of 366 steps, you will be rewarded with a spectacular 360-degree panoramic view of the city.
OPENING HOURS | Only possible to visit between March and November From 9 am to 8 pm
ENTRY TICKET | Adults €14; Youth up to 25 years €12; Children up to 6 years FREE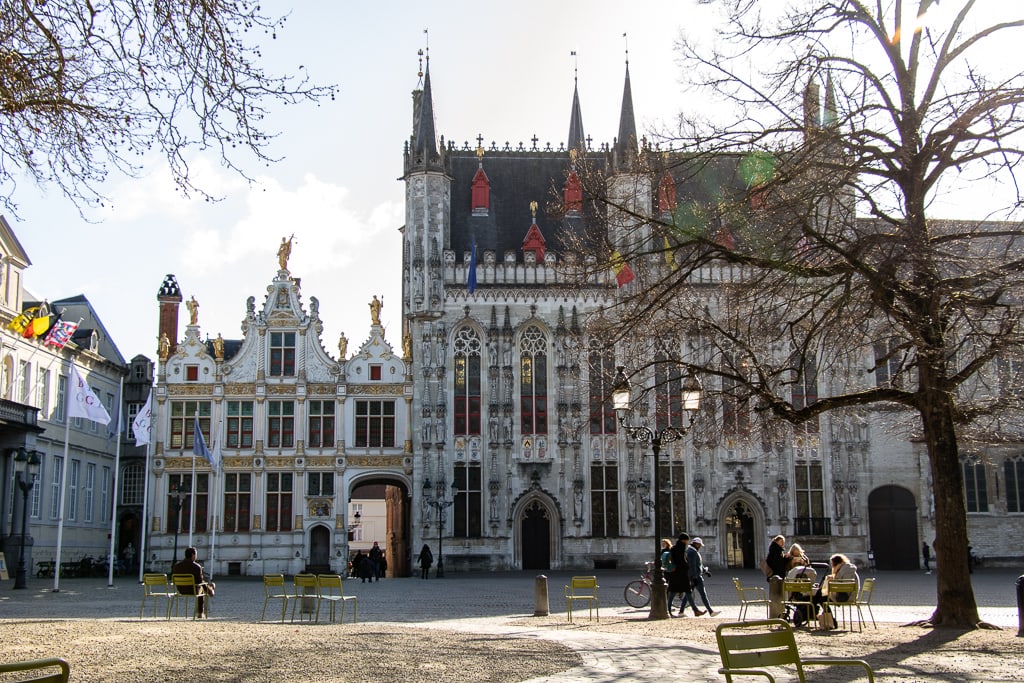 Wander around Burg Square & see the Basilica of the Holy Blood
After exploring Market square you can head out to check the cozy little side streets and other pretty squares. We suggest crossing through the Breidelstraat with its chocolate & candy shops and finding your way to Brug Square. There you will see the incredible City Hall (or Stadhuis), which is a Gothic building from 1421 with an exquisite golden vaulted ceiling. There is a museum inside the Gothic Hall where you can learn more about Burg Square's history (€6 entrance fee). Next to it, is the neo-classic courthouse Brugse Vrije with its beautiful golden gilded details. However, the main attraction of the square is tucked away in the corner, the late gothic Chapel of the Holy Blood.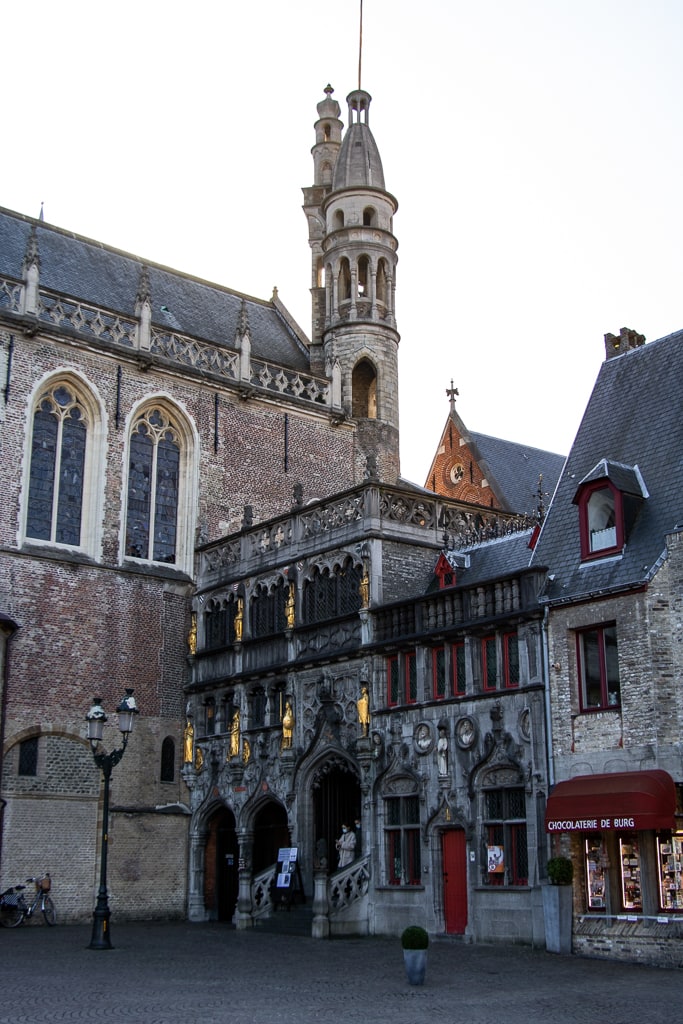 The Roman Catholic Basilica of the Holy Blood is two-folded. It has a Romanesque chapel below (for free) and a neo-Gothic one above (€2,5 entrance fee). The chapel upstairs houses a relic of (supposedly) Jesus Christ's blood. Every day the crystal vial with the holy blood is displayed to the public between 2 pm and 3 pm.
FUN FACT | The popular saying "filthy & stinking rich" actually originated in the Middle Ages. Back then wealthy people were buried underneath the wooden floors of the church after they died. After a while the dead bodies' smell would come through the floorboards, making the town people say there were "filthy stinking rich" people buried underneath.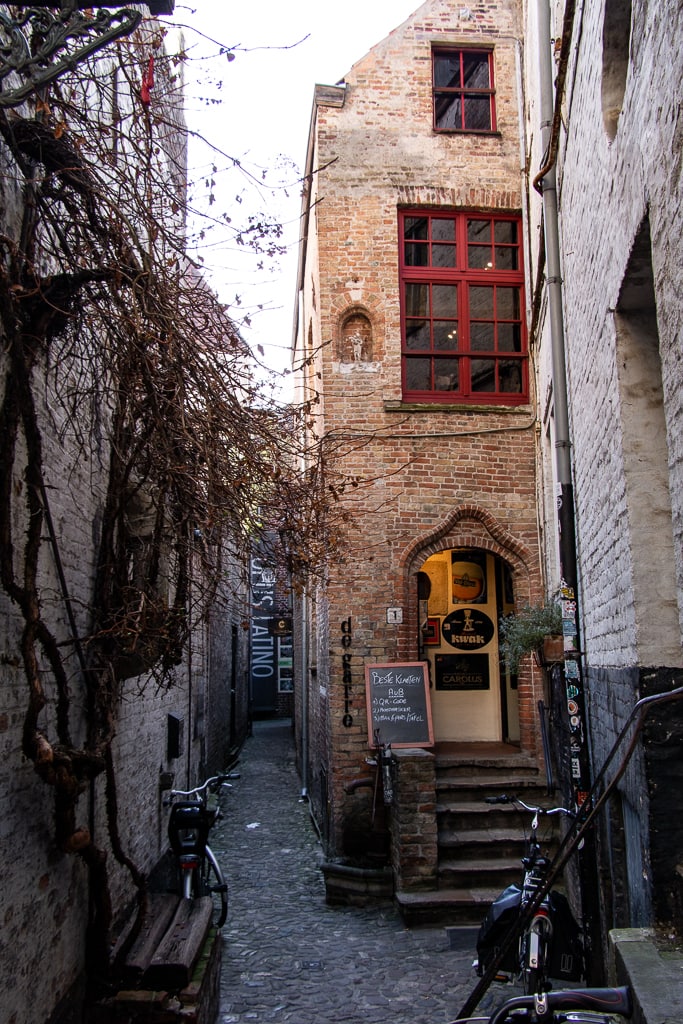 Stop by De Garre for the best local beer
Now by this time, we imagine you might be getting hungry. So head back to the Breidelstraat to have a little break at our personal favorite De Garre. You might want to check Google Maps for this one because it's in a little secluded alley. Once you arrive at the location, you will see why so many tourists just pass it if they don't know about it.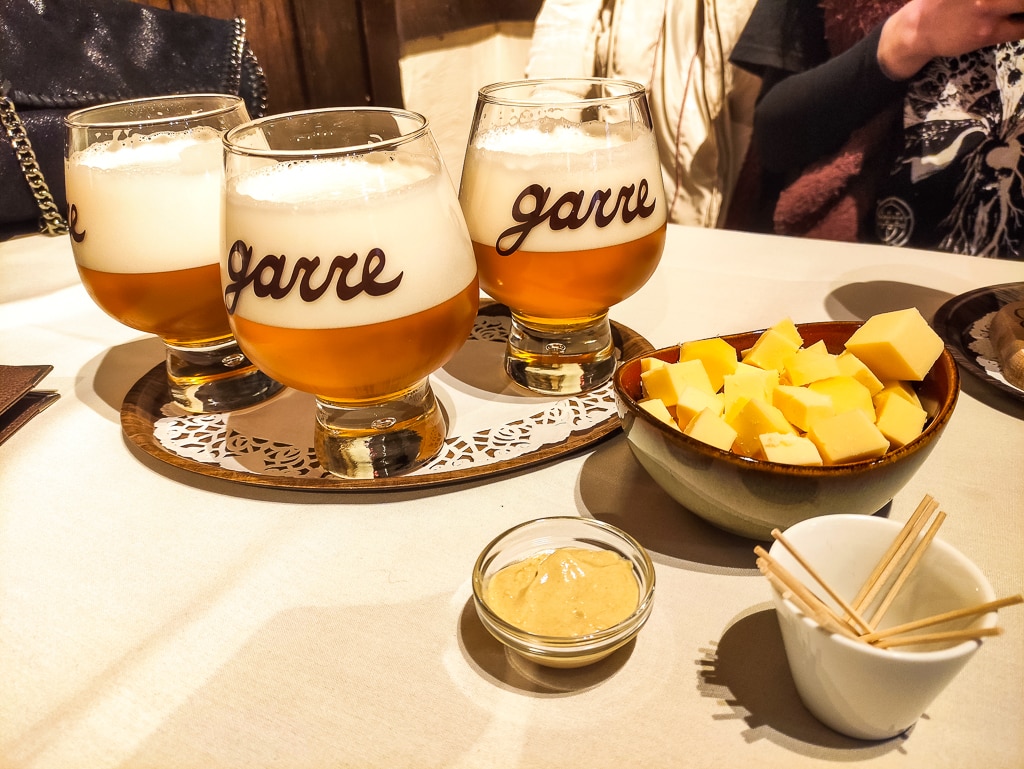 There are many nice places in Bruges to try out good beer, but this local beer is our absolute favorite and still remains a hidden gem. De Garre is not the biggest place, so it always gets full quite quickly. Order De Garre's triple along with some of their farmer's bread and cold cuts like cheese and paté. Pretty simple, but absolutely divine! If you happen to stop by and you love it as much as we did, let us know in the comments!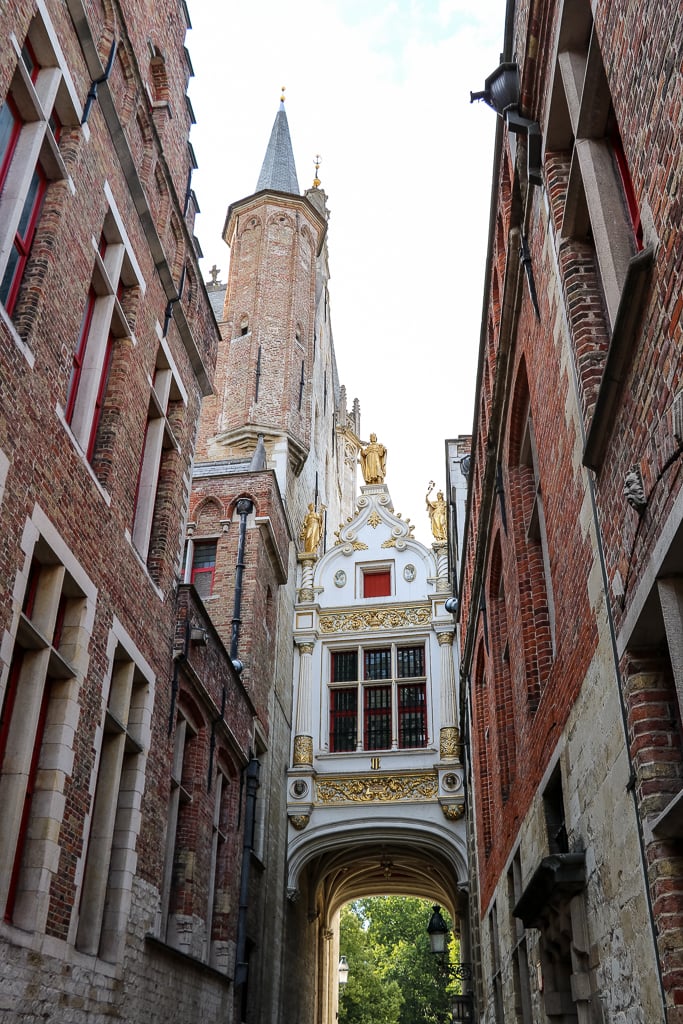 Pass by the Blinde Ezelstraat and the Fish Market
Once you are fully re-energized, go through the passageway next to the City Hall on Brug Square. It will lead you through this charming narrow street called the Blinde Ezelstraat, which translates to The Blind Donkey Street. The big sight here is located when you look back above you. You will spot a remarkable gilded archway attached to the Brugse Vrije building.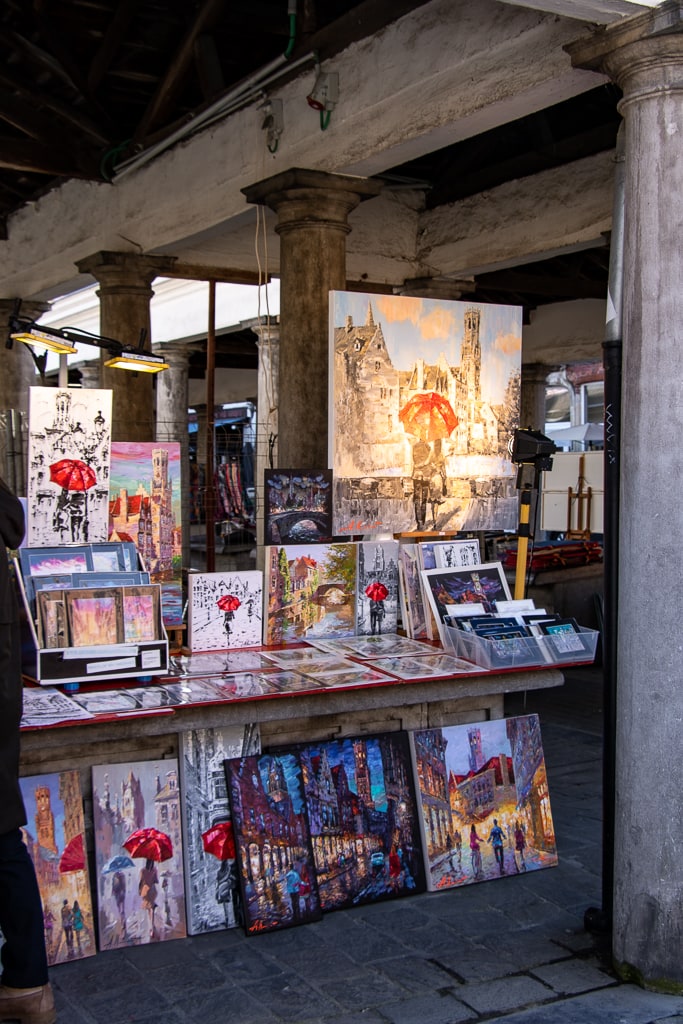 From here you will pass two squares, the former Fish Market (or Vismarkt) and the Huidenvetterplein. You will notice that Bruges has many quaint squares tucked away when you start paying attention to them. They can be easily missed, just like these two. Take a bit of time to take a look around, there are some handicraft shops around like lace making as well as restaurants and bars. The fish market often has local artists stall out their work such as art and handmade souvenirs. On Tuesday and Saturday mornings however you can still enjoy an actual fish market, much like back in the 14th century.
Snap the most photogenic picture of the Quay of the Rosary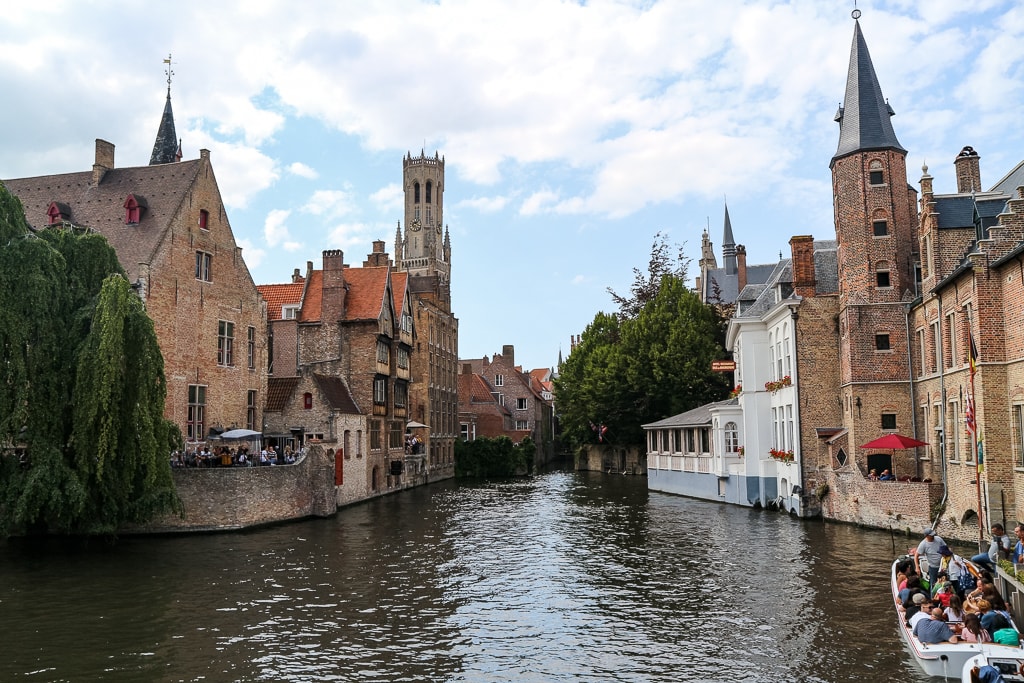 Probably the most beloved & photographed view of Bruges is the Quay of the Rosary (or Rozenhoedkaai). The intersection of the two main canals is possibly the best photo spot in the whole city, making it a crowded spot at any time of the day. When you come early in the morning or around sunset, you might catch the place to yourself. The place gives some stunning views both of the canals and the surrounding historical buildings. You will probably immediately recognize it since it's the most used picture for postcards of Bruges. The iconic photo spot even got its own location on google maps these days under 'Rozenhoedkaai, famous instagramspot'.
Cruise down the canals with a boat tour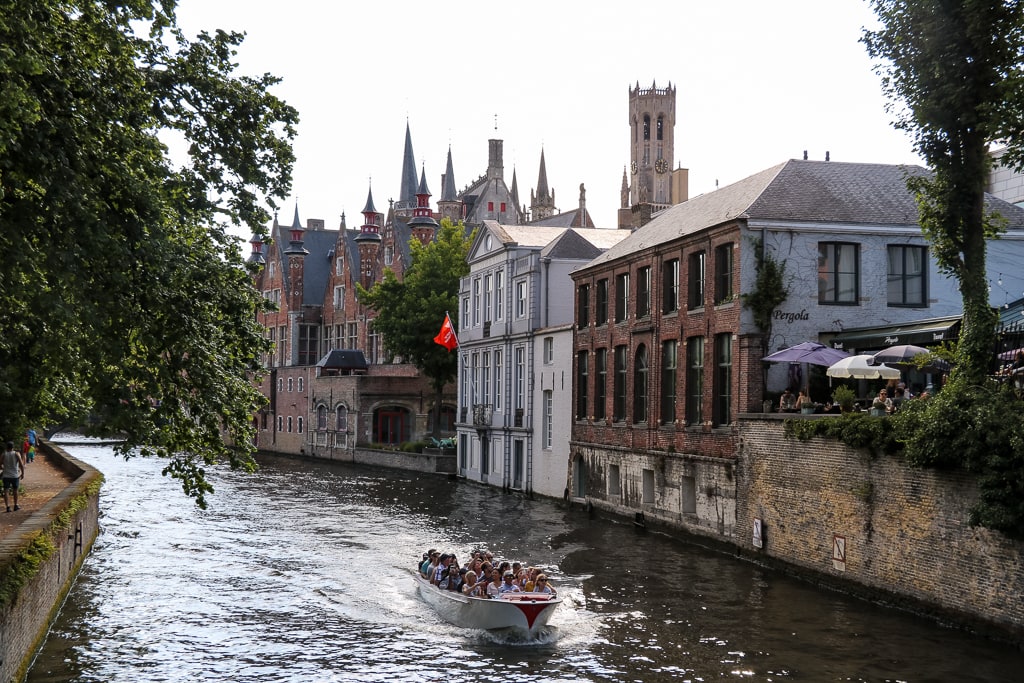 A fun afternoon activity to learn more about the remarkable history of Bruges is by hopping on one of the boat tours that take off at the Quay of the Rosary. It might sound touristy, which it also is, but it's a nice way to see the city from another viewpoint. And honestly, can you even say you have been to Bruges, The Venice of the North if you haven't done a canal tour?
The boat tour takes around 30 minutes and takes you along the most beautiful spots of Bruges. Besides its scenic waterways with all the highlights, you will also pass by some hidden places that are only accessible via boat. So just sit back, relax and enjoy the tales of Bruges' history by a multilingual guide. If the queues at the quay are too long, head over to one of the quieter spots. See the other starting points here.
BOAT TOUR COST | Adults €12; Children up to 11 years old €7; younger children are free of charge.
OPENING HOURS | Boat tours operate only between March and November, from 10 am till 6 pm.
Discover the little alleys for shopping for souvenirs & chocolate
Once you hop off the boat, it's time to get off the beaten path in the many little alleys of Bruges. In our opinion, the best way to get to know a city is just by wandering around its many streets. Bruges is just perfect for that with its cozy lanes where you can find the best local businesses.
If you want to do some shopping, the Steenstraat is the best area to go for all the major high-street stores. Head over to the Langestraat and Hoogstraat for the best vintage stores and art galleries. In the old side streets, however, you will find the more charming boutiques and locally handmade shops. These adorable shops sell everything, from Christmas decorations, to traditional lace-making to watercolor paintings. Definitely, the place to be if you are aspiring to bring home some Belgian chocolate.
Belgium is an absolute chocolate lover's delight! Belgian chocolate is something you must try out while in Bruges. You will find an abundance of shops showcasing all kinds of flavors, from pralines to truffles, from cream liqueur filling to strawberry ganache. There are many popular brands to choose from, such as Godiva, Neuhaus, and Leonidas. But you often find also local artisanal shops around that are worth checking out such as Oliviers Chocolate Shop & Bar. Another Bruges'beloved, The Old Chocolate House is a family business that has been around for more than 20 years making premium chocolates. Besides an extensive assortment of chocolates, their charming shop offers all kinds of handmade pralines and biscuits. There's even a tearoom upstairs where you can try out all the goodness!
Just trying out flavors is not enough for you? There are some fun workshops where you can learn how Belgian chocolate is made.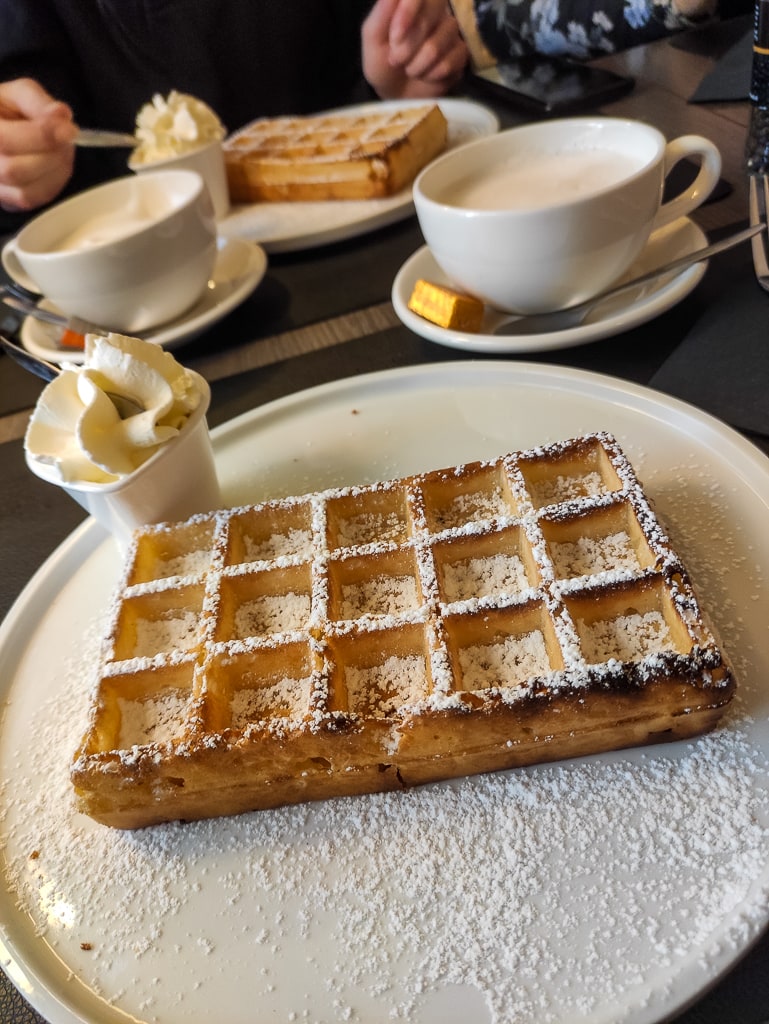 Indulge in delicious Belgian Waffles
In case you are getting a little hungry in the afternoon, there is nothing that beats a sweet warm Belgian Waffle as a snack. Besides beer, chocolate, and fries, Belgium is also known for its delicious waffles. We have several kinds of them, but the most popular ones are the Brussels Waffle and the Liege Waffle. You can find street vendors all over the tourist areas to take one on the go.
Head over to Chez Albert for the best Liege Waffles, these are the ticker oval-shaped ones, made out of dough batter with big sugar chunks. The Brussels Waffle on the other hand is airier and made out of a light batter. For one of those you should pass by House of Waffles, there's a big amount of variety of both types of waffles with all kinds of toppings, even the savory kinds! Which one of the two is your favorite?
Would you like to learn how to make Belgian Waffles yourself? There is a workshop that you can join, you are even allowed to take the recipe home to recreate it afterward!
Stop by Jan van Eyck Square
Before heading out for dinner, make a stop at the Jan van Eyck square, another famous landmark in Bruges not far from Market Square. This stunning place is home to the statue of the famous Flemish painter Jan van Eyck. You will be amazed by the marvelous canal-front houses and stone bridges that surround you. Pay special attention to the picturesque old Tolhuis. It's the perfect place to enjoy a peaceful afternoon since this area is usually less crowded. This place was the city's old harbor during medieval times when Bruges was a bustling trading center. As an important trading route for European merchants, it contributed to the city's wealth over time. Many merchants ended up building their mansions along Jan van Eyck square, which you can still admire today.
Take an evening stroll & pop into a cafe for some beer
Bruges is just absolutely magical by night when the sun is going down and the lights start illuminating the canals. Many of the day trip tourists are leaving, making an evening walk the perfect moment to enjoy the serene setting. Strolling along the cobblestone streets almost makes you feel like you stepped into a movie set.
End the first day of your weekend in Bruges by trying out some Belgian beers. There are many fun cozy places overall Bruges, one of them being Le Trappiste. It's a popular place among tourists but for good reason! Located only 5 minutes from Market square, this bar's setting is just epic. It's set in a 13th-century underground cellar with typical brick arches. There are over 100 beers to choose from, both draft beers and Trappist. So as a beer lover you will want to stop by here to do some tastings of the Belgian beers.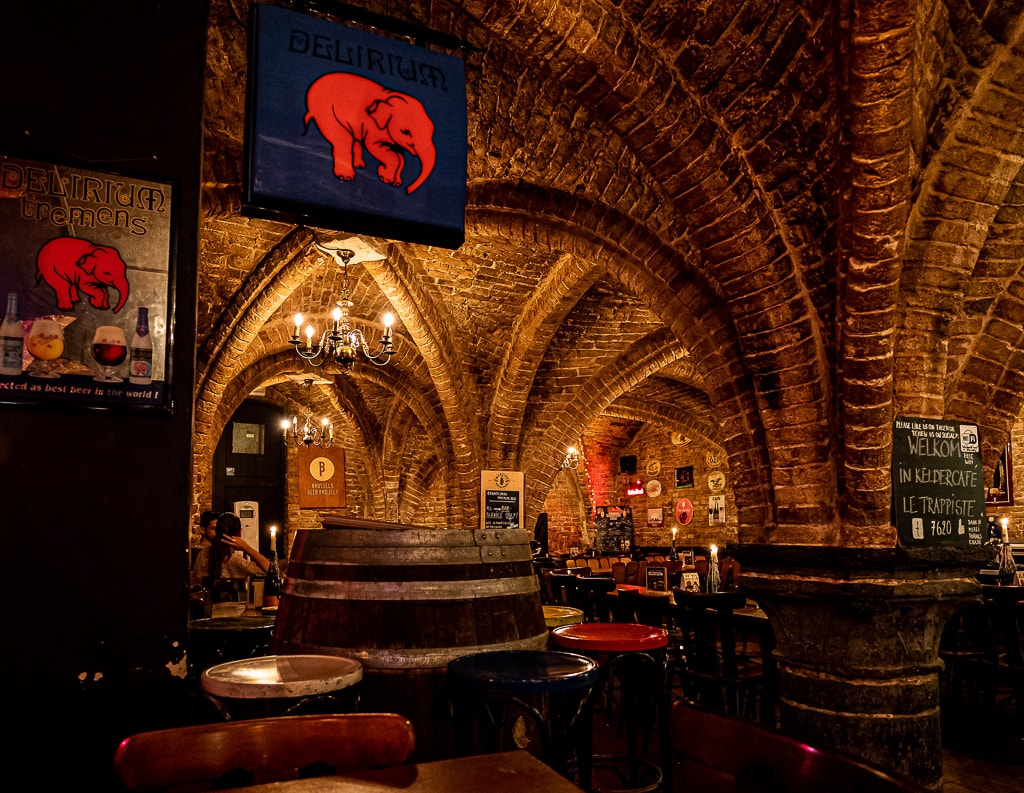 Another favorite hotspot in town is 2BE, with its unique beer wall displaying all kinds of beers. Actually, this place is better to be visited during the day since it has amazing outdoor seating overlooking the canals. From there you have the best vantage point to watch the boat tours passing by.
TIP | Belgian beers tend to be way stronger than other kinds (on average 11%). Beers such as Duvel, Delirium & Lachouffe go down easily, but don't be fooled! For those who are less of a beer fan, bars also often have a variety of fruit beers like the famous Kriek (Cherry flavored).
Things to Do on a Weekend in Bruges – Day 2
Bonifacius Bridge
After some breakfast, it's time for the day's first stop, at the most romantic bridge in Bruges, the St. Boniface bridge (or Bonifaciusbrug). This photogenic bridge is often also referred to as the Lover's Bridge since the legend says that if you kiss the person you love here, your love will last an eternity. So you can imagine that this spot is rather popular, so best to visit it straight away in the morning to beat the crowds. The narrow stone bridge runs over the Reie canal and offers some amazing views of old historic buildings. Amongst them, you have the Church of Our Lady and the Gruuthusemuseum, where we will be heading next.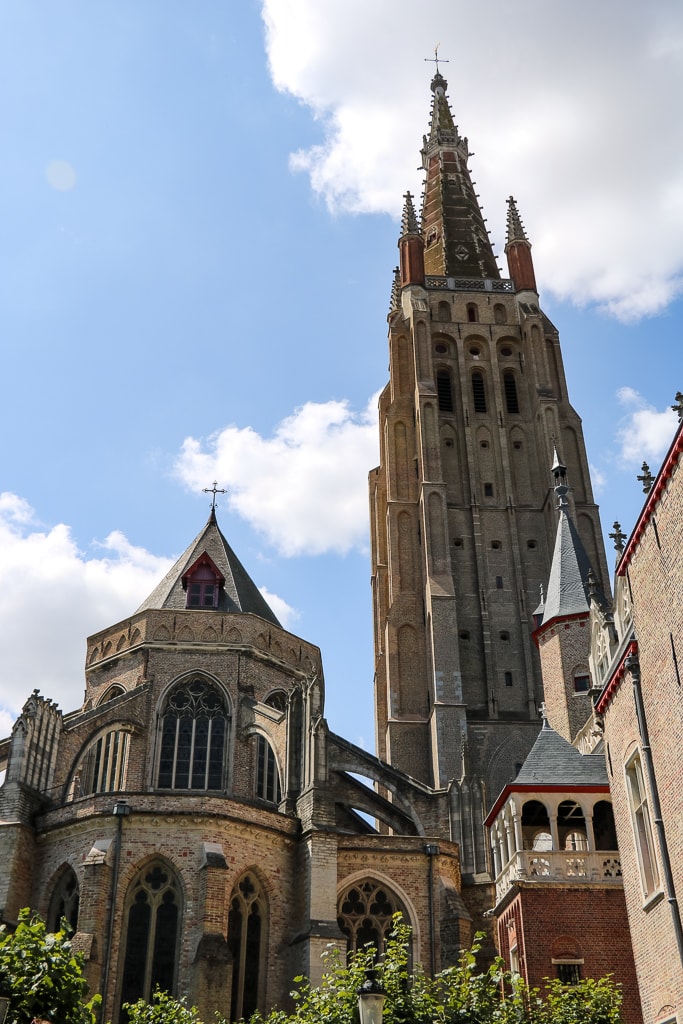 Visit the Church of Our Lady
The Church of Our Lady (or Onze-Lieve-Vrouwekerk) is right behind the bridge. This impressive church is the second highest one in the world with its 115,5-meter high red brick tower and dates back to the 13th century. Inside you can catch a glimpse of the famous Madonna with Child marble sculpture by Michelangelo, amongst many other artworks.
OPENING HOURS | Daily from 9.30 am – 5 pm; Sundays from 1.30 pm – 5 pm.
ENTRANCE FEE | Free for the church; The museum (where you can see the paintings and the Madonna): Adults €6 – Children free.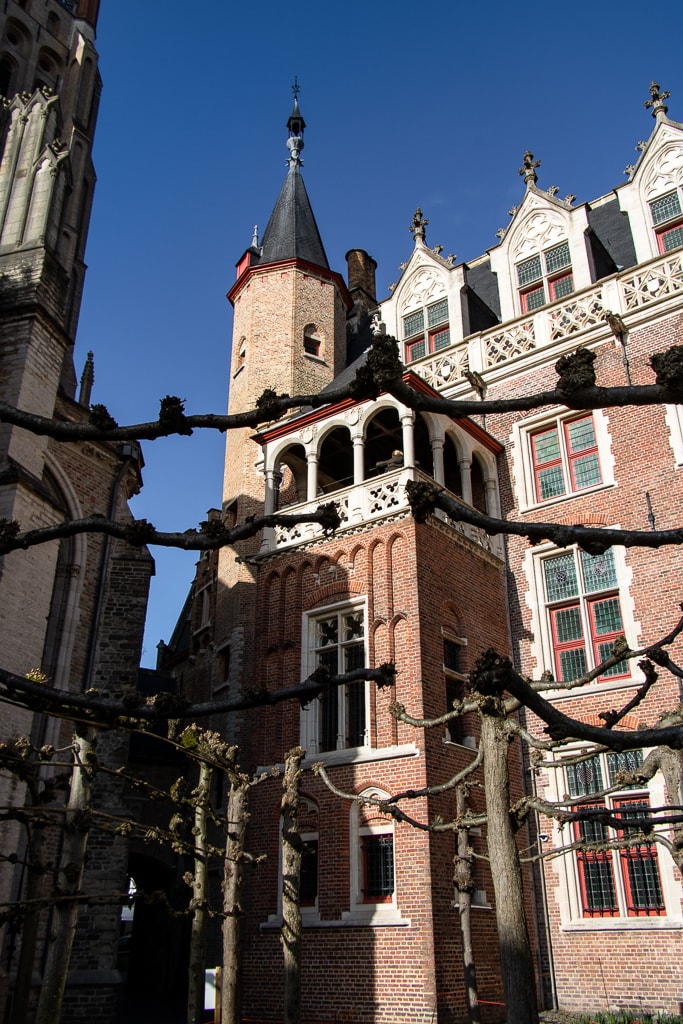 Learn more about Bruges' history at Gruuthusemuseum
In the same courtyard as the church, lies the entrance to the Gruuthusemuseum. This museum was once the home of a wealthy family in the 15th century, now the mansion is the ultimate place to learn more about Bruges' history. The museum focus on the three crucial time periods that contributed to the history of the city. Through 600 exhibits many types of artifacts are being showcased, going from wooden sculptures to colorful tapestries. On the top floor, there is a balcony that gives a view of the Bonifacius bridge and its surroundings.
OPENING HOURS | Daily from 9.30 am till 5 pm (Closed on Mondays)
ENTRANCE FEE | Adults € 14,00; Youth up to 25 years € 12,00; Children up to 12 years € 0,00
Take a brewery tour at De Halve Maan
A fantastic way to learn all about beer brewing and its history is by joining a brewery tour. The family-runed Brewery De Halve Maan is the perfect place for this in Bruges. This authentic brewery is located right in the city center and offers the best immersive experience to learn about the beer brewing process. During the 45-minute tour, you will be taken around the brewery itself where they will teach you all about the beer-making process, as well as the history of beer. You will also go up to the roof of the brewery for a wonderful view of the city. Even better is that the entrance ticket (around €12) includes a complimentary Brugse Zot, their signature beer, at the end.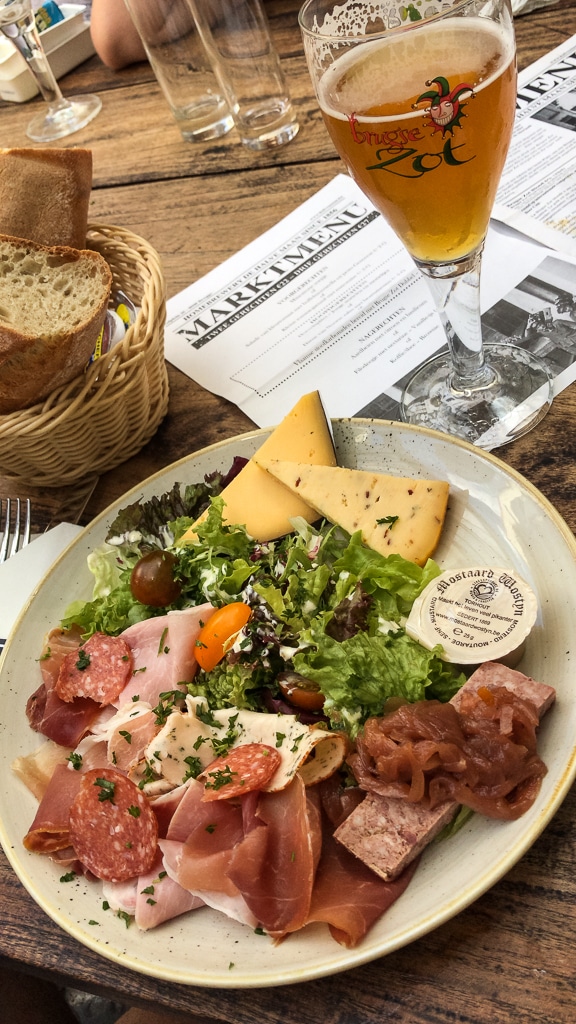 If you are getting hungry at this point, the brewery also has a cozy restaurant and terrace where you can enjoy some lunch while trying out more of the fine beers. On the menu, you can find many Flemish classics such as Carbonnades Flamandes (beef stew or stoofvlees), cooked the traditional way with their own brewed beer.
Stroll around the Beguinage & Minnewater Lake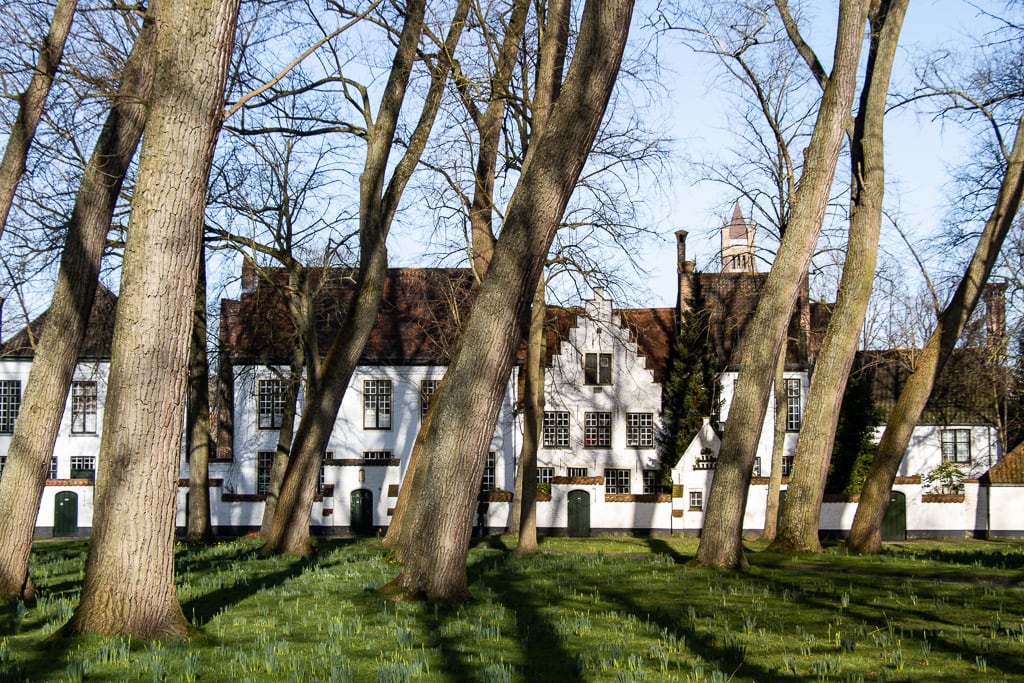 After you had a bite to eat, it's time to enjoy a peaceful stroll towards the beguinage of the Vineyard (or Begijnhof Ten Wijngaerde). This area of the city is one of the quietest and is often skipped by tourists. The convent used to be home to the beguines, which are women living a life of religious devotion without taking vows. There are no beguines living in the Begijnhof today, only nuns of the Order of St. Benedict. So make sure to be quiet and respectful when passing through. The courtyard is just adorable with its small houses and giant poplar trees giving shade to the garden. If you want you could even visit one of the beguines houses that turned into a museum. For a €2 fee, you can see how these beguinages used to live.
From here we walk further to Minnewater park, also known as the Lake of Love. It does have something romantic, with the many swans that call the lake their home and a view of the historic castle. Most of all the beautiful park is the ideal place to enjoy some tranquility and escape the crowds for a while.
Visit the Windmills of Bruges
Typically the Netherlands are being associated with windmills, but did you know that Bruges has some mills as well? Originally Bruges was entirely encompassed by a city wall, today you can still see 4 city gates along the green open space. There also used to be 25 windmills in this area back in the 16th century, only a few remain today. You can find these between the Dampoort and the Kruispoort city gates, a short walk to the outskirts of the historic city. The St. Janshuis mill is the oldest and remaining mill that is still operative today, grinding flour. It's even open to the public and can be visited for €4.
Horsedrawn carriage ride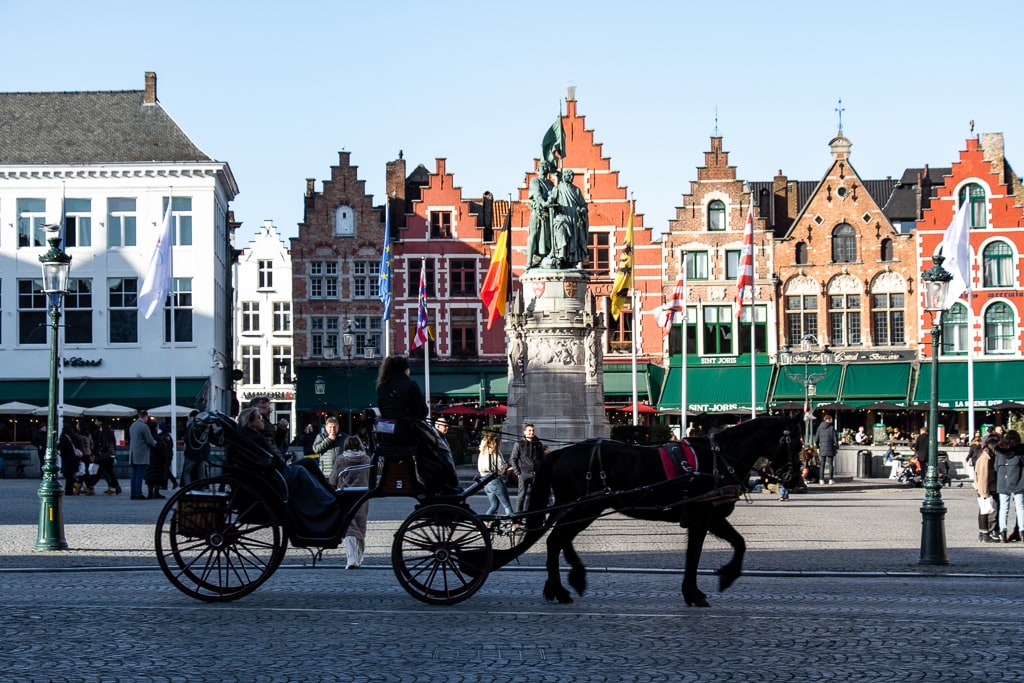 Since the 2-day weekend in Bruges is coming to an end at this point, you can opt to end on a romantic note. Wind down while enjoying a ride on one of the many horse-drawn carriages that have been passing by the last two days. Most of the carriages can be found parked around Market square. The tour takes you along the cobblestone streets with their ancient bridges and canals. It usually lasts around 30 minutes and the coachman will entertain you with some tales and facts about historic Bruges. This activity doesn't come cheap though, you will have to count on around €60. So maybe enjoying its views against the city's backdrop is also an option.
Explore one of Bruges' many museums
Normally the above-mentioned activities should fill up your 2-day weekend in Bruges. If you happen to have some extra time and depending on your interest, Bruges has multiple nice museums you can visit.
Groeningemuseum – This museum is a must-do for art lovers as it exhibits an impressive array of Flemish artwork, going from the 14th to the 20th century.
Sint-Janshospitaal – This former hospital shows how life was back in the middle ages in a hospital. Further, it's filled with an impressive artwork collection as well as old medical instruments.
Historium – This museum takes you back in time to when you can experience Bruges during the Golden Age. Virtual reality takes you through medieval architecture and shows how life was back then. Climb the tower to enjoy a unique 360° view of the city.
Chocolate Museum – For chocolate lovers, dip into the history of cocoa and learn more about how it's made. Also perfect for children to explore chocolate through games.
For a more in-depth list of things to do in Bruges, be sure to check out our post on Best things to do in Bruges. 
Essential Travel Information for a Weekend in Bruges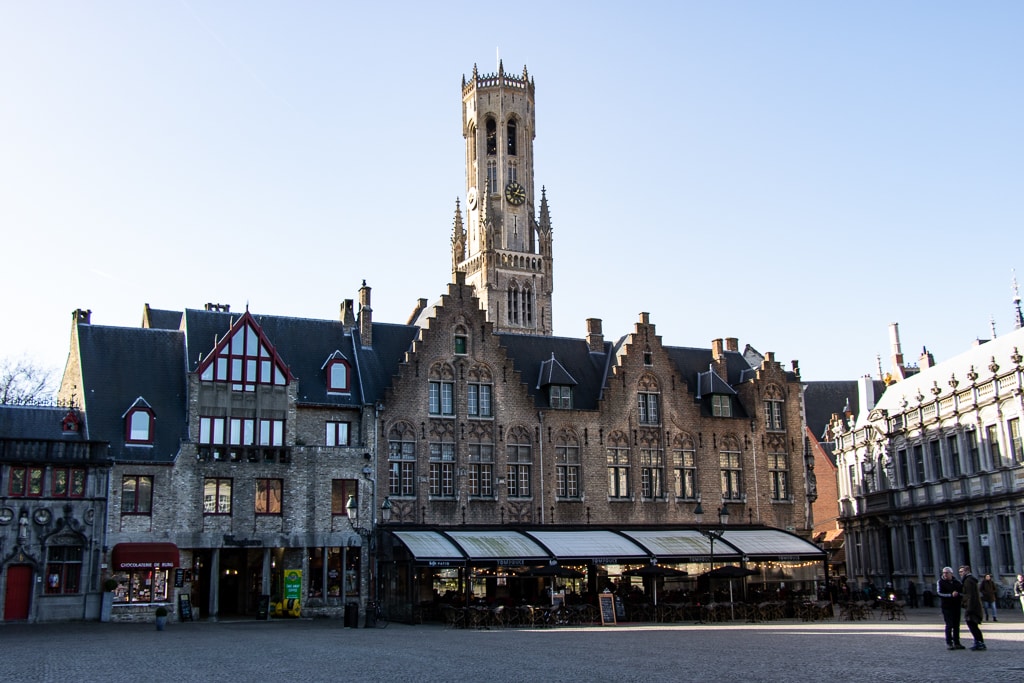 Travel Basics for a weekend in Bruges
Bruges or Brugge? Bruges is the English name, and Brugge is used in the Dutch language. So both will get you to the correct location ;).
Language? Brugge is located in the Flemish region of Belgium where most people speak Dutch. Overall most Belgians speak English very well, definitely in touristy places.
Currency? The official currency in Belgium is Euro (€). To check the exchange rate, click HERE.
How to pay for things? Most places like hotels, bars, and restaurants all accept cards, the only place you might need to bring cash is at a market. ATMs are quite widely spread, however, exchange offices are not really common.
Plugs? In Belgium Type E power plugs are being used, with the standard 230V voltage and a standard frequency of 50 Hz. So if you come from outside of Europe, make sure to check for a travel adaptor.
Safety? Belgium is a very safe country, in any case, be aware of your surroundings in more touristy areas. Pickpocketing can always occur in bigger cities, just like all over Europe.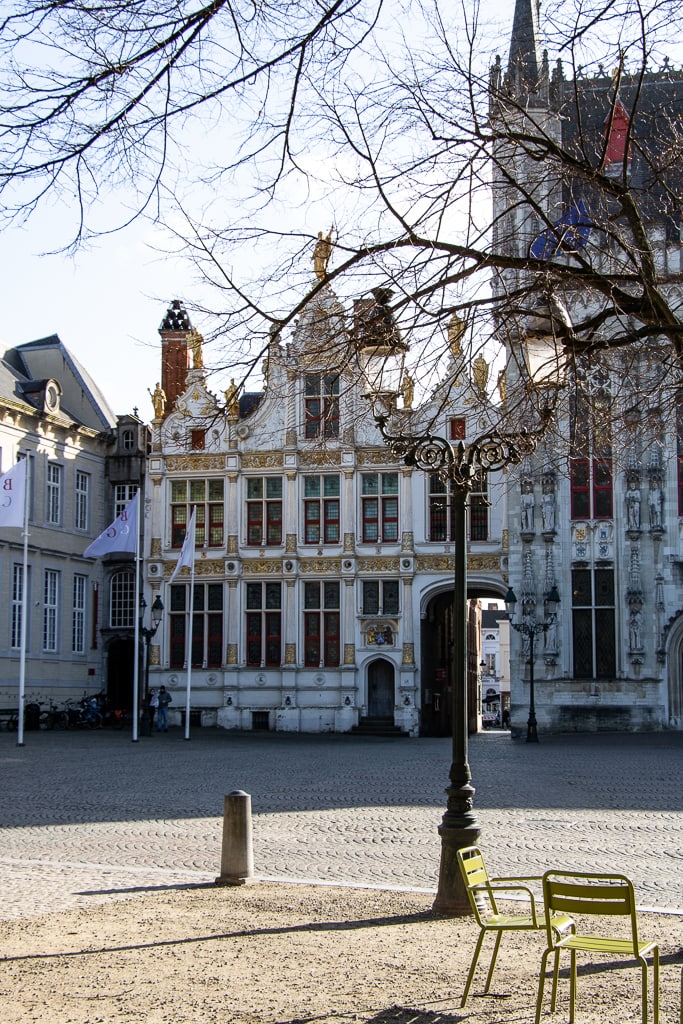 Best time to travel to Bruges
Bruges is a spectacular place to visit all year round, it has its charm during every season. So the time you choose to visit really depends on your personal preference. We have visited Bruges pretty much during every type of season, and each has its beauty.
The summer months (June-September) are weatherwise the best, you can enjoy the cozy terraces and sip a beer outside. As you can imagine this is absolute peak season and the city gets incredibly overloaded with one-day visitors. Also given that the city isn't huge, it can get crowded quickly, especially during the weekends.
If you still want pleasant weather, but lesser crowds, then the shoulder seasons are the best time to visit. During autumn the fall colors of the city are just so beautiful with all their yellow and red hues. Temperatures are also still nice in late September and early October. However, in November you might need to check closely for rainy days. Spring (April-May) is probably our favorite season to visit when the temperatures are getting warmer again and everything is starting to bloom.
In the colder months (December-March) it's obviously gonna be quite cold, so you might want to bundle up. The town is definitely less crowded, so you often have the place almost to yourself. Just imagine visiting Bruges while it's snowing, it surely will look like a fairytale! Keep in mind that December can also get popular around Christmas times.
Concluding, we would personally suggest visiting during the shoulder seasons and if possible even during the week. It's better to avoid weekends if possible, as also domestic tourists visit from all over Belgium. Regardless of the period, you plan to go for a weekend in Bruges, it will be magical!
How long do you need in Bruges?
Bruges is actually way smaller and more compact than most people expect. So if you don't have much time on your European travel itinerary, you could catch the main highlights in a day. With that said, if you want to enjoy all that Bruges has to offer, taking your time to go on a brewery tour and deep dive into some museums, then we really suggest counting in at least two days.
TIP | Since the majority of tourists only pass by Bruges for a day trip, the city gets more peaceful at the end of the day when all the day-visitors are leaving. Spending a weekend in Bruges to see the canals by night while the buildings are beautifully lit is absolutely magical.
Tips On Visiting Bruges
Walk everywhere – It's the best way to soak up the atmosphere and explore the city. Most of the historic city's attractions are within 20 minutes walking distance from each other. Most of the city is pedestrian only anyways, so it's really pleasant to walk everywhere.
The second tip goes hand in hand, wear comfy shoes! These historic cobblestone streets aren't made to walk in heels, so opt for a pair of cute sneakers.
Join a free walking tour – Taking a walking tour is the best way to learn more about the cities history, get insider facts and cover all the main sights. A popular tour is the Legends Tours, for which you need to sign up online and make a reservation. The tours are done by local people. Considering the tour is for free, make sure to give a tip at the end!
Another great walking tour is the following one, where the guide tells you historical stories, takes you along all the highlights, and ends the tour with an artisanal chocolate tasting.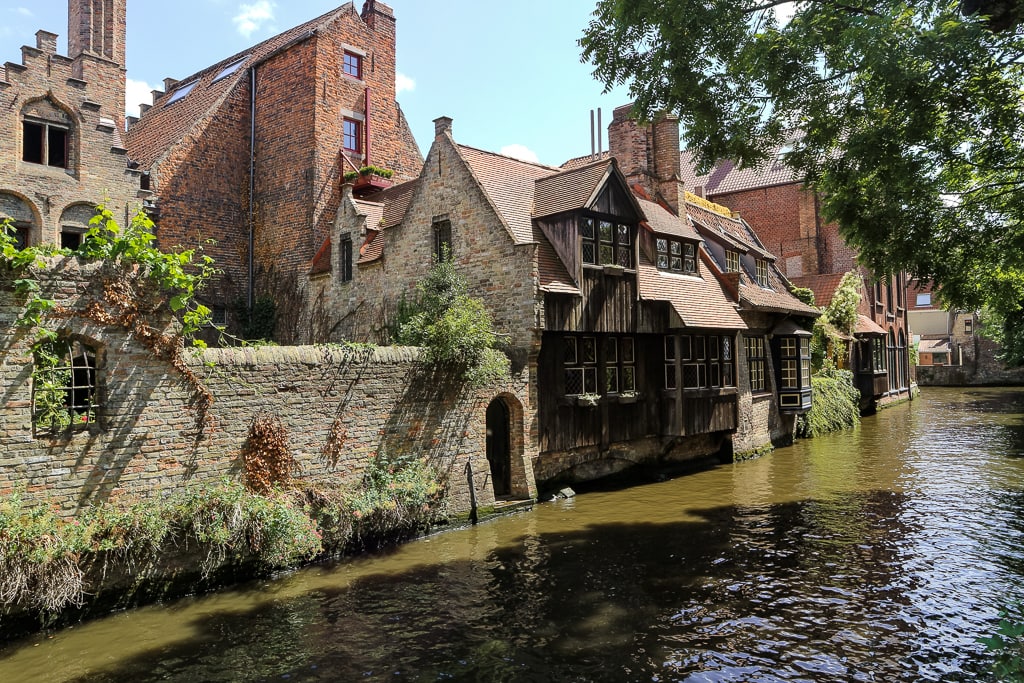 Checklist & what to bring for a weekend in Bruges
The below is not imperative, but it can make your travels more worry-free:
Bring already some converted Euros with you
Check Visa Requirements
Universal travel adaptors if need be
Power Bank for your phone
Offline Map (phone app)
Comfortable shoes
Directions to your accommodation
Cost of travel in Belgium
Just like many other touristic European cities, Bruges isn't cheap. Looking at overall Belgium, Bruges will be one of the most expensive places to visit. However, that doesn't mean you can't visit Bruges on a budget.
Transport Costs – Within Bruges, there are no transport costs since everything is within walking distance. Unless you would like to hire a bike, Bruges Bike Rental will cost you €4 for an hour and €13 for the day. Traveling through Belgium is easiest and most affordable by train (see below).
Attractions – The city of Bruges just feels like one big open-air museum, so if you decide to just enjoy the atmosphere of the city itself, that's free! If you would like to visit a few things, some entrance fees might add up if you decide to do many. If you have to make some choices, we suggest opting for the Canal boat tour, which is around €12 and climbing the Belfry tower for €14. Joining a free walking tour is an absolute must when on a budget, so book your spot with Legends Tours. They offer both a day and a night tour and work tip-based.
Restaurants & bars – Avoid the restaurants around the main attractions such as Market Square, since these tend to be very pricy. Having a traditional Flemish dish at the more popular places will set you back at around €20 for the main course. Prices for beers depend on the type of beer, but they usually range between €3-€6. A good and affordable option to still your hunger is to have some infamous Belgian Fries on the go from a Frituur (around €3 for a big pack).
Best Places to Eat on a Weekend in Bruges
If you are anything like us, then trying out food while being on a weekend in Bruges is high on your must-do list! Belgians are known for their Burgundian lifestyle and enjoy warm-hearted dishes. We absolutely love cozy places to enjoy a nice meal with the company and while city tripping we enjoy taking regular breaks to sip on a beer or savor a waffle.
Below we put a little list of the best places to go for each time of the day when you feel hungry!
Breakfast spots
Kottee Kaffee – If you want to find an excellent cup of coffee, this small café is the place to be. It's a perfect place to enjoy breakfast in the heart of Bruges with a wide variety of dishes to choose from.
Blackbird – Cozy setting to enjoy a stack of pancakes or some croissants for breakfast. They also have a variety of healthy options like avocado toast or fruit bowls. And their plates just look absolutely photogenic!
Books & Brunch – For those who love books, this will be breakfast heaven! This quaint café not only offers classic options for breakfast, they even have delicious waffles for breakfast!
That's Toast – Craving some fancy toast? This place is known for its special toast creations with all kinds of toppings. Further, they also have other breakfast options such as granola yogurt, oats, and so on. It's probably the most known spot for breakfast, mentioned as number #1 on places like Lonely Planet and TripAdvisor.
Which typical Flemish dishes to try out?
As mentioned, Belgians love some hearty good filling dishes, often even made with beer! Some traditional Flemish dishes you have to try are:
Carbonade Flamande (Flemish stew or Stoofvlees), is the perfect winter dish. It's beef slowly cooked in beer, so you will get this thick rich sauce. Perfect with a side of fries and mayo!
Moules Frites (or Vlaamse Mosselen) are the highlight of Belgian summer cuisine. It's a pot filled with delicious mussels and a side of fries. Since we are located right at the North Sea, we get the best fresh fish every day.
Asparagus is probably the national vegetable of Belgium and you will find it back in a variety of dishes.
FACT | In the English language fries are often labeled as 'French Fries', but this couldn't be further from the actual truth since fries obviously were invented by the Belgians ;).
Lunch & Dinner spots
Brasserie Cambrinus – For trying out one of the traditional Belgian dishes head over to Cambrinus. It's a beloved place, so make sure to get a reservation or visit after peak hours. They also have a large selection of Belgian beers to try out, so the perfect stop for all the beer pilgrims. Their staff is really knowledgeable so just tell them what flavor profile you like and ask for their recommendations.
One Restaurant – This quaint place has a lovely courtyard to enjoy when you come in summer. It's known for its hearty dishes like stew, a good piece of steak, meatballs, or a flavorful fish pan.
Restaurant De Bottelier – Wonderful little restaurant with a rustic quirky interior, almost looking like an antique shop. They have some lovely seating by the window overlooking the canals. Lovely classic dishes like goat cheese, lasagna, and steak with fries.
In Den Wittenkop – A traditional family-run restaurant with a lovely atmosphere and decor. This is the place to go to try out mussels in white wine with fries.
Gruuthuse Hof – This place is a popular tourist photo spot, but also a classic Belgian restaurant. It's more on the higher end price-wise, but they also have a menu at a fixed price of around €19 that includes soup, a main dish, and dessert. – UPDATE: Post Covid, they turned the establishment into more of a tearoom where you can buy sweet specialties like marzipan, nougat, and chocolate.
Beer

& Appetizer spots
Le Trappiste – As mentioned this is a beloved beer pilgrimage in town, with more than 120 Trappist beers to offer. The setting is super fitting for Bruges since it's located in a cellar with typical stone arches. Who doesn't love the feeling of stepping back in time while sampling some beers?
Brewery De Halve Maan – This place is perfect to visit any time of the day since they also have a lunch & dinner menu, as well as delicious cold cuts plates that go wonderful with a Brugse Zot or Straffe Hendrik on the side.
Dessert spots for Belgian chocolate & Waffles
You can't visit Bruges without trying all kinds of their sweet specialties. Belgium is known as the land of chocolate and waffles, so you will find shops all over town. For some authentic artisanal chocolate & pralines, makes sure to stop by Oliviers Chocolate Shop & Bar. It's a family-owned shop and they have a big variety of handmade chocolate at very attractive prices. Enjoy some afternoon homemade hot chocolate in the little attached tearoom.
An all-time favorite chocolate place in Bruges must be The Old Chocolate House. The family-owned shop has a chocolate store downstairs and a tea room upstairs with an extensive chocolate menu. They are mostly known for their homemade hot chocolates and various desserts with tea or coffee. Want to warm up during winter? this is the place to go for some heartwarming hot chocolate.
If you want to try out some unusual flavors of handmade chocolate, you should pass by The Chocolate Line, the renowned chocolatier Dominique Persoone's shop. Try out some curious flavor combos such as Saké (Japanese rice wine), Bombay gin, matcha, or even beetroot!
Little waffle shops you will find all over town, if you want to grab a Liege Waffle on the go pass by Chez Albert. A more sit-down kind of place to savor your Brussels Waffle, which isn't so easy to eat while walking, is the House of Waffles. They offer a wide variety of both types of waffles with all kinds of toppings.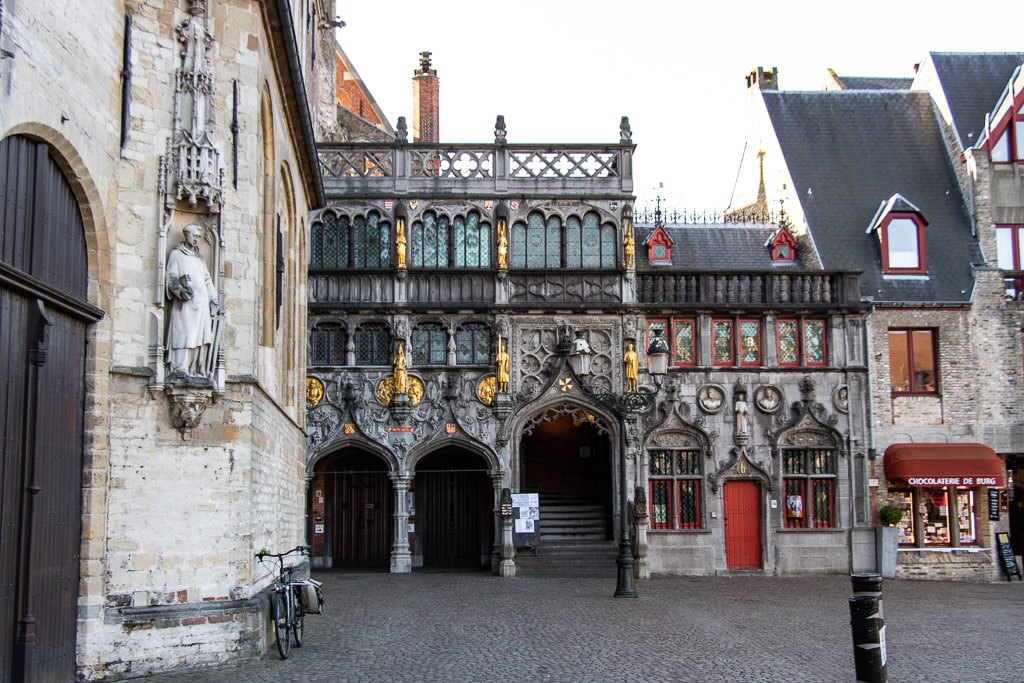 Best Places to Stay for a Weekend in Bruges
As mentioned earlier, Bruges is definitely worth staying more than one day. Spending a weekend in Bruges gives you the opportunity to explore the canal streets by night when the tour groups have left. What could be more romantic than wandering these medieval cobblestone streets when the moon lights up the historic center?
The city of Bruges is not huge, so wherever you book a place within the ring it will be within walking distance of all the sights. Many boutique hotels are actually converted medieval buildings from the 17th century.
Best Budget

places for a Weekend in Bruges
Snuffel Hostel – This affordable hostel is located right in the heart of the center, housed in a modern building. The place even has an interior garden and bar where guests can try out all types of Belgian beer. The rooms are basic but spacious and clean.
Hotel Rose Red – Quaint and characterful hotel in a stunning location. Easy to reach all the attractions from here. The place has its own courtyard with a restaurant and a bar. The staff is really friendly and welcoming. The hotel is a good value for its rooms compared to others in the same area. Large rooms that are really clean and comfortable.
Hotel Boterhuis – A gorgeous wooden floored hotel in the middle of the city set in a wonderful old building. The place is beautifully decorated with clean and pleasant rooms. Many visitors rave about the fresh and delicious breakfast.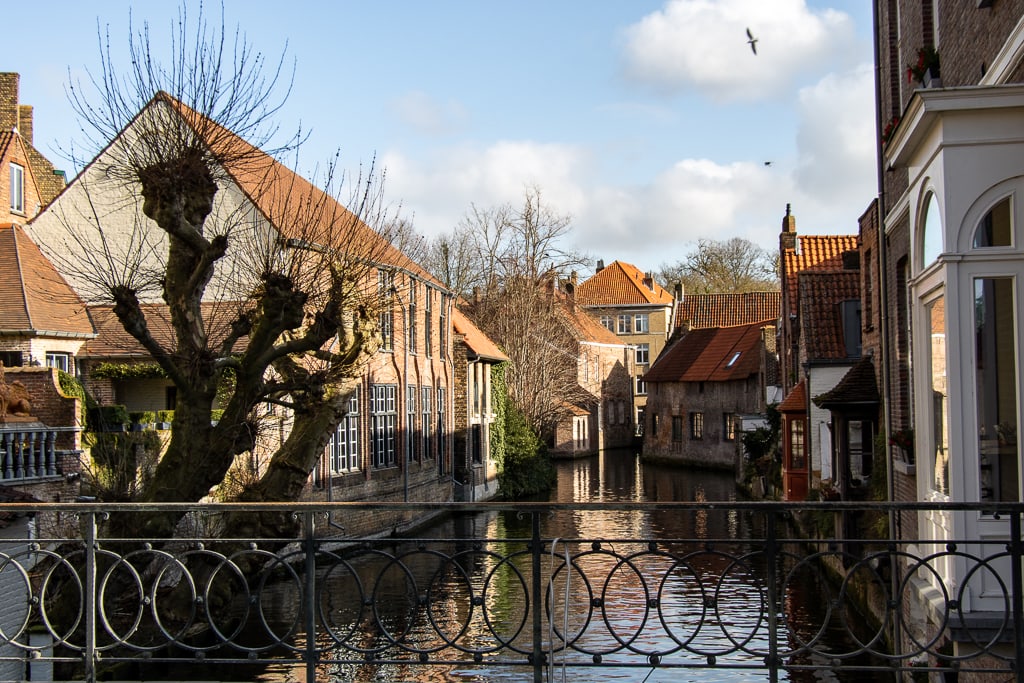 Best Mid-Range

accommodations for a Weekend in Bruges
Hotel Monsieur Ernest – This hotel is located inside a restored patrician's residence and brewery from the 14th century. It retained many unique features such as the beautiful staircase and open spaces. The hotel has an outside terrace where you can enjoy your breakfast or a drink in the evening right next to the canals.
Martin's Relais – Situated along the scenic canals and historic buildings, the Martin Relais hotel is located in 5 historic canal houses from the 17th century. The rooms kept some original features and are decorated in antique furniture. Further, you can enjoy the hotel's peaceful rose garden and its lovely lounges.
Boutiquehotel 't Fraeyhuis – Located close to the lovely Minnewater Later, this boutique hotel is located on a beautiful property with a restaurant and bar near a garden. Ideally situated to wake up in a serene atmosphere, yet close to the city center. It has a pristine decor with cozy modern rooms that still have some authentic touches like wooden beams and tiled chimneys.
Best Luxury

hotels for a Weekend in Bruges
Hotel Van Cleef – This luxury boutique hotel is located right in the center overlooking the canals, yet intimate to stay in. The family-owned hotel is known for its incredible service, excellent facilities such as a terrace overlooking the canals, and relaxing massage treatment. Its elegant interior is just absolutely stunning, with no detail overlooked.
Dukes' Palace Brugge – The perfect place to consider a stay for a special occasion. Located in a unique former ducal palace near Market square, this place exudes elegance. The interior of the rooms is characterized by spacious marble bathrooms and opulent decor. During summer guests can enjoy afternoon tea on the terrace which overlooks the lush garden. If you want to treat yourself and a loved one, this would be the place to do it.
Hotel De Orangerie – Right next to the picturesque Dijver Canal you can find this romantic hotel set in 15 century former convent. The hotel boasts a luxurious lounge with an open fireplace, perfect to enjoy a winter evening. They also offer typical English High Tea which can be enjoyed on their terrace along the canal. If you want a luxurious place that gives you the feeling of living in an authentic Bruges mansion, you want to book here.
BOOK A HOTEL | Spend a weekend in the heart of the medieval city of Bruges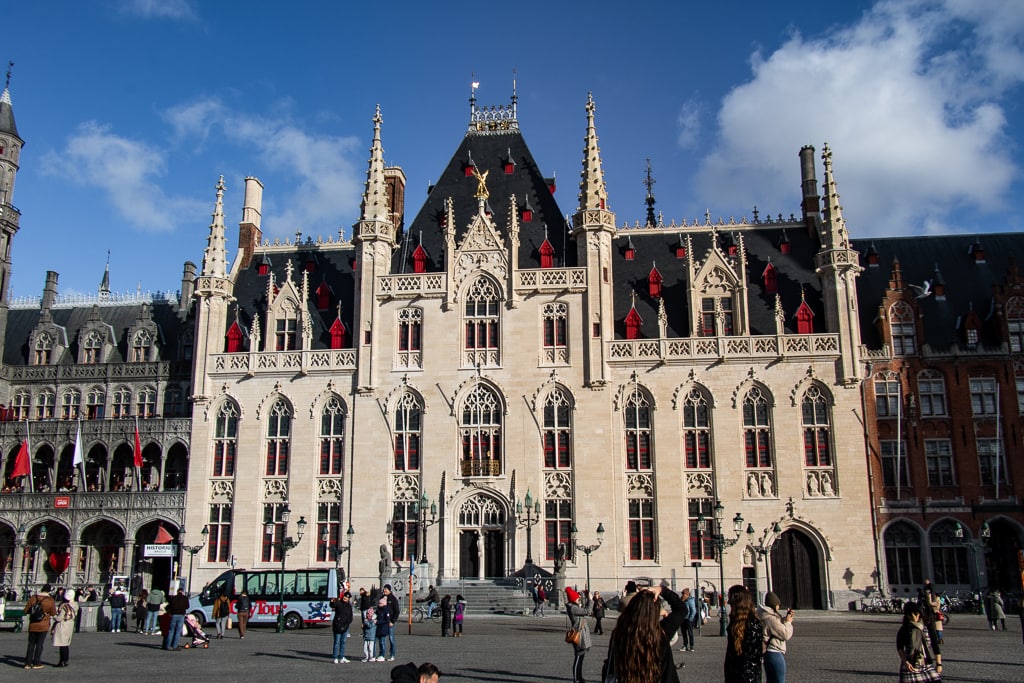 How to get to Bruges
Since Bruges is one of the most popular places in Belgium or even Europe, it's quite easy to reach. When flying into the country by plane, the closest airports to arrive would be Brussels-Zaventem, Charleroi, or Lille (North of France). As you are coming from neighboring countries you probably will first arrive in Brussels. From London, you can take Eurostar and from Paris and Amsterdam, there is the Thalys for example.
How to get to Bruges
For traveling within Belgium, there are a few ways to reach Bruges for a weekend getaway:
Train – The easiest way to get to Bruges is by train. Belgium has an excellent rail system, connecting all the cities. Always take the trains marked with "IC" (intercity trains), these are the faster ones. From Brussels, you can get there in a little over an hour (quicker than driving). The direct train from Ghent takes only 25 minutes from Gent-Sint-Pieters to Bruges Station.
Coming from Antwerp it will take you around 1,5 hours. Did I already mention that Belgium is tiny? The train station itself is only a 20-minute walk from Market square, the very center of the city. If you don't feel like walking or carrying a lot of luggage, there is a bus stop right out front. Take bus number 12 to the center of Bruges, tickets are €3.
BOOK A TRAIN | Book your train tickets online for a weekend in Bruges HERE
Car – You can easily reach Bruges by car, but since it's a small town and mostly pedestrian-friendly, it's advisable to leave your car outside the city center. There are a lot of parking possibilities though. You have free parking areas at the borders of the city, from where you can walk to the city. These get full quite fast though. The second option is the free Park & Rides a little further, from where you can take the bus. The third option is the underground parking lots, which is a paying option. See the map here for all the parking options in Bruges.
Day tour – You can also opt to join a day tour to Bruges from Brussels. This air-conditioned bus comes with a professional guide and provides you with some city tips + discounts at certain museums, shops, and restaurants.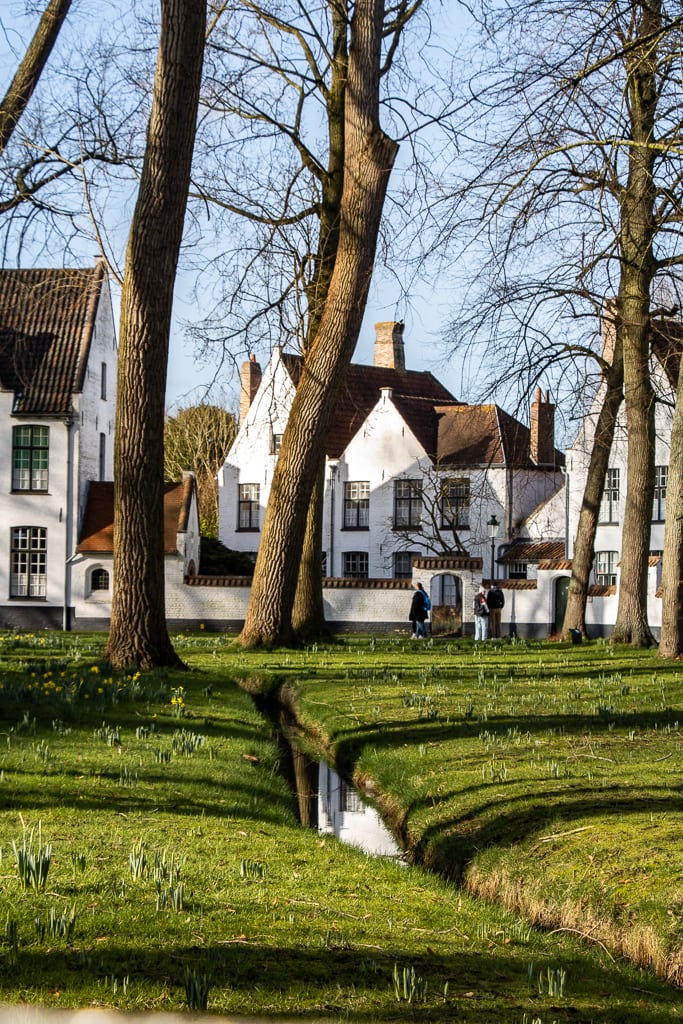 Getting Around Bruges
As mentioned Bruges is a compact city, best explored on foot. However, if you don't feel like walking everywhere, here are a few options for your weekend getaway in Bruges:
Public Transportation – Local buses are operated by De Lijn. A single ticket will cost you €3, which is valid for an hour. If you are planning on using the bus multiple times a day it makes more sense to buy a day pass that costs €6.
Bicycle – A fun way to explore Bruges is by renting a bike. There are many bike rental shops around, you can find B-Bike at the Concertgebouw or Bruges Bike Rental. A bike will cost you €4 for an hour and €13 for the day.
Taxi – Taxis are pretty expensive in Belgium, so we don't really recommend them unless you have no other option. Services like Uber aren't available here.
We hope this guide to a Weekend in Bruges helped you out. You can show some ❤ and support for the blog and help us share more adventures! Our travels are entirely self-funded, so any show of support is greatly appreciated. It allows us to keep writing helpful travel guides and gather information to make it easier for people to discover the world.
Pin it to Pinterest for later!