Embark on an epic day trip from Bangkok to Ayutthaya, where ancient wonders and captivating history await! Get ready to immerse yourself in the charm of this mesmerizing city, located just 80 km from bustling Bangkok. With Buddha heads peeking through lush banyan trees and vast temple complexes spanning 300 hectares, Ayutthaya is a must-visit UNESCO World Heritage Site. Once the majestic capital of the Kingdom of Siam, this city exudes a magical aura that will transport you back in time.
Whether you are a history enthusiast or an adventurous traveler seeking a day of exploration, Ayutthaya has something extraordinary to offer. Discover the best ways to get there from Bangkok, the must-visit temples, insights on navigating the area, entrance fees, and more in this comprehensive Ayutthaya day trip guide. Spoiler alert: exploring this historical wonder is incredibly affordable. Get ready to uncover the grandeur of Thailand's illustrious past!
* Disclosure: This post contains affiliate links. We will receive a small commission if you book through our links. This is at no extra cost to you. This way you're helping us write awesome travel guides and keep providing you with free content. We only recommend products we like and trust ourselves.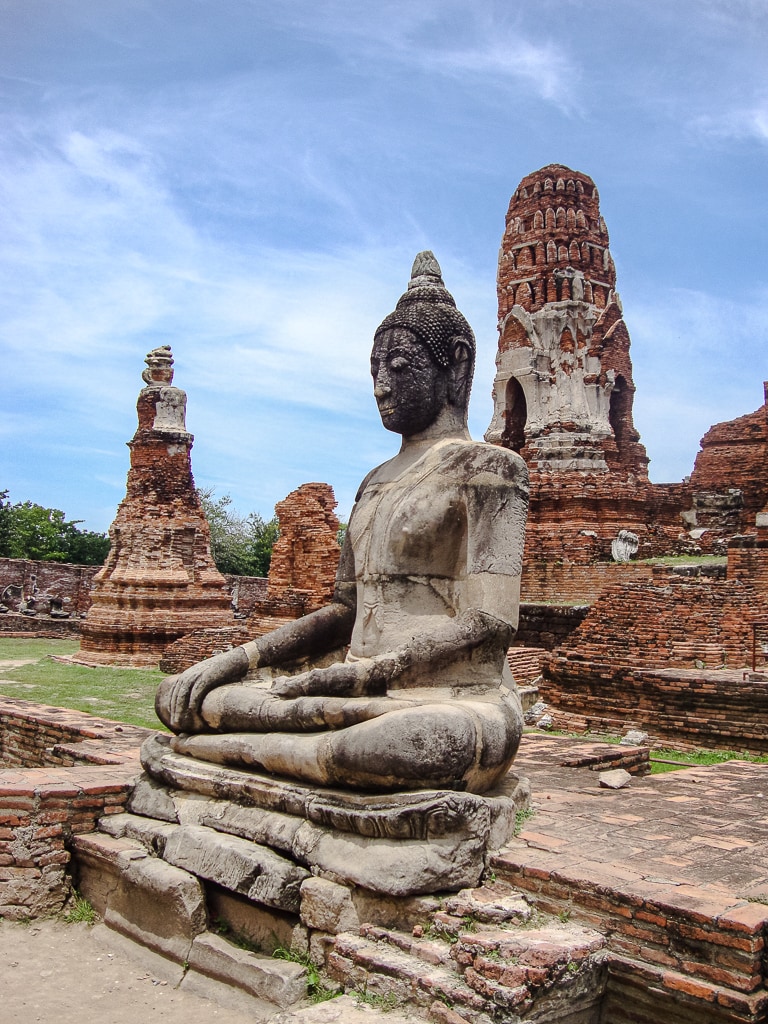 Essential travel information for a day trip to Ayutthaya
➤ Most of Ayutthaya's historic temples are open daily from 8:00 am to 5:00 pm.
➤ While the Ayutthaya Historical Park entrance is free, larger temples may require foreigners to pay an entrance fee of 20 to 50 THB (~€1).
➤ For getting to Ayutthaya, your best option is taking the train, bus, or taxi. You can easily find information on timings, tickets, and prices through 12go.Asia.
➤ Once you arrive in Ayutthaya, consider renting a bike or tuk-tuk to explore the vast historical park.
➤ For a hassle-free experience, you also have the option to book a guided tour from Bangkok to Ayutthaya via GetYourGuide.
➤ If you're still searching for the perfect place to stay, we highly recommend the iuDia Hotel, which offers a pool and a stunning view of the temples, providing a delightful accommodation option.
➤ When preparing for your temple visits, remember to wear comfortable walking shoes as you'll be covering quite a bit of ground in the area.
➤ Additionally, it's advisable to bring a sarong with you to cover up appropriately when visiting the temples' sacred sites, respecting local customs and traditions.
➤ Expect the weather to be quite hot, especially during the day, so always have water with you to stay hydrated, and be sure to apply sunscreen, and wear a hat & sunglasses for sun protection.
➤ Feeling hungry from all the exploring? You'll find an array of different lunch spots conveniently located around the temple areas, as well as a good old 7/11 for snacks.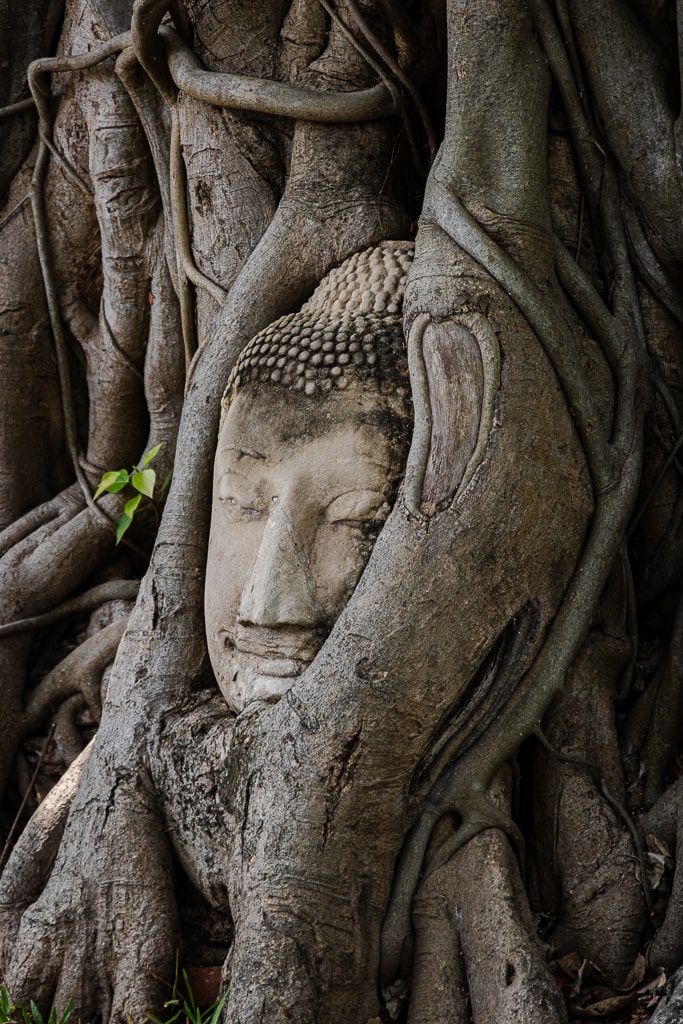 History & Background of Ayutthaya
Ayutthaya, a historical city with 50,000 residents in Thailand, lies just north of Bangkok, making it an ideal day trip destination. As the former capital of Thailand, it shares a reputation with Sukhothai for its remarkable historical sites. With over 400 temples, Ayutthaya's crown jewel is the Ayutthaya Historical Park, home to grand temple complexes like Wat Phra Si Sanphet, Wat Mahathat, and Wat Ratchaburana. A single day is sufficient to explore the main attractions, but for a deeper exploration of the surrounding area, extending your stay is highly recommended.
Established in 1351, Ayutthaya served as the capital of the Kingdom of Siam for four centuries until 1767 when it was mostly destroyed during the Siamese-Burman War. Though Ayutthaya was never fully reconstructed to its former glory, some temples have been partially restored, and the city now holds the status of a UNESCO World Heritage Site since 1991. The surviving structures primarily consist of monasteries and palaces, as they were the sole stone buildings of the time. Amidst a leisurely tour or bicycle ride through the historical park, the magnificence of Ayutthaya's heyday, when it housed over a million inhabitants, can still be felt. Adorned with exquisite temple ruins and palaces, Ayutthaya remains one of the most popular day trip options from Bangkok.
READ MORE | 20 Amazing Things To Do In Bangkok For First Timers
How to get to Ayutthaya from Bangkok for a day trip?
With just around 80 kilometers separating Bangkok and Ayutthaya, a day trip to this breathtaking temple city is an absolute highlight of any Thailand adventure. Luckily, there are several convenient options to make the journey from Bangkok to Ayutthaya a breeze. Whether you prefer the ease of a train, the convenience of a minivan, or the leisurely experience of a cruise with a guided tour, the transportation choices are plentiful.
For independent explorers, taking charge of the trip planning allows for a more personalized Ayutthaya experience. Personally, we highly recommend the fast and budget-friendly train option, which we opted for during our own day trip to Ayutthaya. Alternatively, if you prefer a hassle-free approach, you can hire a private driver or join an organized tour that handles all the logistics for you. The choice is yours to make, but rest assured, the journey from Ayutthaya back to Bangkok is just as effortless.
By Train
Traveling by train offers a convenient and budget-friendly option for reaching Ayutthaya. It's an excellent choice if you enjoy scenic views and want to experience a true Thai train journey. The train fares are the most affordable, with just 20 THB (~€0,50) per person for a 3rd class seat with a fan. Additionally, taking the train helps you avoid traffic congestion in Bangkok. Although the 3rd class seats lack air conditioning and may have hard benches, we personally found it to be a comfortable and enjoyable experience. Tickets for the 3rd class cannot be reserved in advance, so you can only purchase them at the train station itself. Alternatively, you can opt for 2nd class seats with air conditioning, which cost around 250 baht. For 2nd class tickets, you can make reservations online through 12GO or directly at the ticket office in the train station.
Trains depart from Bang Sue Grand Station (Krung Thep Aphiwat) or Don Mueang train station. To reach Bang Sue train station, you can take the blue MRT line. Trains typically run every 30-60 minutes, starting from 6.10 a.m. It's advisable to check the updated schedule at the train station the day before your journey.
Travel time | 45 minutes to 2 hours, depending on the train. The first train leaves at 6:10 am from Bangkok and the last train at 11:23 PM.
Price | From 20 THB – 375 THB one way, depending on the type of train and seat.
By Minivan
If you prefer a more comfortable travel option, minivans provide a viable alternative. Departing from Mo Chit Bus Terminal near Chatuchak, minivans offer convenience and ease. To reach the bus station, take the BTS (Sukhumvit line) to Moh Chit station, followed by a short taxi ride or a 20-minute walk. The minivan journey typically takes around 2 hours and costs approximately 140 baht (~€4) for a one-way trip. Keep in mind that Bangkok's traffic can be heavy, so it's advisable to select a less congested time for your travel.
One downside of minivans is that they usually wait until they are full before departing, which may impact your schedule. On a positive note, the minivan stop is conveniently located just a 10-minute walk from the center of Ayutthaya. We recommend booking your minivan tickets in advance via 12GO to secure your preferred timing, as they can quickly sell out upon arrival. Additionally, locating the ticket office at Mo Chit Terminal can be challenging, making it more convenient to have your tickets beforehand.
Travel time | Depending on traffic, around 2 hours. The first minivan leaves around 6 AM and the last around 6 PM.
Price | From 70 baht (~€2) – 300 baht (~€8)
Private Guided Driver
If you have limited time to explore Ayutthaya and want to make the most of your visit, a private day tour is an excellent option. Booking a private driver through GetYourGuide provides fantastic choices for tailored experiences. The advantage of a private tour is the flexibility to choose which temples to visit, including those outside the Historical Park. You have full control over the itinerary, ensuring a convenient and efficient exploration of Ayutthaya. Additionally, the package includes entrance tickets, lunch, water, a knowledgeable private guide, insurance, and hotel pickup, offering a comprehensive and hassle-free experience.
Travel Time | Day trip
Price | From € 107 per person
Organized Group Tour
Discovering Ayutthaya from Bangkok is made easy with organized group tours. Departing daily, these tours offer the convenience of visiting the most popular temples without worrying about logistics. GetYourGuide provides a wide range of exceptional tours, many of which include hotel pickup, lunch, snacks, and entrance fees. One highly recommended option is this Ayutthaya tour from Bangkok, featuring transportation in an air-conditioned van, a certified tour guide, and lunch at a local restaurant. Joining an organized tour ensures hassle-free transportation and the opportunity to learn about each temple from an experienced guide. While it may differ from a private tour, it offers excellent value for the experience.
Travel Time | Day trip
Tour-Price | from €36 per person
How to get around during a day trip in Ayutthaya?
If you're planning to venture to Ayutthaya on a day trip independently, you have several options to explore the historical city and its temples. However, keep in mind that distances between the various temples are considerable, so renting a bike or tuk-tuk will make your journey much smoother.
By Bike | Renting a bicycle is among the most enjoyable ways to discover the Ayutthaya temples on your own. Although you'll need to handle logistics and directions, it offers a delightful experience throughout the day. Rental spots are abundant in the area (see on maps below), with an average cost of around 60 baht (~€1.5) for the day, and a deposit may be required for the lock. Alternatively, consider joining guided bike tours that include a knowledgeable guide and lunch.
By Tuk-tuk | For those seeking a hassle-free option, hiring a Tuk Tuk driver is an excellent choice. Tuk Tuks are readily available near the bus & train stations, making it easy to find one. Expect to pay around 300 baht (~$8) per hour for the services of a Tuk Tuk driver, who can take you from temple to temple and wait for you during your exploration.
By Foot | Some visitors prefer a combination of walking and using Tuk Tuks to visit the temples. For instance, you could take a Tuk Tuk from the train station to Wat Mahathat and return from Wat Chaiwatthanaram at the end. Negotiating skills come in handy here, as a single Tuk Tuk ride costs around 80-100 baht.
Maps of Ayutthaya temples
Create your ideal Ayutthaya day trip using this interactive Google Map. Discover the must-see temples marked with red pins, snacks & café spots with purple pins, accommodations in pink, and explore points of interest, including the bus and train stations, indicated by blue pins.
Ayutthaya Day Trip | Entrance Fee
Upon entering the Ayutthaya Historical Park itself, no entrance fee is required. However, at certain temples, an entrance fee is applicable for foreigners, while others remain free. Fees typically range between 20 THB to 50 THB (~$0.50 – $1.50), varying depending on the temple. Active temples, however, are exempt from charges. When opting for an organized tour to Ayutthaya, the tour price usually covers the temple fees.
You have the option to purchase tickets individually or acquire a temple pass for 220 baht, granting access to six main temples: Wat Phra Si Sanphet, Wat Phra Ram, Wat Ratchaburana, Wat Chaiwatthanaram, Wat Mahathat, and Wat Maheyong. These passes can be obtained at the entrance of each aforementioned temple.
If your plan involves visiting several temples on your Ayutthaya day trip, the temple pass is a worthy investment. However, if you intend to explore only a few, paying individual fees might be more cost-effective.
8 must-see temples on an Ayutthaya Day Trip
Embark on a temple-tastic adventure in Ayutthaya's vast Historical Park! Marvel at ancient temples and captivating historical wonders. Don't miss the iconic Buddha head entwined in a tree, a photographer's dream! On your Ayutthaya day trip, expect a mesmerizing array of temple ruins, conveniently located within the historical park. For an epic independent journey from Bangkok, these are the must-see temples to include in your thrilling itinerary!
READ MORE | 7 Most Beautiful Temples in Bangkok You Need to Visit
Wat Phra Mahathat
Embark on an exciting DIY day trip to Ayutthaya from Bangkok and kick-start your temple tour at the mesmerizing Wat Mahathat. Beat the crowds and bask in the beauty of this renowned attraction, a true highlight of Ayutthaya! With its origins dating back to 1374, this temple complex has undergone numerous expansions and embellishments over the years.
Explore the wonders of this site, from the majestic 46-meter-high Khmer-style tower to the world-famous Buddha head nestled amidst tree roots. This iconic scene has become a symbol of tourism in Ayutthaya and Thailand, captivating visitors worldwide with its artistic and haunting allure.
As you take pictures, remember to show reverence by sitting lower than the Buddha's head, a sign of respect for this deeply sacred place cherished by believers.
Opening Hours | 8:00 AM to 6:00 PM
Entrance fee | 50 Baht (~€1,5)
Wat Ratchaburana
Venturing just north of Wat Mahathat, you'll discover the enchanting Wat Ratchaburana, renowned for its original stucco works adorning the main prang. Delicate sculptures of mythical creatures and blooming lotuses grace the prang's sides, a sight to behold! Deep-rooted in history, the temple has a tragic background story. It was constructed by King Borom Ratchathirat II in the 15th century to commemorate the tragic deaths of his two brothers, who fought for the vacant crown.
On the temple's east side lies a crypt that once held numerous relics, now exhibited at the Chao Phraya National Museum. The compound's centerpiece was used to house precious treasures like gold jewelry, artifacts, and sacred Buddhist tablets. Sadly, looters pillaged the vault in 1957, taking all its contents. Within the vault, magnificent mural paintings depicted Buddha's life, though the ravages of time have left only a few visible traces.
Unlike many other temples, Wat Ratchaburana allows visitors to ascend its structures. There's even a daring option to descend into the depths of one of its prominent structures, though currently, that area is closed for exploration.
Opening hours | 8:30 AM to 5:00 PM
Entrance fee | 50 Baht (~€1,5)
Wat Yai Chai Mongkon
Explore the enchanting beauty of Wat Yai Chai Mongkhon, one of Ayutthaya's most stunning temples. This impressive complex was established in 1357 and is a popular stop on day tours and trips around the city.
The highlight of this temple is the striking 8-meter-high Chedi, built with an incredible 28,144 tons of stones and surrounded by four smaller Chedis. As you wander around, you'll discover fascinating features like the ornate sitting Buddha statues draped in golden robes, and the reclining Buddha dating back to King Naresuan the Great's time.
What makes Wat Yai Chai Mongkhon special is that visitors can climb to the top of the Chedi. Ascend the 50 steps for an amazing view of the temple grounds.
Since the temple is still active, you may encounter resident monks and locals during your visit. It also serves as a place of homage to King Naresuan, a prominent historical figure in Ayutthaya.
TIP | For a peaceful experience, consider visiting in the morning when there are fewer crowds.
Opening hours | 8:00 AM to 5:00 PM
Entrance fee | 20 Baht (~€0,50)
Wat Phra Si Sanphet
Behold the sacred magnificence of Wat Si Sanphet, the holiest temple in the realm of Ayutthaya. Once a dazzling and grand structure situated within the royal palace grounds. This holy sanctuary boasted a magnificent 24-meter-tall golden Buddha and three impressive chedis holding the ashes of Ayutthaya's revered kings.
The historical significance of this site and its exclusive ties to the royal family made it a prime target during the Burmese invasion of 1767, resulting in extensive destruction and looting of its precious gold treasures. Nevertheless, the Fine Arts Department valiantly restored the two other chedis in the 1950s, preserving the temple's heritage.
Today, you can explore the revived temple, glimpse the remains of the royal chapel's foundation, and witness its continued significance as a holy site for the royal family.
Opening hours | 8:00 AM to 6:00 PM
Entrance fee | 50 baht (~€1,50)
Try out Roti Sai Mai
When in need of a delightful break, head straight to 'Roti Sai Mai Abeedeen-Pranom Sangaroon' or 'Roti Saimai Mae Pom' for a mouthwatering taste of Roti Sai Mai. Roti Sai Mai is a beloved Thai dessert, consisting of colorful and sweet cotton candy-like threads wrapped in a soft, thin pancake-like pastry. These two shops are renowned for serving up some of the best Roti Sai Mai in town, offering a delightful blend of flavors that will leave you craving for more.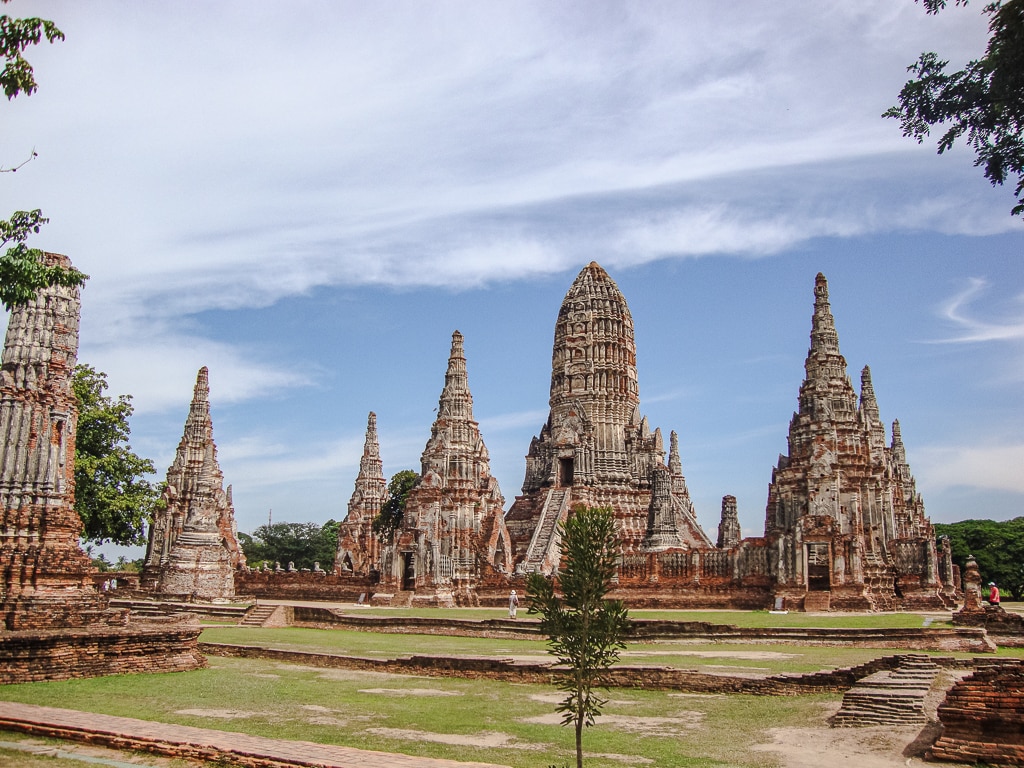 Wat Chai Watthanaram
Step into the enchanting world of Wat Chaiwatthanaram, a beloved temple dating back to 1630, renowned as one of the most captivating sights in Ayutthaya. Its UNESCO World Heritage Sites recognition comes as no surprise, given its remarkable beauty. Situated on the west bank of the Chao Phraya River, southwest of the old city, this ancient gem remains a true highlight of the region. You might find it familiar, as its design was inspired by Cambodia's magnificent Angkor Wat.
TIP | For a unique perspective, hop on a boat tour that cruises around the three rivers encircling the main Ayutthaya island, offering breathtaking views of Wat Chaiwatthanaram. As the sun sets behind the temple, its enchanting riverside location creates a magical and captivating scene.
The temple boasts a central 35-meter Khmer-style tower flanked by four smaller prangs, accessible through steep stairs that were even climbable in the past. Once a royal temple, it hosted various grand ceremonies and noble family cremations. While exploring the area, envision the grandeur of this complex in its heyday. Unfortunately, over time, it suffered from looting, decay, and unauthorized settlements until Thailand's Fine Arts Department stepped in, preserving and protecting this historical treasure for future generations.
Opening hours | 8:00 AM to 5:00 PM
Entrance fee | 50 baht (~€1,50)
Wat Lokayasutharam
Prepare to be mesmerized by the renowned Wat Lokayasutharam, home to an enormous reclining Buddha. Stretching approximately 42 meters long and standing about 8 meters tall, it proudly claims the title of Ayutthaya's largest of its kind. With its head gently resting on four delicate lotus buds, it exudes a serene aura. While the Fine Arts Department made some adjustments to the head in the 1950s, aligning it with modern Buddha image styles, the foundations, and overall structure remain true to the original stone craftsmanship.
Prepare your camera for a feast of fantastic photo opportunities! The sheer spectacle of this statue makes it an absolute must-visit highlight on your Ayutthaya temple tour.
Although the surrounding structures may be in ruins, they still exude a captivating charm, inviting you to stroll around and admire the remnants of ancient splendor. Best of all, admission to this site is free, allowing you to immerse yourself in history without a cost.
Opening hours | No official opening hours
Entrance fee | Free
IN NEED OF REFRESHMENTS?
Looking for some refreshment after our exploration of Wat Lokayasutharam, we stumbled upon Baan Khon Suan and treated ourselves to the delightful Cha Nom Yen, or Thai Iced Milk Tea – a must-try beverage in Thailand! The ambiance was perfect, nestled amidst nature with a serene view of the temple. The host's warm welcome and friendliness made the experience even more enjoyable. We soaked in the relaxing atmosphere, surrounded by a beautiful garden and a tranquil pond, all while being serenaded by soothing music. A truly blissful retreat in Ayutthaya!
Wat Phu Khao Thong
Discover Ayutthaya's hidden gem, the enchanting Wat Phu Khao Thong, also known as the White Temple. Unlike the bustling tourist hotspots, this snow-white sanctuary is nestled approximately two kilometers northwest of the old town, offering a tranquil and serene escape from the crowds. While exploring Ayutthaya on a day trip by bike or foot may make it challenging to include this gem in your itinerary, fear not! You can still make it there with a hired tuk-tuk or by opting for an overnight stay.
The temple boasts a majestic 50-meter chedi tower, constructed in the 18th century as a replacement for the original one that had suffered irreparable damage in the 16th century. Adjacent to the chedi, you'll find a temple that remains in use today, providing an opportunity to engage with the local community—a truly unforgettable experience. However, the highlight awaits those who dare to climb the steep stairs leading to the Chedi's pinnacle. Reaching the top, you'll be rewarded with a breathtaking view of Ayutthaya's lush green surroundings from the expansive terrace.
Opening Hours | 07:00 AM to 5:00 PM
Entrance Fee | Free of charge
Wat Phanan Choeng
Step into history at Wat Phanan Choeng, a temple that dates back to 1324, even before the founding of the Ayutthaya Kingdom. Here, you'll be captivated by the awe-inspiring sight of a majestic golden Buddha statue, seated proudly inside the temple. This remarkable gilded Buddha stands an impressive 19 meters tall, making it one of Thailand's largest Buddha statues.
Prepare to be enchanted by the temple's intricate details and mesmerizing murals, making your visit to this sacred place truly unforgettable. As you explore, you'll also be enchanted by the temple's romantic location by the river, adding a touch of tranquility to your experience. Another fascinating sight to behold is the shrine of the Chinese princess Soi Dok Mak, accentuating the temple's cultural significance.
Wat Phanan Choeng is not only a historical marvel but also a symbol of appreciation for the Thai-Chinese community in the region. Its ties to a refugee community from the Song Dynasty in China make it a place of great reverence and cultural significance.
Opening Hours | 8:00 am – 5:00 pm
Entrance fee | 20 Baht
MUST READ! Don't ride elephants in Thailand
Please, refrain from riding elephants in Asia, including the Ayutthaya Historical Park. Educate yourself about the mistreatment these majestic creatures endure during the domestication process for riding. To our sadness, we noticed that numerous tourists were still riding elephants to explore the historical grounds. Unfortunately, many people are still unaware of the implications of elephant riding, as it has long been promoted as a tourist attraction in Thailand. Witnessing the living conditions and seeing the elephants chained up truly broke our hearts.
If you wish to have an authentic encounter with Thai elephants, consider visiting an ethical elephant sanctuary. These sanctuaries promote responsible and respectful interactions with elephants and offer opportunities to support the well-being of these incredible animals.
Ayutthaya Temple Etiquette
What to wear when visiting temples in Ayutthaya?
While Ayutthaya doesn't have a specific dress code for day trips, it's essential to be respectful of the sacred sites. Modest dressing, following cultural norms, is highly recommended to show respect.
Dress modestly, covering shoulders, chest, and knees.
Opt for loose, breathable clothing suitable for the warm weather.
Carry a scarf or sarong to cover your shoulders if required.
Avoid revealing or tight-fitting outfits.
No clothing with Buddha images, and cover Buddha tattoos if you have them.
Do's & Dont's when visiting Temples in Thailand
When visiting temples in Thailand, it's essential to demonstrate proper temple etiquette to show respect and appreciation for the sacred spaces. Here are some do's and don'ts to keep in mind:
Respect sacred objects from a distance, and avoid touching or climbing on them.
Take off shoes and hat before entering temple buildings, socks are okay.
Avoid pointing the soles of your feet toward Buddha or monks.
Don't turn your back on Buddha statues, especially for selfies.
Refrain from physical contact with Buddhist monks, use a respectful bow or wai instead.
Maintain a calm and quiet demeanor, and be mindful of others.
Avoid using flash photography, as it may disturb the peaceful environment and potentially damage delicate artwork.
Where to stay for a day trip to Ayutthaya?
If you decide to stay overnight in Ayutthaya at the end of your day trip, there is a delightful array of accommodation options that cater to every traveler's taste and budget. Whether you're seeking a cozy backpacker hostel, a chic guesthouse, or a luxurious hotel with a refreshing pool, we've got you covered. We've done the legwork and curated a selection that guarantees a fantastic stay. Choose from our handpicked options and embark on a memorable Ayutthaya adventure!
➤ READ MORE | Where to Stay in Bangkok | The Best Areas & Hotels
LUXURY | iuDia Hotel
Experience affordable luxury in the serene ambiance of iuDia Hotel. Admire the charming courtyard or Chao Phraya River views from the air-conditioned rooms, tastefully furnished with antiques and adorned with Thai Art. Revel in the modernity and cleanliness of the luxurious accommodations. Indulge in an exceptional breakfast at I U Dia Café, which also offers delightful coffee and snacks. The outdoor pool boasts incredible views, especially at night. Explore the surroundings with free bike rentals and enjoy convenient on-site parking for drivers.
MID-RANGE | Baan Thai House
The serene oasis of Baan Thai House is nestled in a beautiful tropical setting, perfect for a tranquil getaway. Enjoy the luxury of a great pool, and embrace relaxation at the resort's spa. The spacious Thai-style villas boast balconies overlooking the lush gardens or serene lake. The bungalows provide cozy comfort and impeccable service. Located in the historic city of Ayutthaya, Baan Thai House is just steps away from the renowned floating market. Bike rental is available for those who want to explore the surroundings. Savor delightful local and Western dishes at the resort's restaurant, or unwind with a variety of drinks at the Lobby Bar. The exceptionally friendly staff will ensure your stay is nothing short of memorable.
MID-RANGE | Baan Tye Wang Guesthouse
Step into the enchanting retreat of Baan Tye Wang Guesthouse, where boutique accommodations welcome you with their stylish furnishings, flat-screen TV, and open-air rain showers. Embrace the comfort of the bed and unwind on the spacious veranda, surrounded by the tranquil beauty of nature. Savor a delectable Western breakfast, and explore the area with the convenience of bike rental. Enjoy the ease of free parking and revel in this delightful hideaway, just a short walk from Ayutthaya's key attractions, including the historical park.
BUDGET | Baan Keang Chon Ayutthaya
Discover the charming 'Baan Keang Chon Ayutthaya' nestled along the river bank, offering captivating lake views. Each accommodation boasts a private balcony, air conditioning, a flat-screen TV, and a well-equipped bathroom. Enjoy the comfort of the bed and the convenience of free Wi-Fi and private parking. The cozy atmosphere and friendly staff create a truly delightful stay, with the owner going above and beyond to ensure a relaxing and enjoyable experience. Don't miss the fantastic breakfast and the array of restaurants within walking distance, making it a perfect choice for your Ayutthaya getaway.
HOSTEL | Plus Hostel Ayutthaya
Welcome to Plus Hostel Ayutthaya, a cozy family home with a separate hostel space, offering a delightful stay amidst a serene garden. Enjoy the convenience of free private parking, a shared lounge, and a terrace. The hostel provides room service and features a playground and evening entertainment. With free WiFi and a shared kitchen, the rooms offer comfort and convenience. Indulge in a buffet, American, or Asian breakfast, including delicious dinners, where you'll get to know fellow guests. The welcoming owners will make you feel right at home, and the location is peaceful yet not far from the town center. Clean, comfortable, and with bike rental available to explore Ayutthaya.
---
Ayutthaya Day Trip Essential Resources
FLIGHTS | Find the best deals for flights to Bangkok with Skyscanner.
TRANSFERS | Ready to travel to your next destination in Thailand? Book your bus or train tickets via 12go.
HOTELS | Browse Booking.com for a place to stay in Bangkok, from budget hostels to luxury hotels.
TOURS & ATTRACTIONS | For booking the most fun experiences, check out GetYourGuide or Viator.
---
We hope this guide on a day trip to Ayutthaya from Bangkok helped you out. You can show some ❤ and support for the blog and help us share more adventures! Our travels are entirely self-funded, so any show of support is greatly appreciated. It allows us to keep writing helpful travel guides and gather information to make it easier for people to discover the world.