Welcome to Bangkok, the bustling, charming, and sometimes overwhelming capital of Thailand. A vibrant city where ancient traditions seamlessly blend with modern innovation. Spend three days exploring the endless selection of fascinating things to do in Bangkok. Immerse yourself in its lively markets, stunning temples, diverse foodie experiences, and exciting nightlife. No matter your interests, age, or budget, there's something for everyone in this city that never ceases to amaze you. Don't miss the chance to explore the Chao Phraya River with its intricate canal network, which leads to the magnificent Grand Palace and the sacred Wat Phra Kaew Temple. Bangkok truly is the gateway to Southeast Asia, offering an unforgettable experience for everybody.
If you're a first-time visitor to this captivating metropolis, you're in for an exhilarating journey filled with rich cultural experiences, mouthwatering cuisine, awe-inspiring temples, and a bustling nightlife that never seems to sleep. Bangkok has a unique charm that leaves a lasting memory on all who visit.
Throughout this post, we will be sharing the best things to do in Bangkok. Whether you wanna tick off the top attractions, fully immerse in local culture, seek the best street food, or search for some hidden gems, we got you covered. This way you can make the most of your first time in Bangkok.
So fasten your seatbelts and get ready for an unforgettable journey through the enchanting city of Bangkok.
* Disclosure: This post contains affiliate links. We will receive a small commission if you book through our links. This is at no extra cost to you. This way you're helping us write awesome travel guides and keep providing you with free content. We only recommend products we like and trust ourselves.
Travel Basics for First-timers in Bangkok
Learn a few Thai language basics. Hello – 'Sawasdee kha' for women, and 'Sawasdee khap' for men. To say 'Thank you', women say 'khop khun kha', men say 'khop khun khap'.
The currency in Thailand is called Baht, 1 USD = 35 THB.
Always bargain when shopping for souvenirs or at markets.
The cheapest and fastest way to get around Bangkok is by using public transportation. Bus, MRT-line (metro), or BTS-line (Skytrain) will get you to your destination in no time.
Also, download the Grab app, which is Bangkok's Uber.
In Thailand, cars drive on the left, so watch out for (the sometimes crazy) traffic!
Best time to visit? Bangkok city is hot all year around and can be visited at any time.
How many days? Count in at least 3 days for Bangkok on your Thailand itinerary as there are plenty of things to do.
Where to stay? The city is filled with hotels, for every kind of budget. Use Booking.com and book a stay close to public transport to get around easily!
Buy a SIM CARD at the airport the moment you arrive.
For onward travel from Bangkok to other places all over Thailand, check out 12go.asia for booking transport.
You can book the best & cheapest city tours, day trip excursions to floating markets & ancient cities, food tours, and Thai cooking classes via Viator or GetYourGuide.
20 Amazing Things to Do in Bangkok
One of the first things that will captivate your senses is the city's iconic temples, which serve as a testament to Thailand's rich cultural heritage. From the majestic Grand Palace to the intricate beauty of Wat Arun, these sacred sites are a gateway to understanding the historical significance of this enchanting city.
Bangkok isn't just about ancient temples and traditional customs. It is much more of a modern metropolis that thrives on constant innovation and entertainment and combines these traits with its rich history. The towering skyscrapers never fail to amaze us.
For those seeking retail therapy, Bangkok offers an array of shopping experiences. From luxury malls to bustling markets, you'll find everything from designer brands to unique souvenirs.
As the sun sets, Bangkok truly comes alive. The city offers a diverse range of experiences. Rooftop bars with panoramic city views or vibrant night markets. Find your way to the buzzing street of Khao San Road and dance the night away.
As you can tell, there is a whole range of amazing things to do in Bangkok for your visit. We could spend weeks in this fascinating city! Our suggestion is spending at least 3 days here, with a few extra days for day trips. Most of the attractions are located directly in the city center and can easily be explored.
JOIN A BEST OF BANGKOK HIGHLIGHT TOUR
In case you are limited in time, we suggest joining a tour so you don't miss out on the highlights. On this Best of Bangkok tour, you will be able to see all the must-see attractions in one day. This includes the Grand Palace, Wat Pho & Wat Arun, but also sampling local Thai Street food as well as a long-tail boat tour of the Khlongs.
1. Visit the Grand Palace and Wat Phra Kaew
Don't miss one of the top things to do in Bangkok: visiting the Grand Palace. As the most important attraction, this showcases Thai architectural grandeur. While the king no longer resides here, it's still being used for ceremonies. The complex was built in 1785 under King Rama's rule and boasts over 100 buildings. Its impressive architecture, adorned with gilded statues and towering spires, can be admired from afar. The highlight is Wat Phra Kaew, housing the Emerald Buddha. Explore the many shrines, a miniature Angkor Wat, and mythical statues. Conveniently located near Wat Pho and across the river from Wat Arun, you can easily visit all three attractions in a day.
Scam Alert! Beware of tuk-tuk scams claiming the palace is closed, as they want to sell their tours around Bangkok. Commonly encountered around popular spots in Bangkok.
You can easily discover the grounds of the Grand Palace by yourself. However, if you are interested in learning more about the historical background, you can always book a guided tour of the Grand Palace.
2. Temple Hopping
What would Bangkok be without visiting a few temple sights? One of the best things to do during your time in Bangkok is to visit the many sacred temples that can be found all over town. But where to start? Almost everywhere you look is a golden pagoda peak towering above Bangkok's city landscape. We listed below the two most important temples in Bangkok, which you shouldn't miss on your first time visiting.
PLEASE NOTE | You have to dress appropriately when visiting temples in Asia. You should cover up your shoulders and knees. Remember to remove your shoes & hat, before entering a temple.
Can't get enough of temple hopping? Make sure to check out our full guide on the most amazing temples in Bangkok. In addition to highlighting the must-visit temples, we will equip you with all the practical information you need, as well as guide you with essential information on dress code and temple etiquette.
➤ READ MORE | 7 Most Beautiful Temples in Bangkok You Need to Visit
Marvel at the iconic Wat Arun
Wat Arun, a renowned landmark in Bangkok, stands proudly along the banks of the Chao Phraya River and is a must-visit for every tourist. Situated just across the river from the Grand Palace, a brief ferry ride will take you to this iconic temple.
Also known as the Temple of the Rising Sun or the Temple of Dawn, Wat Arun has a rich history dating back to the 17th century. The distinctive white stupa, designed in the Khmer style, is adorned with countless vibrant mosaics depicting various floral patterns. The temple's most impressive feature is its towering central prang, reaching a height of 82 meters. Adventurous visitors can ascend the steep staircase and climb halfway up the main spire, offering a breathtaking panoramic view of Bangkok's historic old town.
TIP | For an epic view of the temple, make your way to one of the bars on the opposite side of the river. It's a perfect place to catch the sunset in Bangkok.
Go see the long Reclining Buddha
When it comes to things to do in Bangkok, visiting Wat Pho is an absolute must. This temple is famous for its colossal reclining Buddha, covered in shimmering gold leaf. Standing at 46 meters in length and 15 meters in height, it's an awe-inspiring sight. Don't forget to admire the intricate mother-of-pearl inlay on the Buddha statue's soles.
While the Golden Buddha remains the main highlight of Wat Pho, there are other fascinating areas to explore. Take your time to wander around and immerse yourself in the temple's ambiance. The surrounding garden is particularly worth exploring, boasting the most extensive collection of Buddha images in the country. You'll encounter vibrant chedis adorned with exquisite mosaics and Chinese statues.
Additionally, within the complex, you'll find a renowned Thai Medicine school. It is here that the famous Thai Massage originated and continues to be practiced today.
3. Eat your way through Bangkok's street food
As Thailand is renowned for its vibrant culinary scene, Bangkok is a street food lover's paradise. Here, street food is not merely a meal, but a culinary adventure that immerses you in the city's rich food culture. Grab a seat on a plastic stool and let the scents guide your senses. Embark on a gastronomic journey through the streets of Bangkok, where every bite is a delight and every dish tells a story. Oh, and we didn't mention the best part yet, most street food is super affordable at around €1-3!
Where to go for the best street food?
To discover the best street food places in Bangkok, head to legendary spots like Chinatown's Yaowarat Road. Here you can find vendors selling a variety of dishes like crispy fried noodles, classic roasted ducks, and iconic flavorful dumplings. For a more modern twist, explore the trendy Sukhumvit Soi 38, where you can find all-time favorites like pad Thai, mango sticky rice, and mouthwatering grilled skewers. Lastly, Petchaburi Soi 5 in Bangkok is a hidden gem for street food enthusiasts. Known for its vibrant street food scene, Petchaburi Soi 5 boasts numerous food stalls and vendors serving up a variety of Thai delicacies. From aromatic grilled meats and seafood to flavorful noodles and vibrant curries, you'll find a wide range of options prepared with care and skill.
TIP | While indulging in Bangkok's street food, it's essential to keep an eye out for cleanliness and hygiene. Look for stalls with long queues, as they often indicate popularity and quality. Go where the locals go ;). Additionally, ensure that the food is cooked fresh and piping hot before devouring it.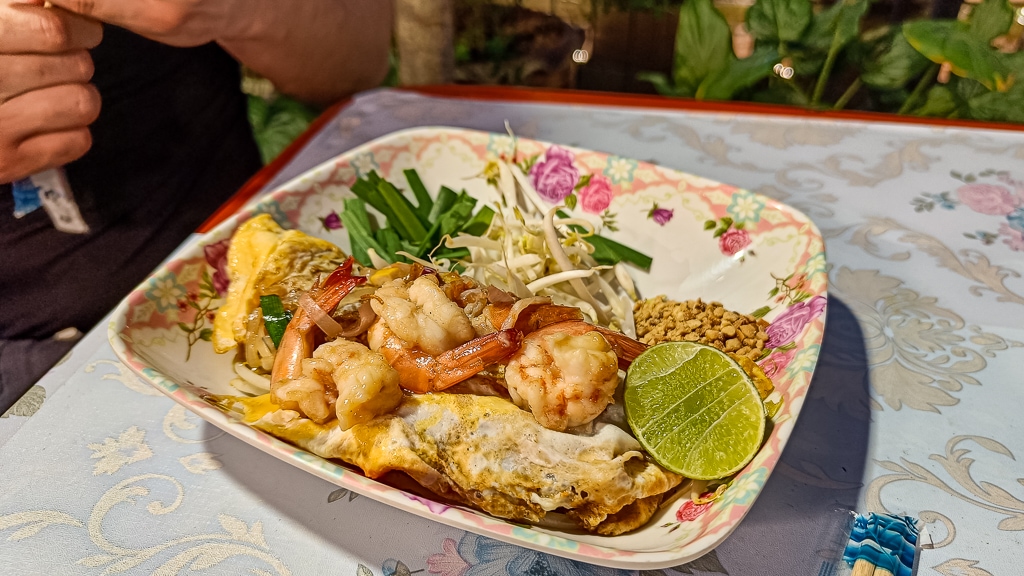 4. Join a street food tour
Embarking on a street food tour in Bangkok allows you to dive headfirst into the city's culinary wonders, savoring mouthwatering dishes, immersing yourself in the local culture, and creating lasting memories.
We are personally always a big fan of joining a food tour on one of the first evenings after arrival. This way you get the opportunity to have an authentic experience and explore eateries frequented by locals. From family-run stalls to bustling night markets, you'll get an authentic taste of Bangkok's culinary traditions.
During a tour you sample a diverse range of dishes, allowing you to expand your palate and discover new favorites. Discovering street food on your own might be intimidating, particularly regarding hygiene and food safety. By joining a street food tour, you can have peace of mind knowing that the vendors have been vetted for cleanliness and quality.
If you are traveling solo, a street food tour is also the perfect place to meet like-minded food enthusiasts. It's an opportunity to connect with people who share your passion for culinary exploration.
Top street food tours in Bangkok
➤ Chef-Designed Bangkok Food Tour – This small-group tour with a knowledgeable guide takes you on a half-day trip through Chinatown.
➤ Bangkok Food Tour of Bang Rak with Local Guide – This small group tour takes you on a stroll through the Bang Rak district. Here you will be introduced to Thai dishes and drinks at food stalls, local eateries, a wet market, and more.
➤ Bangkok Midnight Food Tour – Discover Bangkok's legendary after-dark street food scene during a nighttime tour by tuk-tuk.
➤ Hidden Bangkok Bike and Food Tour – Embark on a sustainable adventure powered by pedals, with an expert guide leading the way. You'll gain a deeper understanding of the city's context while indulging in delightful local treats. Alongside visiting majestic temples, serene parks, and sacred shrines, you will be able to see a floating market, explore artists' houses, and witness the local way of life. To top it off, you'll have the unique opportunity to join a local family for a delicious home-cooked meal.
5. Explore the best night markets in Bangkok
Bangkok is renowned for its vibrant night markets that come alive after sunset, offering a delightful mix of shopping, dining, and entertainment. It's one of the must-do things in Bangkok that will leave you with unforgettable memories of the city's dynamic nightlife. Here are some of the best night markets in Bangkok that are definitely worth exploring: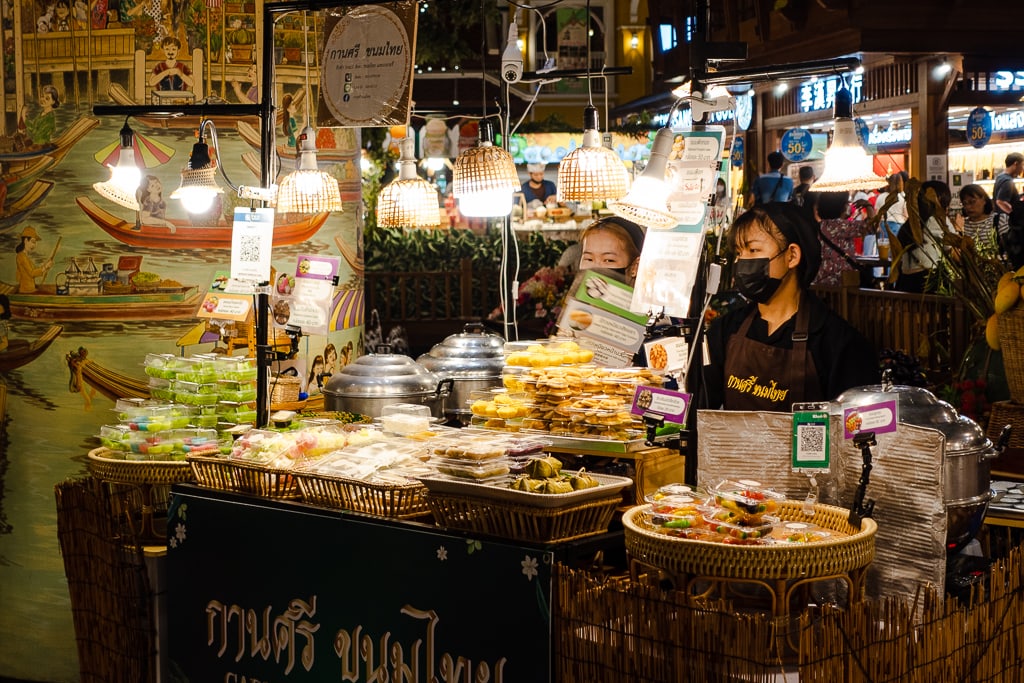 Chatuchak Weekend Market | One of the largest and most famous markets in the world. Chatuchak offers a sprawling maze of stalls selling everything from fashion and accessories to home decor and street food.
Asiatique The Riverfront | Located on the banks of the Chao Phraya River, Asiatique is a unique night market blending a shopping experience with entertainment. It features a mix of boutique shops, restaurants, live performances, and a riverside Ferris wheel.
Rod Fai Market (Train Market) | A unique night market set up around old train carriages. It offers an eclectic mix of vintage goods, antiques, clothing, and collectibles. The market also boasts a vibrant food section, where you can sample a wide range of Thai street food delicacies.
Talad Rot Fai Ratchada | This night market is a sister branch of the original Rot Fai Market and is located near the Cultural Center MRT station. It has countless stalls selling trendy fashion, vintage collectibles, and unique home decor items. Be sure to try some delicious street food while soaking up the energetic vibe.
Jodd Fairs | Located in between towering skyscrapers, Jodd Fairs is known for its lively atmosphere and bustling street stalls. Shop for fashion, accessories, and crafts while enjoying live music, entertainment, and mouthwatering street food.
TIP | Don't forget to bargain when shopping on night markets! Aim to pay ~40% of the original price.
6. Explore the Khlongs by long-tail boat
Embark on a fascinating journey through Bangkok's canals, known as Khlongs, by hopping on a traditional long-tail boat. Escape the busy streets and enter a serene world of waterways that showcase the city's cultural heritage.
As you glide along the Khlongs, you'll witness charming wooden houses, lively floating markets, and hidden temples along the water's edge. Watch locals going about their daily routines, like washing clothes or commuting in their own long-tail boats.
The long-tail boat ride offers an immersive experience, allowing you to connect with the authentic spirit of Bangkok. Feel the refreshing breeze and embrace the peacefulness as you navigate the intricate canal network.
Don't miss the chance to explore Bangkok's legendary khlongs, which provide a unique perspective on the city's history and culture. It's definitely a more off-the-beaten-path experience and one of the most unforgettable things to do in Bangkok.
7. Shop until you drop at Bangkok's Famous Shopping Malls
Bangkok is famous for its incredible shopping scene, and the city is home to some of the best shopping malls in the world. It's the perfect activity if you want to escape the heat for a while since all malls are air-conditioned. Most of the shopping malls are also conveniently located right next to the BTS line.
Whether you're a fashionista, a tech enthusiast, or a food lover, Bangkok's malls have something for everyone. Siam Paragon, Terminal 21, and Icon Siam stand out as must-visit destinations, offering an unforgettable shopping experience in the vibrant capital of Thailand. You will see that visiting a shopping mall in Bangkok is just a whole experience in itself!
Siam Paragon
Situated in the heart of the city's shopping district, Siam Paragon is a shopaholic's paradise. This upscale mall offers an impressive array of high-end fashion brands, luxury boutiques, and designer labels. From international fashion houses to renowned beauty brands, you'll find it all here. Siam Paragon also houses a multi-screen cinema, a vast food court serving a variety of cuisines, and a dedicated floor for high-tech gadgets and electronics.
Terminal 21
Known for its unique concept, Terminal 21 takes you on a global shopping adventure. Each floor represents a different country, complete with themed decorations and local market stalls. From trendy fashion to quirky accessories, you can explore a wide range of stores offering both international and local brands. Don't forget to check out the extensive food court with its international cuisine options.
Icon Siam
Located along the Chao Phraya River, Icon Siam is a luxury shopping complex that is known for its stunning waterfront views. This luxurious mall features a dazzling selection of high-end brands, including designer fashion, fine jewelry, and home decor. Icon Siam also boasts an art gallery, an indoor floating market, and a wide range of international and local dining options. Don't miss the mesmerizing multimedia water fountain show at night, adding to the allure of the shopping experience.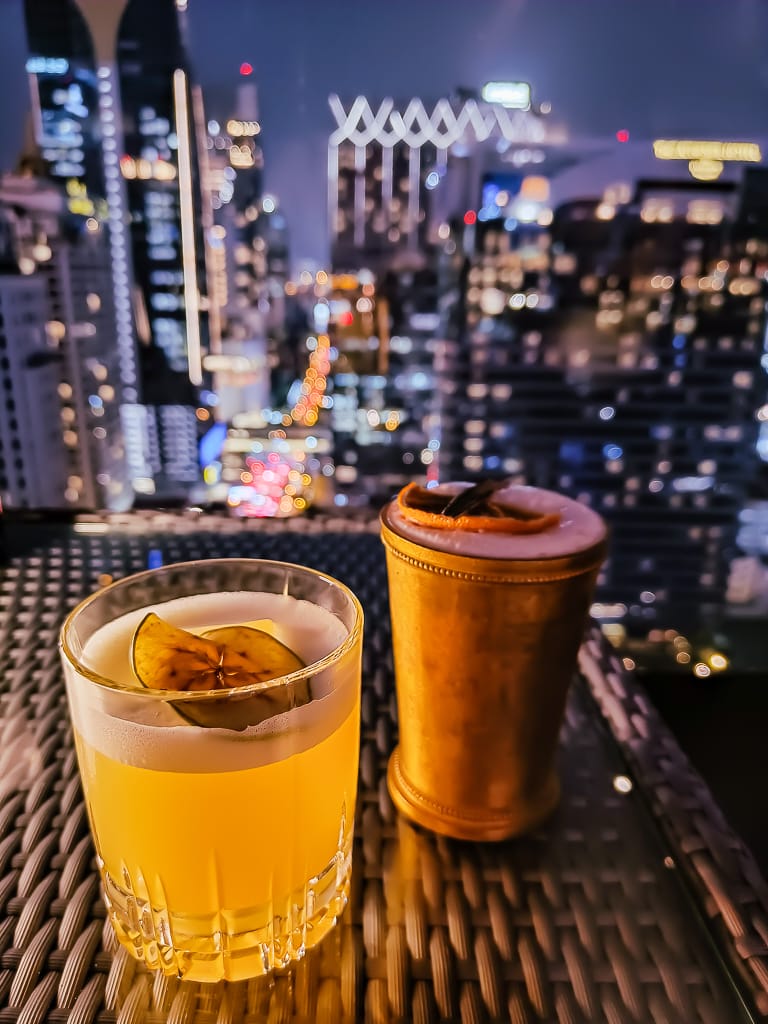 8. Visit a Rooftop Bar in Bangkok
One of the best things to do in Bangkok is to elevate your experience by visiting one of the city's cool rooftop bars. See what I did there ;). Bangkok's skyline is dotted with impressive skyscrapers, and these rooftop venues offer breathtaking views with a vibrant atmosphere. The perfect opportunity to unwind in style at the end of a full day exploring the hectic streets of Bangkok. And what better way than to admire them from above?
From renowned venues like Sky Bar at Lebua State Tower to hidden gems tucked away in local neighborhoods, there's no shortage of options to choose from. Most bars are located in hotels, but you can easily go there to have dinner or enjoy a drink. Do be aware that some rooftop bars are extremely popular, definitely on the weekends. Be sure to make a reservation if you want to guarantee yourself a spot with a view. Some popular rooftop bar options are:
We personally opted for a rather hidden gem, Char at Hotel Indigo. Their rooftop bar offers breathtaking views of Bangkok's skyline while sipping on one of their delicious cocktails!
TIP | Check upfront for the dress code of the rooftop bar you would like to go to & always bring your ID card with you.
9. Experience the infamous Bangkok nightlife
Want to experience the infamous Bangkok nightlife? Maybe you don't want to go all Hangover Part II though, but if you are up for a party head out to the legendary Khao San Road. This iconic party street is best experienced at night, with vendors filling the streets and cheap eats abound. You can grab a drink (or a cheap bucket of alcohol), dance at clubs, or relax with a foot massage. It's a must-visit spot for budget backpackers and a great place to meet fellow travelers. While it can get busy and loud, it's worth checking out. For a slightly quieter alternative, Soi Rambuttri offers a similar vibe without the chaos. Overall, Khao San Road and its neighboring streets are top attractions, offering a unique and vibrant atmosphere that defines Bangkok's nightlife scene. Other popular nightlife areas are:
Sukhumvit Soi 11 (Ambassador Soi) | This famous nightlife street on Sukhumvit Road offers a diverse range of pubs, bars, and restaurants.
Royal City Avenue (RCA) | If you want to experience the local nightlife scene, head to RCA, Bangkok's largest entertainment district. It gets busy, especially on weekends, with a variety of restaurants, pubs, and bars. Remember to dress appropriately as some venues have a dress code.
Red Light District | Bangkok is well-known for its red-light districts. Nana Plaza, located at the beginning of Sukhumvit Road, is a collection of go-go bars. Soi Cowboy, featured in the movie "The Hangover 2," is another area with go-go bars nearby. Patpong, the city's oldest red light district, has a questionable reputation as a tourist trap. Nonetheless, it continues to attract many visitors.
10. Visit Bangkok's Chinatown
Bangkok's Chinatown is probably one of our personal favorite neighborhoods and one we can recommend staying here on your first time visiting!
Entering Chinatown is like stepping into another world. You will be greeted by enticing fluorescent lights, the irresistible aroma of street food filling the air, and buzzing sounds. Walking along Yaowarat Road, the beating heart of Chinatown is a feast for the senses. The street is lined with a myriad of shops, street vendors, and restaurants with mouthwatering Chinese cuisine.
Make sure to wander the narrow alleys, where every corner reveals a new discovery. Traditional Chinese medicine shops, ancient temples, and hidden gems are tucked away in the bustling maze. Take in the magnificence of Wat Traimit, a stunning temple renowned for its colossal golden Buddha statue, weighing an astonishing five and a half tons.
➤ READ MORE | Where to Stay in Bangkok | The Best Areas & Hotels
Venture off the beaten path to discover the hidden gem of Talat Noi, one of the oldest neighborhoods in the city. Lose yourself in its narrow alleys adorned with colorful street art and soak in the old-world charm. Talat Noi's authenticity and unique atmosphere provide a glimpse into Bangkok's past.
For a delightful evening experience, stroll along Ong Ang Walking Street, a charming street food area that comes alive with vendors, street performers, and delectable street food. This was probably our favorite street food area during the weekend, as it's lively but not crowded. It has this cozy atmosphere with its decorated lights and is located by a river stream. (Only open on Friday, Saturday & Sunday from 4 pm-10 pm)
Join a guided tour of Chinatown
If you prefer a local to show you around Bangkok's Chinese heritage, check out this following 4-Hour Chinatown Guided Tour Mini Group. On this walking tour, you will be joining a small group, exploring the markets, little eats, and hidden alleys such as Talat Noi. Not only will you be taken along the best sights, but also sample some amazing street food!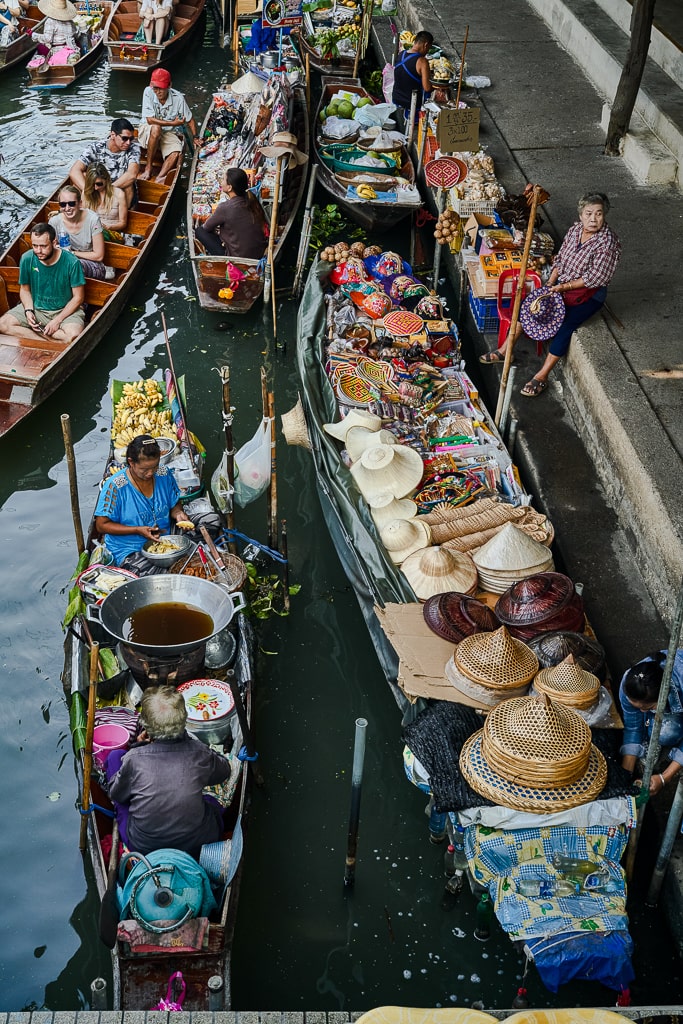 11. Marvel at the Floating Markets
Experience the captivating charm of Bangkok's floating markets, where you can shop, eat, and immerse yourself in the local culture. Picture vibrant boats filled with fresh produce, scented flowers, handicrafts, and delicious street food. Visit the famous Damnoen Saduak Floating Market for a bustling scene and a wide range of items to buy. Vendors sell everything, from tropical fruits to traditional Thai souvenirs. For a more authentic experience, check out the hidden gem of Amphawa Floating Market, where you can explore narrow waterways and sample freshly cooked seafood. Set against a backdrop of charming wooden houses, this market offers a glimpse into the traditional way of life along the canals. Another very authentic option, right in Bangkok, is Taling Chan Floating Market, which is often overlooked!
Don't miss the chance to take a leisurely long-tail boat ride and soak in the sights, sounds, and aromas of these unique markets. It's an opportunity to connect with Bangkok's heritage and create lasting memories. Obviously, these floating markets are quite the tourist attraction these days and are less geared towards locals. While these markets get crowded, it's still one of the most unique things to do in Bangkok.
12. Watch a Muay Thai Fight
Immerse yourself in the thrilling world of Muay Thai, the national sport of Thailand, by attending a live fight in Bangkok. Experience the electrifying atmosphere in a jam-packed arena as skilled fighters showcase their strength, agility, and technique in the ring. Whether you're a fan of combat sports or simply curious about the local culture, watching a Muay Thai fight is an adrenaline-filled spectacle that will leave you captivated.
You have several options to watch Muay Thai fights in the city. One popular venue is Rajadamnern Stadium, located near the Old City. It hosts regular Muay Thai events, showcasing both local and international fighters. Lumpinee Boxing Stadium is another renowned venue, known for its intense matches and historic significance. For a unique experience, visit the famous Channel 7 Stadium, where you can watch live fights broadcast on national television every Sunday. These venues offer a chance to witness authentic Muay Thai action and create unforgettable memories of your time in Bangkok.
13. Join a Thai Cooking class
Did you always want to learn how to make the perfect Pad Thai or a signature curry? Joining a Thai cooking class is the perfect way to explore the flavors and techniques of Thai cuisine. Whether you're a seasoned chef or a beginner in the kitchen, these classes offer a hands-on experience that will leave you with valuable skills and delicious memories.
In the heart of Bangkok, you'll find a wide range of cooking schools and culinary institutes offering authentic Thai cooking classes. Step into the bustling local markets with your knowledgeable instructor to handpick the freshest ingredients, from aromatic herbs to exotic spices.
Back in the kitchen, learn the art of balancing flavors as you prepare signature Thai dishes such as Pad Thai, Tom Yum soup, and Green Curry. Discover the secrets behind creating the perfect harmony of sweet, sour, spicy, and savory flavors that define Thai cuisine. As you chop, stir, and taste your way through the recipes, you'll gain insights into Thai culture and culinary traditions. The friendly instructors will guide you through each step, sharing their expertise and passion for Thai cooking.
Once your dishes are prepared, savor the fruits of your labor and indulge in a satisfying feast. Share the experience with your fellow classmates, exchanging stories and laughter as you enjoy the vibrant flavors of Thailand.
We did our Thai cooking class while in Chiang Rai and it was one of the most fun experiences of our journey! In each country we traveled to, we haven't been disappointed by a cooking class yet and that's why we will always recommend doing them.
14. Bangkok Cruise and Dinner
As the Chao Praya runs right through the center of Bangkok, many of its sights can be found along the river banks. And what better way to enjoy them than by embarking on a memorable dinner cruise along Bangkok's Chao Phraya River?
Indulge in a fusion buffet of Thai specialties and international dishes while enjoying breathtaking views of illuminated temples, palaces, and skyscrapers. Be entertained by live music and traditional Thai dance performances. A dinner cruise on the Chao Phraya River offers a perfect blend of delectable cuisine, stunning vistas of the city's twinkling skyline, and captivating entertainment for an unforgettable experience.
15. Enjoy the views from the Maha Nakhon SkyWalk
For an adrenaline rush, head over to Mahanakhon SkyWalk, one of the most thrilling things to do in Bangkok. The King Power Maha Nakhon is the city's second-tallest building at 314 meters, where you can walk across Thailand's highest observation deck. From this vantage point on the 78th floor of the towering building, you can enjoy a 360-degree panorama of Bangkok's urban landscape. Step onto the glass floor, daringly suspended above the bustling streets, and capture stunning photos of Bangkok's skyline while surrounded by its city lights. Unwind at the rooftop bar and savor a refreshing drink while taking in the mesmerizing vista.
Due to its popularity, be sure to book tickets in advance for the Maha Nakhon Skywalk to secure your spot. This is a must-visit destination for both locals and tourists, so plan ahead for an unforgettable experience.
16. Pamper Yourself with a Thai Massage
After a tiring day exploring the city, treat yourself to the ultimate relaxation with a traditional Thai massage. And where better to experience it than in the birthplace of Thai massages itself? Bangkok holds numerous spas and massage places to cater to your needs.
One of the greatest perks of being in Southeast Asia is the affordability of massages. In Bangkok, you can find massages ranging from 400 to 800 THB, allowing you to indulge in this rejuvenating experience without breaking the bank. So, unwind, relax, and let the skilled hands of Thai massage therapists work their magic on you.
17. Chill Out in a green space
Escape the hustle and bustle of the city center and discover the tranquility of Lumphini Park. This green oasis provides a much-needed respite from the chaotic streets of Bangkok. As you explore the park, you'll be greeted by a picturesque lake, offering a stunning contrast to the modern skyline.
Take a leisurely stroll and immerse yourself in the park's vibrant atmosphere. Observe people practicing Tai Chi, enjoying picnics, and engaging in jogging sessions. If you're lucky, you might spot one of the resident monitor lizards basking in the sun along the lakeshore.
For a delightful experience, consider renting a rowing or pedal boat and venture out onto the serene waters of the lake. It's a great way to soak up the peaceful ambiance and enjoy the surrounding scenery. Don't forget to check out the food vendors near the Rama VI statue gate, offering a variety of delicious snacks and allow for impromptu picnics.
INSIDER TIP | For a little slice of green space haven head over to Chao Praya Sky Park to experience the enchantment of a Bangkok sunset. This elevated oasis along the river offers panoramic views of the city's skyline and tranquil waters, creating a breathtaking backdrop for the vibrant hues of the setting sun. As the golden hour approaches, find a comfortable spot on the park's open-air deck and prepare to be mesmerized. This is still a hidden gem as mostly only young locals know this place so. The Chao Phraya Sky Park is the perfect spot to end your day on a tranquil and awe-inspiring note. (Walking bridge closes at 8 PM)
18. Get your culture fix at one of the many museums
When in Bangkok, be sure to explore the fascinating museums that offer a glimpse into the city's rich history and culture. The Bangkok National Museum is a must-visit, housing an impressive collection of Thai artifacts and artworks. For a unique experience, head to the Museum of Siam, which presents an interactive journey through the evolution of Thai society. The Jim Thompson House is another gem, showcasing traditional Thai architecture and an exquisite collection of art and antiques. For art enthusiasts, head over to Bangkok Art & Culture Centre (BACC). This contemporary art museum showcases a diverse range of exhibitions and installations by local and international artists. These museums provide captivating insights into the heritage and artistic traditions of Bangkok.
19. Go to the Ayutthaya Temples
Embark on a journey to Ayutthaya, one of the must things to do when visiting Bangkok for those interested in culture and history. 
This UNESCO World Heritage Site is located just outside Bangkok and is one of the most popular day trips. This ancient city was once the flourishing capital of the Kingdom of Siam and is now a captivating archaeological park. Explore the magnificent ruins of temples, palaces, and statues that stand as a testament to Ayutthaya's rich history. Witness the grandeur of structures like Wat Mahathat, famous for the iconic Buddha head entwined in tree roots. Other remarkable temples you shouldn't miss are Wat Phra Si Sanphet, featuring three imposing chedis, Wat Chaiwatthanaram, a riverside temple with an eye-catching Khmer-style prang, and many others. Take a boat ride along the Chao Phraya River to admire Ayutthaya's scenic surroundings.
Definitely make sure to spend a full day in Ayutthaya or even consider spending an overnight trip as the complex is huge. You can easily get to Ayutthaya by yourself via train or shared minivans that leave from the city. You can check 12Go.Asia for tickets. Within the park, you can either walk, get a tuk-tuk driver to tour you, or rent a bike (60 TBH, ~€1,5). We recommend you rent a bike if you want to explore the ruins at your own pace. It's easy, cheap, and fun to bike around the complex.
READ MORE | Ayutthaya Day Trip from Bangkok – The Complete Temple Guide
Join a guided tour of Ayutthaya
If you prefer to see Ayutthaya on a guided day trip with a small group with an expert guide, the following tour from Bangkok to the old capital visits 4 of the historical city's most remarkable temples. All entrance fees, an expert guide, and lunch at a local restaurant are included. Transportation to and from the city by air-conditioned van or mini-coach is possible.
20. Day Trips from Bangkok
If you are staying more than 3 days in Bangkok (which we highly recommend!) there are many fantastic things to do around the city. Bangkok serves as a gateway to numerous captivating day trip destinations that offer a change of scenery and a chance to explore the cultural and natural wonders of Thailand. Here are some of the best day trips you can take from Bangkok:
Ayutthaya | Ayutthaya is a UNESCO World Heritage Site and the former capital of Thailand. Explore the ancient temples and ruins that showcase the city's rich history and architectural grandeur.
Damnoen Saduak Floating Market | Experience the vibrant and bustling atmosphere of a traditional Thai floating market. Cruise along the canals, and shop for fresh produce and local crafts.
Maeklong Train Market | Witness a truly fascinating sight at the Maeklong Train Market, where vendors set up their stalls along an active railway track. Watch as the market transforms within seconds as the train passes through.
Ancient Siam & Erawan Museum | Step back in time at Ancient Siam, an outdoor museum that features meticulously recreated replicas of Thailand's significant landmarks. Adjacent to it is the Erawan Museum, housing an impressive collection of art and antiquities within a stunning three-headed elephant-shaped building.
Kanchanaburi | Venture further afield to Kanchanaburi, a town known for its poignant history and natural beauty. Visit the Bridge over the River Kwai, the famous WWII landmark, which gained fame through the same-titled movie. Continue to explore the nearby museums and war cemeteries.
Khao Yai National Park | Nature lovers will appreciate a visit to Khao Yai National Park. Discover lush forests, stunning waterfalls, and diverse wildlife in this expansive park.
Join a day trip tour
You can book excursions directly on-site or, if you prefer to rely on recommendations, you can book tours online. Platforms like GetYourGuide offer the advantage of flexible cancellations for most tours up to 24 hours in advance, allowing you to plan with peace of mind. Often transport is included (or option to include), so everything is arranged for you. Additionally, you can compare ratings and customer reviews to ensure you choose the best options for your adventures.
Maps of all the best things to do in Bangkok
For your convenience in navigating the bustling city of Bangkok, we have created an interactive map pinpointing all the mentioned sights and locations. This Google Maps link is free for you to open, save, and use as a helpful guide during your upcoming trip to Bangkok.
---
Bangkok Essential Resources
FLIGHTS | Find the best deals for flights to Bangkok with Skyscanner.
TRANSFERS | Ready to travel to your next destination in Thailand? Book your bus or train tickets via 12go.
HOTELS | Browse Booking.com for a place to stay in Bangkok, from budget hostels to luxury hotels.
TOURS & ATTRACTIONS | For booking the most fun experiences, check out GetYourGuide or Viator.
---
We hope this guide with the best things to do in Bangkok helped you out. You can show some ❤ and support for the blog and help us share more adventures! Our travels are entirely self-funded, so any show of support is greatly appreciated. It allows us to keep writing helpful travel guides and gather information to make it easier for people to discover the world.