If you are looking for an unforgettable Christmas Holiday, then Germany is the way to go. It's not a secret that this European country knows how to throw a Christmas Market. As it has been a celebrated tradition for hundreds of years, visiting one of the Christmas Markets in Germany is an incredible experience. During the festive season, you will find enchanting markets and events in every German town, with each having its own unique style. Filled with charm, history, and amazing food, no doubt you will have a magical time! The aromas of spiced Glühwein, freshly baked Lebkuchen, and grilled sausages fill the air. Eating traditional specialties from a cozy wooden stall under the twinkling lights with a quaint backdrop is something you want to experience at least once in your lifetime.
Not sure which German Christmas Market to visit on your first time? We list below some of the most beautiful Christmas Markets if you are planning to visit this winter. Furthermore, we share some practical tips as well as information on how to get around if you want to visit multiple markets at once!
No time to read now? Pin it to Pinterest for later!
* Disclosure: This Christmas Markets in Germany post contains affiliate links. We will receive a small commission if you book through our links. This is at no extra cost to you. This way you're helping us write awesome travel guides and keep providing you with free content. We only recommend products we like and trust ourselves.
The Tradition of Christmas Markets in Germany
The tradition of Christmas Markets in Germany has a long history that goes back to the late Middle Ages. At that time, they started as a Winter Market, where merchants sold supplies and goods to the locals. It is believed that the concept of Christmas markets originated in Germany, with the first one recorded in Bautzen in 1384. From that point on Christmas Markets started to find their way to parts all over Europe. They grew from small markets that took place for a few days to big events as we know them today. In Germany alone, there are over 2500 Christmas markets today, of which the largest one can be found in Dresden. The Dresden Christmas market is also one of the oldest in Germany, dating back to 1434.
In Germany, Christmas Markets are usually called Weihnachstsmarkt (Christmas Eve Market) or Christkindlmarkt (Christ Child Market). The name goes back to a tradition from the 16th century by Martin Luther. Traditionally in Germany, the day of giving gifts was December 6th, which later changed to Christmas Eve. The Christkind on markets is usually a young girl dressed almost angel-like in a white and gold dress with a crown and wings that serve as a symbol for being the "gift giver". The Christkind attends the opening ceremony of the Weihnachstsmarkt, giving a speech to kick off the festivities. The Christkindlmarkt of Nuremberg is famous for its Christkind, which you will see walking around town accompanying St. Nicholas.
What to expect at Christmas Markets in Germany
You will notice that many major cities in Germany host multiple markets that vary in size and quality. Most markets are generally set up outdoors on the main town squares or near the Rathaus (Town hall). Even though each market has its own unique style, you will always find certain elements coming back wherever you go in Germany. Traditional German food and drinks always have a big draw such as the popular glühwein (mulled wine), bratwurst, and lebkuchen (gingerbread). Artisans & merchants display handmade Christmas ornaments & nutcrackers, miniature porcelain villages, snow globes, and other festive decorations. Without a doubt, you will find the perfect souvenir or gift to take home! And of course, the main center of attention is a gigantic Christmas tree!
The best time to visit any Christmas Market is during the evening when the glistening lights charm up the place. Visiting a Christmas market in Germany is a true social event, where you meet up with family and friends. Picture enjoying the atmosphere while sipping a mulled wine under the twinkling Christmas lights.
Entertainment & Activities at Christmas Markets in Germany
Throughout the whole season, there are many activities & performances to look forward to. Child choirs or small concerts are often held near the main market or inside a church. Carousels or Ferris wheels are always a popular draw for children. Sometimes there are even small markets organized purely for kids' entertainment. An Ice-skating rank is also common, which makes up for a fun activity.
Last but not least we would like to introduce you to a mythical creature that is often found in Bavaria, called Krampus. So don't be alarmed if you all of a sudden bump into one of these, and get scared for life. Kinda what happened to me on my first time visiting a Christmas market in Regensburg. Krampus is half goat half demon who according to old tales was the one who punishes the children that misbehaved. A popular Krampus activity is the Krampus run. A holiday tradition that usually takes place on December 5, the night before the feast of saint Nicholas. During this festivity, locals dress up in their best Krampus attire and run through the streets of the city. It's quite a unique Christmas tradition to experience!
Practical information about Christmas Markets in Germany
When do Christmas Markets open in Germany?
Most Christmas Markets open the last week of November or on the first weekend of Advent. Usually, they run until Christmas Eve, even though some cities keep a part of the market open until New Year's Eve. The start of each city's Christmas Market season can vary. So make sure to check the local tourism site for more information. Below we mentioned the dates and opening times for each Christmas market that we recommend for Germany.
Where do they have Christmas Markets in Germany?
As the tradition of Christmas markets in Germany dates back hundreds of years, you will find markets in practically every town throughout the country. So wherever you visit in Germany you will probably encounter one as there are over 2500 Christmas markets spread all over the country. The most popular Christmas markets in Germany are the ones in Dresden, Cologne, Frankfurt, Munich, and Berlin. Each market has its own unique style and atmosphere. The largest one is located in Dresden with over 250 stalls (it's supposedly even the biggest one in the world). Some castles like Schloss St. Emmeram in Regensburg or Schloss Drachenburg in Köningswinter even open their doors to the public for a specific weekend.
How to Get Around in Germany
If you are not road-tripping by (rental) car, your next best option to travel between different cities in Europe is by taking the Flixbus. This is a travel bus company and it's the easiest and cheapest way of travel if you are planning on visiting multiple cities. Another option is traveling by train, for which you have the option to get different plans. German Rail pass for when you are traveling solely within the country, Eurail if you want to explore multiple European countries at once.
Tips for Visiting Christmas Markets in Germany
Tip 1 | Bring Enough Cash
Most of the Christmas markets are cash-only, so make sure to bring enough with you. Try to avoid bringing big notes, so stick to €10-20 and coins. If you are visiting markets in smaller towns they might be short on change. In cities, there are plenty of ATMs around, but you don't want to go searching for one on a crowded evening.
Tip 2 | Weekends & Evenings Get Crowded
Maybe to be expected, but the weekends are the busiest time to visit any Christmas market. If you want to avoid big crowds, it's better to plan a visit during the week. The busiest time of the day is usually the evenings. So if you want to cozily look around, head out for some food and drinks at dusk. Our advice is to go during the day to do some quiet shopping. Then head back in the evening to enjoy a glühwein surrounded by the market's atmosphere.
Tip 3 | Pick your style of Christmas Market
Not every Christmas market is the same, not in style or size. So best is to do your research up front and see what type of market has your preference. The ones in big cities will always be busy. So if you are looking for a more peaceful experience, small towns are the way to go. In our opinion, small towns are sometimes even more magical and authentic. For smaller Christmas markets we can recommend the ones in Rothenburg ob der Tauber, Monshau, and Halsbach. If you want to go to big cities, try the ones from Nuremberg, Dresden or Cologne. Often major cities have multiple Christmas markets spread across the city. The ones in Munich even have a different theme from traditional to modern international.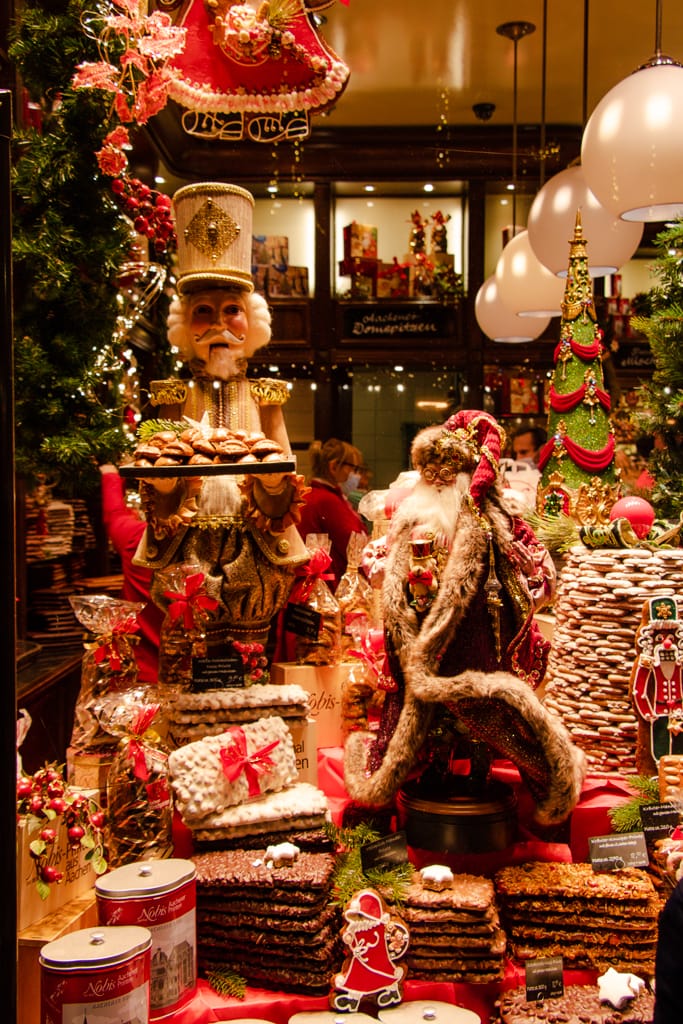 Tip 4 | Book accommodation early
As you can imagine the month of December is high season in Germany. Thus make sure to book your accommodation for at least 3 months upfront. It won't be easy to find anything last minute at a reasonable price and you won't have many options left. You will want to book a hotel not too far from the city center. This way you can easily walk home at the end of the evening. Try booking a place more in a side street, if you don't want too much noise from the market.
Tip 5 | Eat & drink the local specialities
Enjoying nice food and drinks is a big part of German Christmas markets. The moment you start entering the market, the smell of grilled sausages, aromatic gluhwein, and spiced lebkuchen comes your way. It's the perfect occasion to indulge in all the German goodness! There is something for everyone. Besides the classics like bratwurst, Gebrannte Mandeln (roasted almonds), and crepes (pancakes), you will find local specialties in every region. The city of Nuremberg is most famous for its own Nürnberger Bratwurst and its beloved lebkuchen (gingerbread). Munich has many of its own Bavarian specialties such as käsespätzle. These are a kind of noodles covered in grated cheese and fried onions. The perfect comfort food on a cold day! Frankfurt has its own variety of gluhwein called Apfelwein, so wine made with apples.
Tip 6 | Keep a Glühwein mug as a souvenir
When buying drinks like Glühwein at the Christmas markets in Germany, you will have to pay a deposit (or Pfand) for the mugs. These are usually around €3 and cover the cost of the cup in case it's not being returned or broken. When you return your mug at the end of your visit you get back your deposit. However, if you are looking for the perfect souvenir to remember your Christmas market trip, take home a festive glühwein mug! Usually, each market has its own signature mug design. These can even differ every year, for example by mentioning the year or a different drawing. You might want to check out the mug options first and then pick one that you like to take home!
Tip 7 | Dress warm and comfortable
As Christmas markets take place outside during winter, you want to pack warm appropriate clothing and wear comfortable shoes. Most of the time you will be outside, and although there are drinking spots in small cabins or underneath heating elements, you don't want to ruin your evening by freezing. So think of packing some extra layers and bringing a cute hat, scarf, and gloves to keep you warm. As you will be walking a lot and most markets are in old city centers with crowded cobblestone streets, put on some comfortable footwear.
Tip 8 | Do some Christmas shopping
If you want to stock up on some Christmas ornaments & decorations, or some presents for under the tree, you can find many unique locally handmade souvenirs at each market. Many artisans and craftsmen stall out their handmade goods, often locally made and typical for the region. Christmas tree decorations made out of carved wood or painted glass bulbs are typical from Germany. They are the ideal gift to bring home for your family.
Other things that can be found at Christmas markets in Germany are nutcrackers in all colors and sizes, leather goods such as gloves and hats, miniature villages, and a Moravian star (multi-pointed paper star with lights). The quintessential German souvenir to bring back home must be a beer stein, those typical stone mugs. If you want to bring home some edible treats to enjoy, take some Aachener Printen when you are in Aachen or Lebkuchen from Nuremberg.
Tip 9 | Get a German rail pass
If you are visiting Germany by plane and planning on seeing multiple Christmas markets across the country, the most convenient way to travel is by train. The easiest way to save time and money is by purchasing the German Rail pass. This pass gives you unlimited rides on all Deutsche Bahn (DB) trains, including the fast ICE trains that connect major cities. There are several plans available for 7, 10, or 15 days of consecutive travel or freely selectable travel days within a month. Make sure to download the DB Navigator App, from where you can book tickets, get notifications on delays, or look up platforms or timetables.
The Best Christmas Markets in Germany
It can be tough to pick out a Christmas Market in Germany, as there are more than 2500 in the country. Of course, we haven't (yet) visited them all, but over the years, we visited enough to compose a list of recommendations.
Nuremberg Christmas Market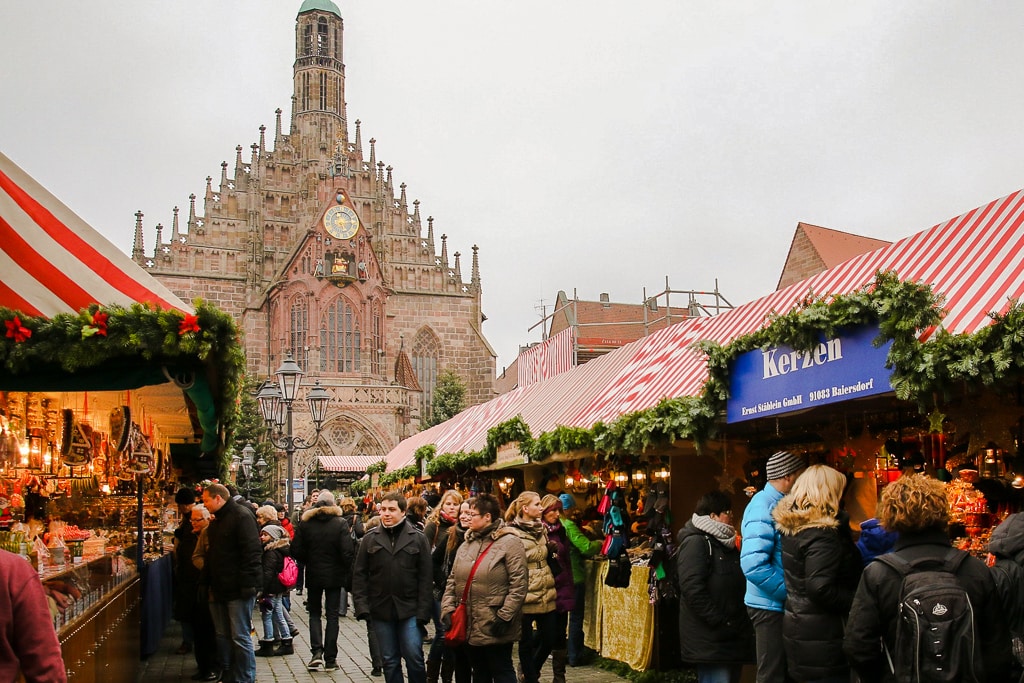 Nuremberg's Christmas market or Christkindlesmarkt is probably the most famous of them all. It's not only one of the oldest, dating back to 1530 but also one of the largest Christmas markets in the world. The city welcomes over 2 million visitors per year. The main market takes place in the heart of the city, right in front of the Church of our lady. The signature red & white striped stalls on the Hauptmarkt make the whole place look like a candy cane Sugarland. However you will find many different markets spread all over the city, it almost seems never-ending.
There are around 200 stalls with incredible displays selling many locally-made handicrafts and delicious specialties. The stalls themselves are even made from local spruce wood. Fun fact 30 of the around 200 wooden huts were handmade in the late 19th century. You can really see the craftsmanship and details they put into setting up their Christmas Market. Definitely an experience you will always remember! Throughout the whole Christkindlesmarkt season, you can enjoy choir carols and a beautiful two-tiered carousel with reindeer and sleighs.
Christmas specialties in Nuremberg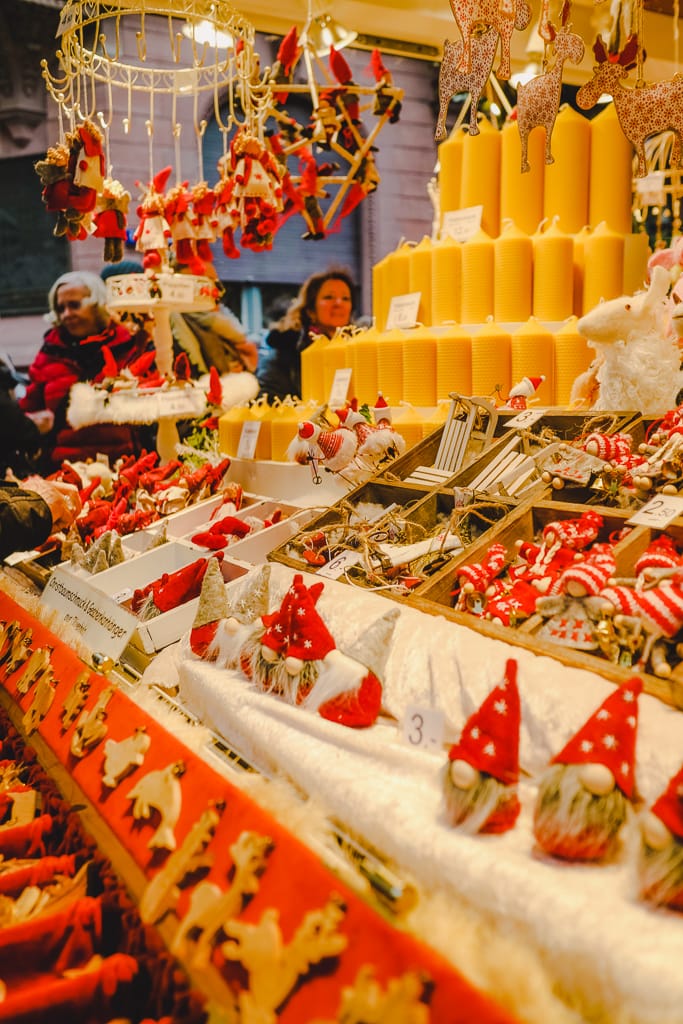 While you are in Nuremberg, a must is trying out authentic Lebkuchen or Gingerbread which originated here. These sweet gingerbreads are made out of all kinds of spices and are mostly a Christmas tradition. There are many stalls as well as little bakery shops where you can pick up a box of treats. We picked up a pack at Dornauers Lebküchnerei and were some of the best we ever had.
Another delicious local specialty is the Nürnberger Bratwurst, this sausage can only be produced within the Nuremberg walls. You can find Bratwurst all over the markets, but we savored a portion at Restaurant Bratwurstglöcklein. It's an adorable location with cozy benches directly at the entrance of the Handwerkerhof. The smell from the grill is welcoming you from all over the Craftmen's courtyard coming from the chimney.
As a warming drink, you can always have a classic gluhwein. Nonetheless, Nuremberg also has its famous blueberry glühwein from Gerstacker that you must try! It's a spiced mulled wine with blueberries, so if you are into fruity sweetness you will definitely appreciate this one.
Dates & Times Nuremberg Christmas Market 2022 | From Saturday 25 November until Tuesday 24 December, open daily from 10 am to 9 pm.
Spending a Christmas weekend in Nuremberg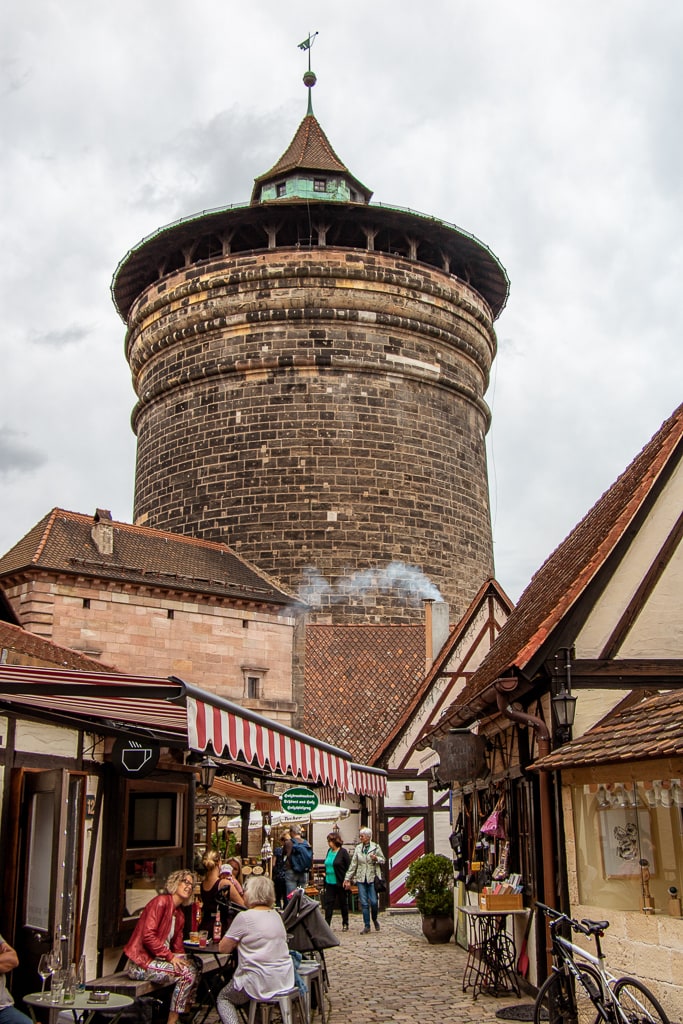 Visiting the Christmas market in Nuremberg will probably keep you busy for a day, but there is much more to see! Ideally, you will want to spend a few days there so you can also visit some sights. The old town is encircled by a medieval wall which you can walk on. Furthermore, the impressive Nuremberg castle is definitely worth a visit. The city has many magnificent bridges over the Pegnitz river such as the iconic Henkerbrücke. Find your way to the photogenic Weißgerbergasse, a street lined with colorful half-timbered houses. Most of all the city is famous as the birthplace of the painter Albrecht Durer. Over the whole town, you can find many sights related to the artist and his work. For an overview of the best things to do in Nuremberg, where to eat and stay, make sure to check out our complete 2-day guide.
Munich Christmas Market
Another one of the best Christmas Markets to visit in Germany is the one in Munich. Undoubtedly you know this German city from Oktoberfest but they also throw an impressive Christmas market. Or should we say markets, since Munich counts more than 12 types of Christmas markets? The city is known for its themed markets, which take the traditional Christmas market to a whole other level.
TIP | Go to the top of St. Peter's Church to get the perfect spectacle view of Munich's magical wonderland.
The main Christmas market takes place at Marienplatz, the main square of Munich. Did you know that Munich's Christkindlmarkt dates back over 700 years ago? Marienplatz is not only a prime example of European architectural beauty, but it also becomes a true feast for the eyes with the Christmas market set up. A gigantic Christmas tree dominates the main market square in front of the Rathaus (or Town Hall). It's truly an enchanting vision, seeing the square with its beautiful architecture decorated with Christmas lights and ornate stalls.
Munich's themed Christmas markets
You will find markets placed all over the city, with even a Christmas village in the Residenz. It's a more secluded experience, but nonetheless any less magical. You can reach the Christmas village through the archway from the Residenz palace. On the courtyard, there are stalls selling traditional handicrafts handmade by artisans from all over Bavaria. From here find your way to the city's English Garden where you can find another charming market right near the Chinese Tower. The market is calmer as it's located a bit away from the center, right in the forest. At Wittelsbacher Platz there is even a Medieval Christmas market that you can check out.
On the very spot where there is usually Oktoberfest held, Theresienwiese, you can find a whole market covering the big open space. Tollwood Winter Festival will give you a totally different kind of experience than the Christmas markets in the rest of the city. It feels more modern, almost like a fair with its many stalls and colorful light displays. There is live music to enjoy, stalls with international food to try as well as all kinds of crafts not particularly Christmas-related. Check this website for an overview of all the themed markets that can be found in Munich.
Dates & Times Munich Christmas Market 2022 | From Monday 21 November until Saturday 24 December. Open daily, from Monday through Saturday from 10 am to 9 pm. Sunday 10 am to 8 pm.
Spending a Christmas weekend in Munich
Munich is an amazing city to explore by itself, so if you decide to make your way down here you should consider spending a few nights. If you want to visit only one museum, make it the opulent Munich Residenz. It's the largest inner city palace in Germany and served as the former seat of Bavarian royalty. The interior is absolutely exquisite and you will have no problem spending half a day wandering around its impressive rooms. Munich is also the perfect city to make a few day trips from. Bavarian fairytale-like castles such as the Nymphenburg palace are only 35 minutes away with public transport. And you must have heard of the famous Neuschwanstein Castle which served as the inspiration for Sleeping Beauty castle.
Rothenburg ob der Tauber Christmas Market
As if the medieval town of Rothenburg ob der Tauber isn't enchanting enough, imagine it as the backdrop for a Christmas market. The charming town of Rothenburg is located on the Romantic Road in Bavaria. A route that takes you along the most picturesque towns and castles. The old town is characterized by half-timbered houses in cobblestone lanes and a skyline of medieval towers. Walking around Rothenburg ob der Tauber will make you feel like you were transported back in time or to a storybook village. No wonder it served as the inspiration for many fairytales. Moreover, the town is known as one of the most beautiful Christmas markets in Germany. In our opinion, it can't miss on your Christmas Market bucket list.
Spending a Christmas weekend in Rothenburg ob der Tauber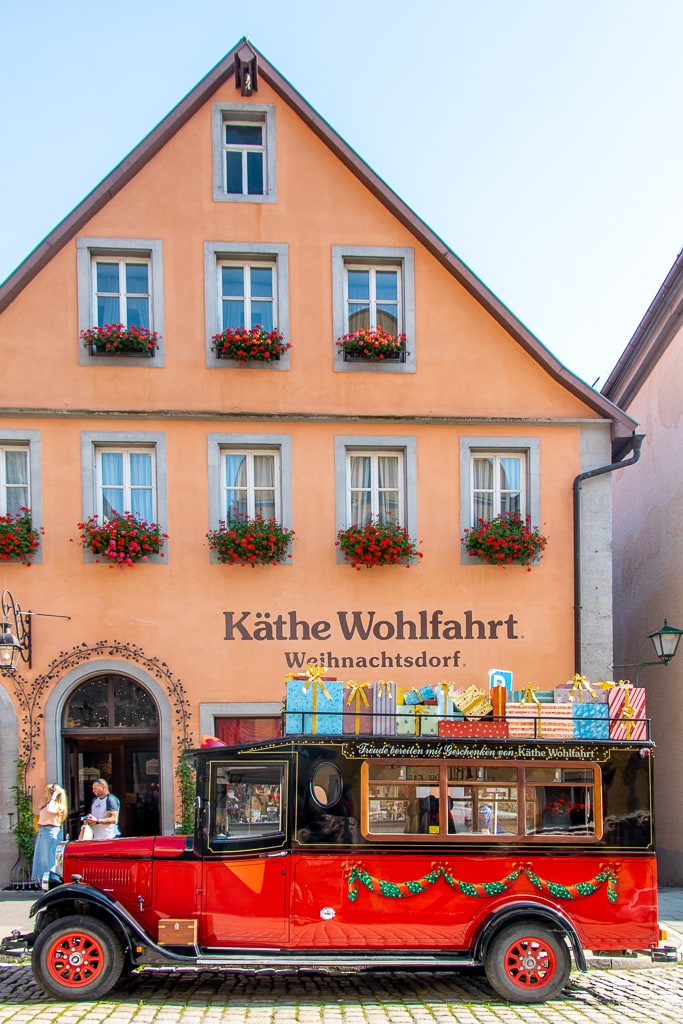 During Christmas, the whole village is transformed into a Christmas wonderland. The Reiterlesmarkt is probably the most romantic Christmas market in all of Germany. The market has been around since the 15th century and just like its city, it exudes medieval galore. The name Reiterlesmarkt owes its name to the tale of the "Rothenburg Riders". These are mystical horseback messengers, whose arrival is greatly celebrated by the locals in town.
TIP | For just 2,50 € you can visit the Town Hall's tower on Market square. It gives you a magnificent 360-degree panoramic view of the old town after climbing up 222 steps.
No matter the time of the year, there is always a bit of Christmas to be found in Rothenburg ob der Tauber. A famous shop called Kathe Wohlfahrt houses the most colorful variety of ornaments and Christmas collections in Germany. You simply can't miss the shop since it has a red Christmas car with a pile of gifts parked in front. At the German Christmas Museum (Deutsches Weihnachtsmuseum) you can even learn more about local traditions and Germany's Christmas history.
Christmas specialties in Rothenburg ob der Tauber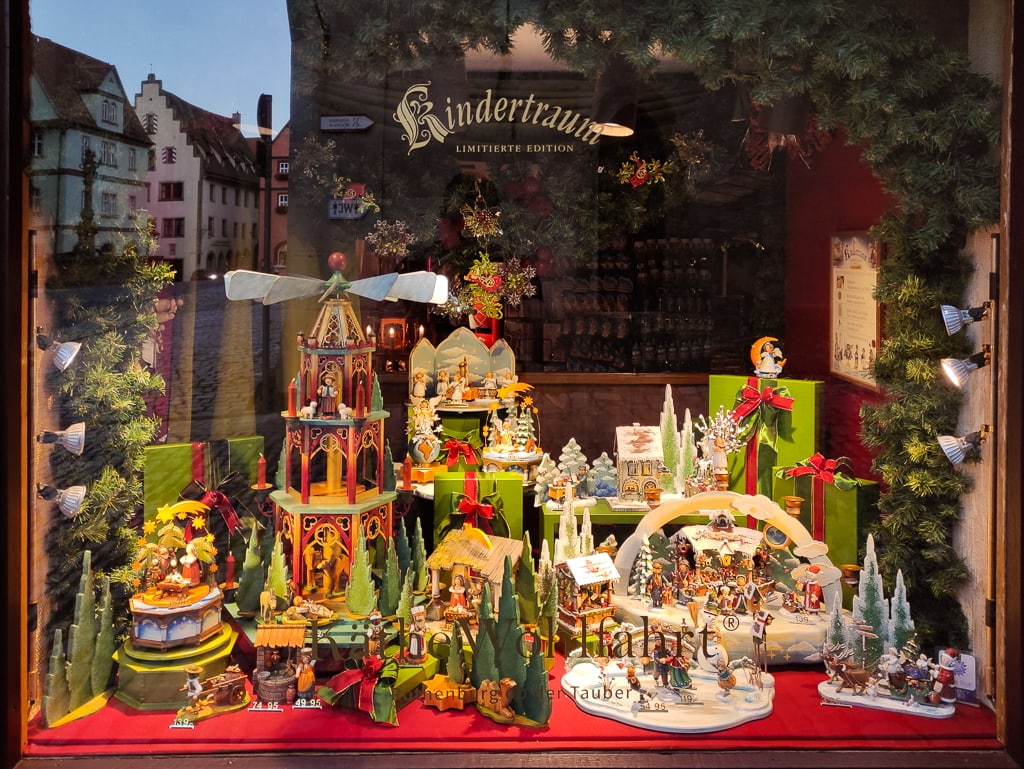 As far as delicious food specialties go, most restaurants serve traditional Franconian cuisine. Warm-hearted dishes such as goulash, bratwurst, or steak with a side of homemade knödels or Käsespätzle. Perfect to warm up on! We can suggest ordering a Franconian sausage at one of the stalls as a small snack. If you wanna warm up in a cozy restaurant, head over to Alter Keller for some delicious food. More on the hunt for a sweet snack? All over town, you will bump into these bakeries selling Schneeballn or Snowballs, a Rothenburg pastry specialty. It's a round-shaped deep-fried doughy ball dipped in frosting, chocolate, or sugar (pick your favorite flavor).
Dates & Times Rothenburg ob der Tauber Christmas Market 2022 | From Friday 25 November until Friday 23 December, open daily. From Monday through Thursday from 11 am to 7 pm, and from Friday till Sunday from 11 am to 8 pm.
Aachen Christmas Market
If you are looking for the best place to get into the Christmas spirit, head over to Aachen. This Christmas market is probably one of my favorites. Not only because I have been here several times since I was little. Twinkling lights everywhere you look, beautiful ornaments of deer in front of the Town Hall, and not to miss, giant-sized gingerbread statues! The whole inner city of Aachen is just a feast for your senses, with its decorated stalls and smells of fresh Aachener Printen.
The market isn't located just in one place but is spread over several squares and streets. The main areas are centered in front of the Cathedral, Charlemagne Centre, and Aachen town hall. Aachen is known for its beautiful historic city and UNESCO World Heritage cathedral. Take the time to visit the Cathedral inside, as it's one of the oldest in Europe and the final resting place of Charlemagne.
Christmas specialties in Aachen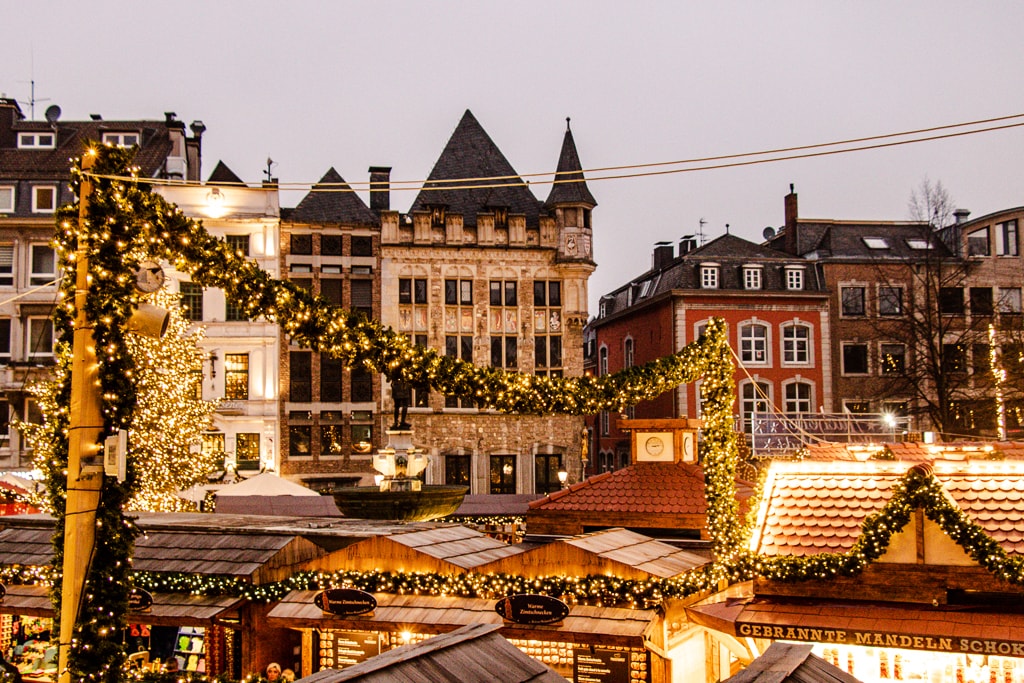 The city of Aachen isn't huge, but there is enough to experience for a full day. If you are looking to warm up on some Glühwein, head over to one of the bustling stalls of Hexenhof. They are known for some good mulled wine served in colorful witch-themed shoes, the perfect souvenir to take home! If you want to warm up on a drink somewhere inside, head over to the historic restaurant of Postwagen. This unique small wooden building is nestled against the town hall of Aachen since 1857. It's quite a remarkable place to get a beer! The best Aachener Printen, sweets similar to gingerbread, can be found on the market itself. They often allow you to try out different flavors in order to pick your favorite! A known place to get all kinds of Christmas sweets and the famous Christmas Stollen is at a Nobis bakery shop.
Dates & Times Aachen Christmas Market 2022 | From Friday 18 November until Friday 23 December, open daily from 11 am – 9 pm
Salzburg Christmas Market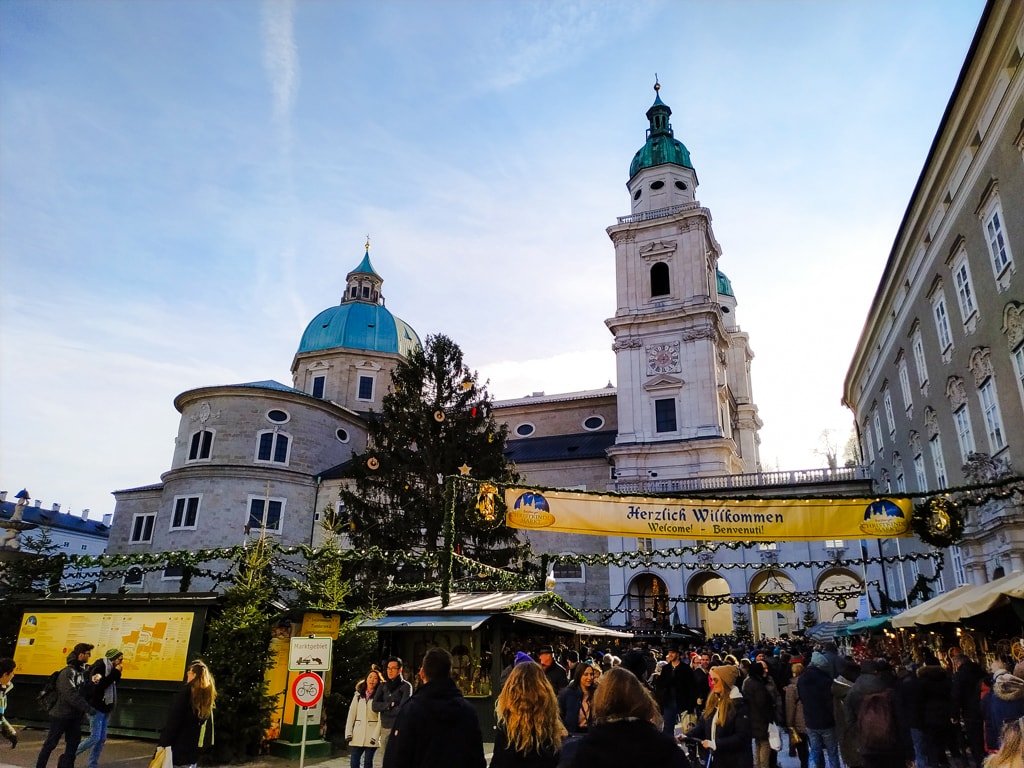 Technically Salzburg is not in Germany, our apologies! Yet it's a beloved Christmas market amongst Germans as it's right across the border in Austria. That's why we decided to add it to this list, as it's easy to reach from Munich by train (around 2 hours). Multiple Christmas markets are spread all over the city of Salzburg. The main one can be found in the historic center around the Cathedral at the foot of the Hohensalzburg fortress. This Christmas market knows its origin back in the 15th century and has an extensive program of events. Throughout the Christmas market period, there is choral singing, Turmblasen (or wind instruments music) on the Residenz square, and several exhibits in the Residenz courtyard.
Do make sure to visit the Hohensalzburg fortress, it's not only one of the most popular attractions of the city, but it also has its own little Christmas market. After visiting the museum and the top of the main tower to get the best city views, stop by the main castle courtyard. A few Christmas stalls are put up for the visitors to enjoy. We can advise getting the goulash here, which was mouthwateringly and delicious. On your way back down to the center, stop by the Friedhof St. Peter (cemetery). A picturesque cemetery with baroque tombs of nobility as well as 12th-century catacombs & chapels. Afterward, proceed to the Domplatz to soak up the atmosphere. There are several Krampus statues installed, in case you are curious about what these folklore creatures look like!
Dates & Times Salzburg Christmas Market 2022 | From Thursday 17 November until Sunday 1st of January, open daily. Monday – Thursday from 10 am till 8.30 pm, Friday 10 am – 9 pm; Saturday 9 am – 9 pm; Sunday and holidays 9 am – 8.30 pm.
Spending a Christmas weekend in Salzburg
No visit to Salzburg would be complete without passing by the house of Mozart, who was born in the city. Today the Mozart Residence on Makartplatz and his Birthplace on the Getreidegasse house museums open to the public. When passing by the birthplace house, make sure to pay attention to the Getreidegasse itself. It's one of the most wonderful shopping streets I have ever seen. Many of the shops are adorned with traditional iron guild signs. Even Mcdonald's has its own gold iron sign!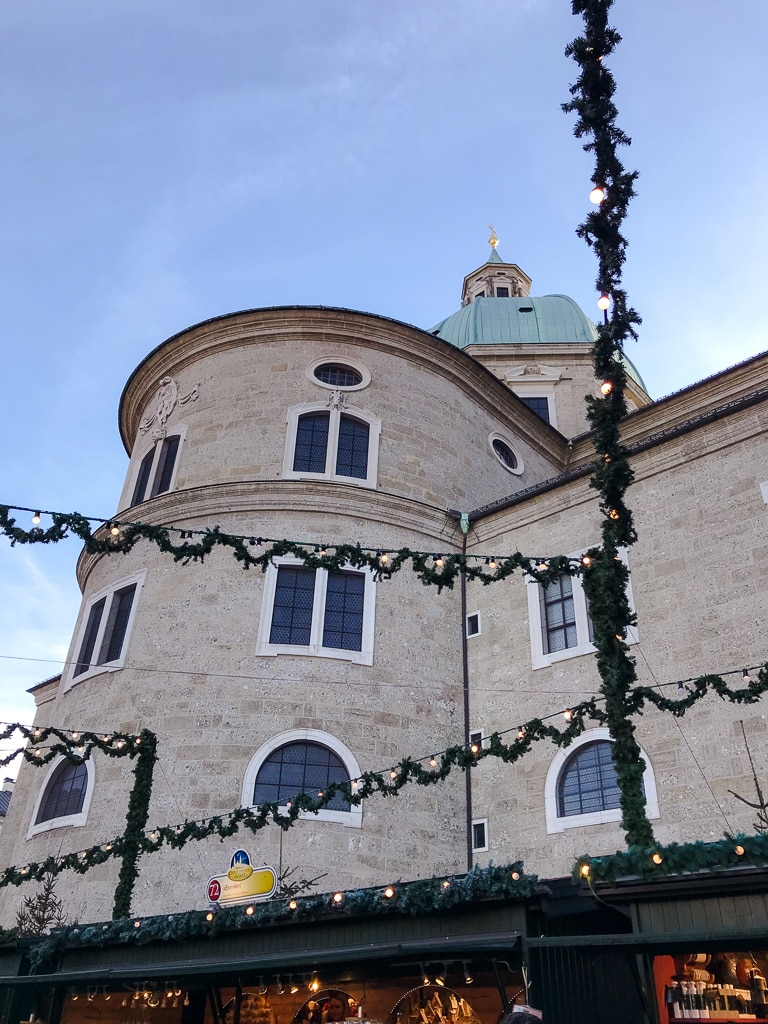 Find your way through the many tiny passageways and finally go for a cozy walk by the river. Take the Makartsteg Bridge with love locks to get to the other side where you can visit Mirabell palace and its gardens. This iconic palace is famous for its beautiful symmetrical gardens and classical concerts held in the ballroom of the palace. The whole place looks like it comes straight out of a Sissi movie! You will find another little Christmas market on Mirabell square in front of the palace. Curious about what other treasures you can find in Salzburg? Make sure to check out our guide on the best things to do in Salzburg.
Dresden Christmas Market
Dresden is not only home to one of the oldest Christmas markets in the world, Striezelmarkt, but also has the world's tallest Christmas pyramid. According to the Guinness Book of World Records a staggering 14.62m high! Add to that some classic Dresdner Stollen and you are set for an amazing time here! Even though these things must be reason enough to visit Dresden during Christmas times, there is so much more. The city is known for its breathtaking architecture and marvelous buildings that are home to wonderful museums & galleries that will keep you busy for days. The palace complex of the Zwinger is an absolute masterpiece that you simply cannot miss during your visit.
Spending a Christmas weekend in Dresden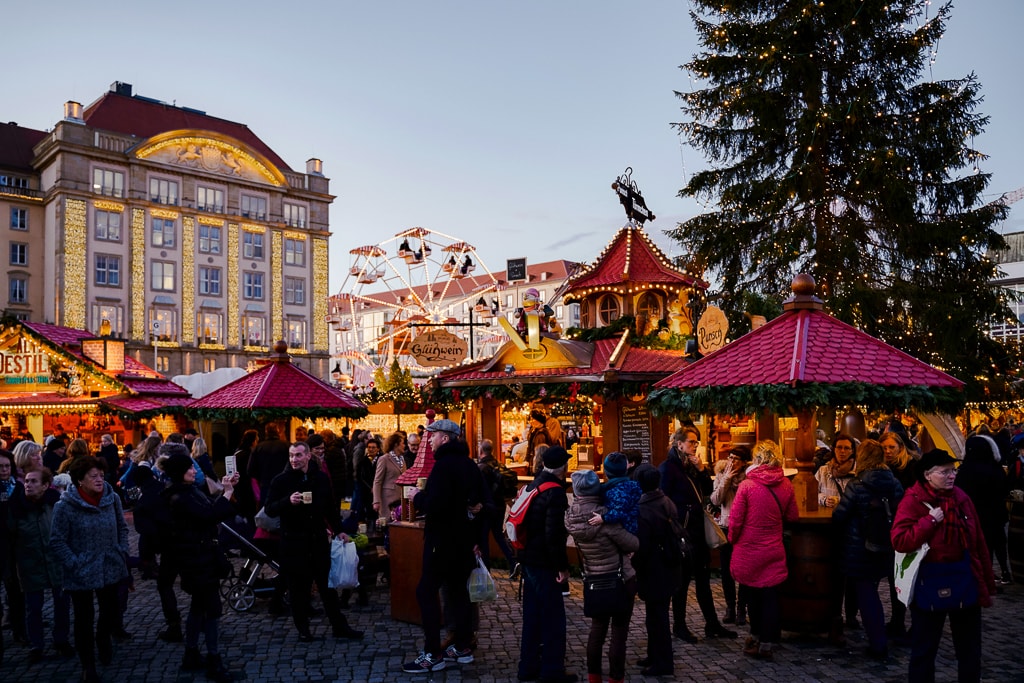 As told, one of the first markets is believed to originate here, dating back to 1434. Not only is the Dresden Christmas market one of the oldest but also the largest in the world with over 250 stalls. You will find this market in the historical center on Altmarkt square. Surrounded by various themed markets that run all the way to the railway station. Some of the best-handcrafted items in Germany can be found on this market, such as wooden crafts from the Ore Mountains and blown glass from Lauscha. There are two main markets that are an absolute must-see, but you will also find a handful of smaller niche markets. One of them is an international market with all kinds of food options from all over the world.
Christmas specialties in Dresden
The best part is that Dresden is the home of the original Christstollen or Stollen, a tradition dating back to the 14th century. German bakers used to make Stollen for Christmas, a cake-kind loaf baked with butter, sugar, raisins, citron, and other ingredients. These days you will often find Stollen filled with marzipan filling in the middle. Just like back then these specialty bread are sold at fairs and festivals for holiday celebrations.
Dates & Times Dresden Christmas Market 2022 | From Wednesday 23 November until Saturday 24 December, open daily from 10 am – 9 pm
Regensburg Christmas Market
It's possible you have never heard of this city, however, Regensburg is one of the most popular Christmas markets in Bavaria, Germany. Located by the Danube river, this medieval city boasts five markets dotted around the city. The main market is wrapped around the Neupfarrplatz, which has a wide variety of food stalls. Make sure to check out the famous half-meter-long spicy sausage known as Feuerwurst! Of course, you will also find other classics such as sweet roasted almonds and chestnuts (Maroni), Zimtsterne (cinnamon stars), and lebkuchen. Not to forget some amazing Glühwein to warm up. Also in Regensburg, you can find the delicious variant with blueberries.
If you would like to take home a souvenir there are plenty of homemade gifts around such as ornaments, candles, handmade leather goods, and glass-blown figurines. You can even see an artisan work his magic as he makes live glass-blown ornaments on request. From the main market run many small alleyways that are beautifully lit with Christmas lights and decorated with garlands. It won't be hard to get into the full Christmas ambiance, as this historic city just oozes Christmas spirit.
Dates & Times Regensburg Christmas Market 2022 | From Monday 21 November until Friday 23 December, open daily. Sunday to Wednesday from 10 am – 8 pm; Thursday to Saturday from 10 am – 9 pm
The folklore tradition of Krampus
If you were always curious about the Krampus tradition, then you might be in luck when visiting Regensburg. On our first visit, we were surprised by the sudden approach of these mythical creatures holding fire torches. The square was filled with dark suspenseful music while these demon creatures put on a show. As somebody who didn't grow up with the tales of Krampus, it was quite a scary first encounter. Proud to say I did conquer my fears by taking a selfie with a few at the end ;p.
The romantic Christmas Market at Schloss Thurn und Taxis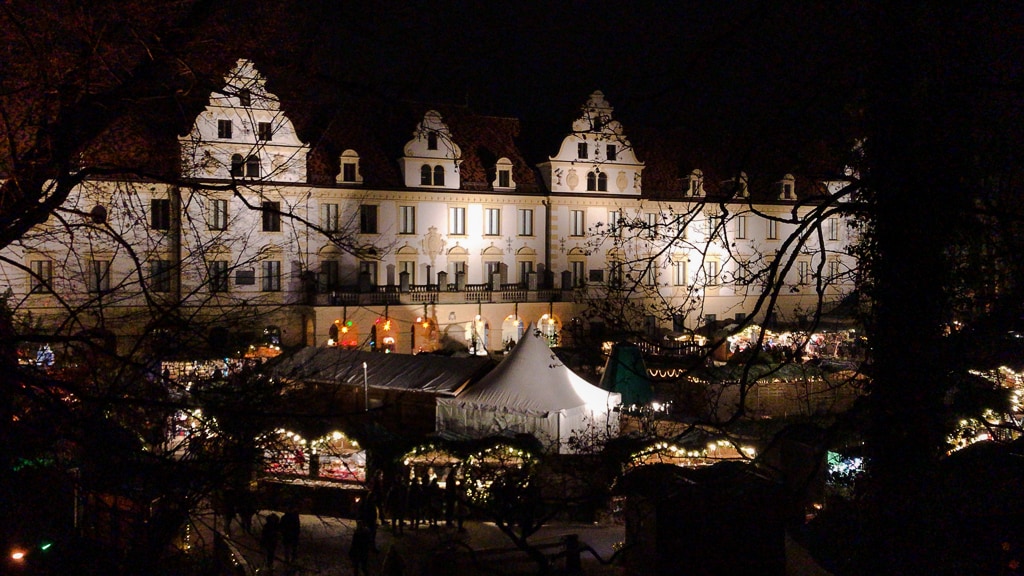 However, the most magical market in Regensburg can be found on the idyllic grounds of St Emmeram Castle, also known as Schloss Thurn & Taxis. This is actually a private property, owned by the German nobility, but once a year they open their doors to the public with a Christmas market. When you enter the estate it almost feels like stepping into a royal Winter Wonderland. The main courtyard is filled with beautifully decorated stalls, selling all kinds of snacks and handmade goods. We recommend trying the Kaiserschmarrn, a sweet fluffy shredded pancake that usually contains raisins and is served with apple sauce!
Besides the unbelievable castle backdrop, you can walk through the castle gardens and there is a whole program of performances & activities organized. Located next to the entrance there is a Kinderzauberwald (Children's Magical Forest) which hosts a variety of games and rides for the younger visitors.
DATES | From Friday 18 November – Friday 23 December (closed on 20 November). For more information and ticket reservation check out the official website of Thurn und Taxis.
OPENING TIMES | Monday – Thursday 3 pm – 10 pm; Friday & Saturday 12 pm – 11 pm; Sunday 12 pm – 10 pm
Cologne Christmas Market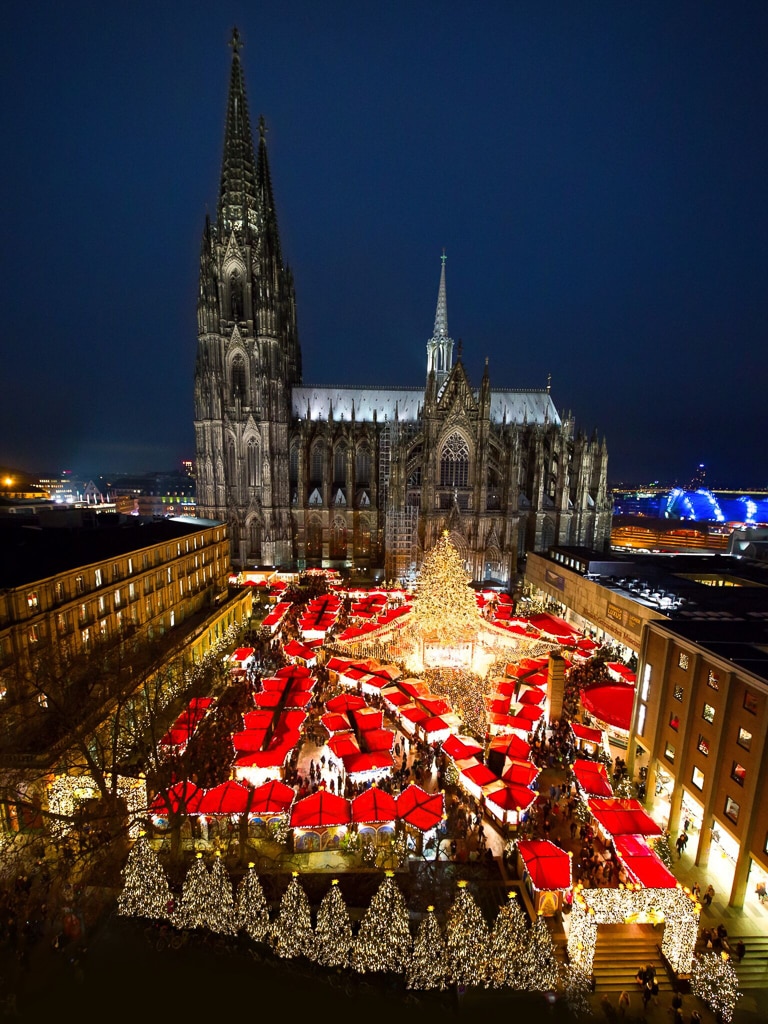 For some of the most epic Christmas Market decor in Germany head over to Cologne. This city is an exciting place to visit all year around, but it's no secret that Cologne knows how to throw a Christmas market. Cologne has been a popular destination to enjoy the Christmas vibes for years with its impressive holiday decor. Every year many people from neighboring countries such as Belgium and the Netherlands find their way to Cologne for a weekend filled with Christmas magic. The stunning Cologne cathedral (Kolner Dam), one of the tallest cathedrals in the world, serves as a beautiful backdrop to its market. An endless maze of twinkling decorated stalls fills the streets and market squares of the old town of Cologne. Enjoy a warming spiced Glühwein while strolling the markets in search of that perfect Christmas gift.
Spending a Christmas weekend in Cologne
The city counts seven markets in total spread across the city, each one with its own unique charm and style. And not to forget each market has its own signature collectible mug! At the old market, you can find a large ice rink and a carousel ride, perfect for the kids. The largest and most famous market can be found around the cathedral, boasting more than 160 stalls! For an enchanting experience with traditional wooden chalets head over to Angel's Market. Next to the Hahnentorburg on Rudolfplatz, there is a market with a medieval village feel featuring stories from the Grimm Brothers. For a cozy escape from the crowds go to the Belgian quarter also known as Stadtgarden.
Visiting the Cologne Christmas market is truly a bucket-list-worthy experience. Just be aware it's one of the most popular ones. I think I have never seen such a crowded place before in my life!
Dates & Times Cologne Christmas Market 2022 | From Monday 21 November until Friday 23 December, open daily. Sunday to Wednesday from 11 am – 9 pm; Thursday & Friday from 11 am – 10 pm and Saturday from 10 am to 10 pm.
Halsbach Christmas Market
Experience a magical evening in the middle of a forest at the Waldweihnacht in Halsbach. This forest Christmas Market near Altötting in Upper Bavaria is a true hidden gem! You will not believe your eyes if you decide to visit this one. Its unique atmosphere is like nothing I ever experienced before. Imagine yourself in the middle of nowhere inside an enchanting forest illuminated by hundreds of candlelights and rustic wooden stalls. The smell of spiced mulled wine and grilled bratwurst welcomes you while you hike along branched paths.
Strolling through the market you will feel you are transported to a mystical village. Pass by hundred of stalls, accompanied by angelic music and enchanting illuminations. Warm up on some Jagatee or schnapps in the Mistelhaus, or spicy chai at the Mongolian yurt. Discover wonderful international culinary delights such as Asian or African as well as a wide range of regional delicacies. There is literally something for everyone! Always wanted to cuddle with some Alpacas? This is your chance as there is a little Alpaca farm!
Dates & Times Halsbach Christmas Market 2022 | From Friday 25 November until Sunday 11 December, open daily. From Monday to Friday from 5 pm – 9 pm; Saturday & Sunday from 1 pm – 9 pm.
Entry Fee | Adults €6 ; Children under 12 yrs free
Monschau Christmas Market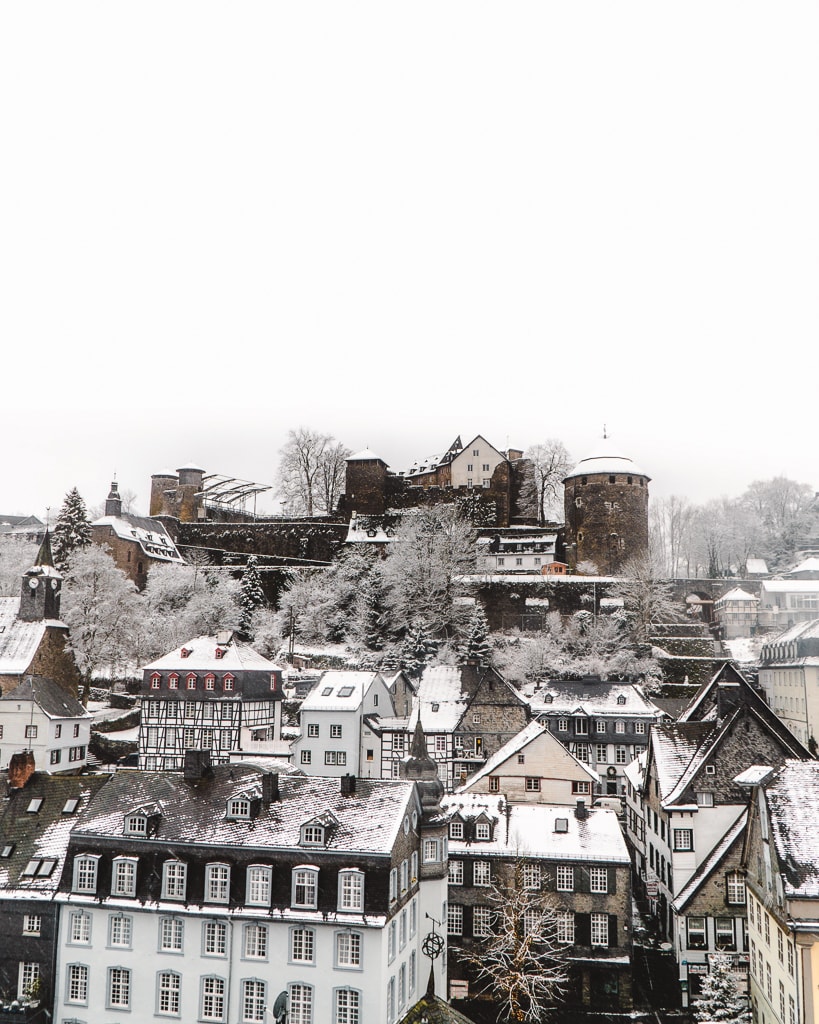 The idyllic town of Monshau is located in the Eifel region next to the Belgian border and is known for its picturesque half-timbered houses. Imagine strolling around amidst its medieval layout fully transformed into a winter wonderland town. The aroma of warm apples mulled wine, and gingerbread fills the air. Wooden stalls selling everything from hand-carved nutcrackers to music boxes and porcelain little villages. Quaint narrow streets lined with gingerbread-looking houses, make it feel like you just entered Santa town. Even though it's a rather tiny village, you won't be disappointed by its charm.
Dates & Times Monschau Christmas Market 2022 | From Friday 25 November till Sunday 18 December. Only open on Friday & Saturday from 11 am – 9 pm and Sunday from 11 am – 8 pm.
Heidelberg Christmas Market
Set along the banks of the Neckar River, Heidelberg's Christmas Market might be the most romantic one in Germany. Its castle ruins perched above the town make the market's backdrop one of a kind. This lively university place isn't one of the biggest cities, but you will find several markets scattered around town. At the foot of the castle near Kornmarkt, you can stroll through garland arches while enjoying a mug of Glühwein. If you are in for some action, go for a spin on the nearby ice rank.
Near the Rathaus (Town hall) you can find a traditional Christmas pyramid (or Weihnachtspyramide) that sells mulled wine as well. Throughout the Hauptstrasse you will find plenty of ornate wooden stalls selling all kinds of food and handmade nicknacks. From the magnificent Karl Theodore Bridge, you can get the perfect view of the old town with the brightly lit castle in the evening. Heidelberg's decor truly exudes full-on Christmas vibes wherever you go.
Dates & Times Heidelberg Christmas Market 2022 | From Monday 21 November till Thursday 22 December. From Sunday till Friday 11 am – 9 pm; Saturday 11 am – 10 pm.
We hope this Christmas Markets in Germany guide helped you out. You can show some ❤ and support for the blog and help us share more adventures! Our travels are entirely self-funded, so any show of support is greatly appreciated. It allows us to keep writing helpful travel guides and gather information to make it easier for people to discover the world.
Pin it to Pinterest for later!