The thought of Morocco evokes scents of spices, sweet delights, and smells of tagines coming your way when passing restaurants. Morocco is known for its rich food culture, and warm & hearty dishes savored together with fresh mint tea. Thanks to its Berber and Arabic influences, eating traditional Moroccan cuisine is an absolute delight for the senses. Marrakech, located in the beating heart of Morocco, is the ultimate foodie destination if you want to explore the tastes of Morocco. Tourists have flocked to this magical city for many years as it became more popular for its food scene and trendy rooftop bars. You will find some of the most mouthwatering traditional Moroccan food here, for which you don't even need to break the bank. The only question remains, which are the best restaurants to go to for the first time visiting Marrakech?
We compiled a list of our favorite restaurants, cafés, and rooftop bars to have the best food and drinks. This city offers the perfect blend of old meets new, traditional cuisine mixed with contemporary Insta-worthy bars. Marrakech is known for its amazing rooftop restaurants from which you can enjoy views of this vibrant city. Taking a break from the hustle and bustle of the city on a rooftop bar is simply one of the best things to do in Marrakech. Further, we also listed some of the dishes you must try, some culinary tips, and other food-related activities.
No time to read now? Pin it to Pinterest for later!
* Disclosure: This post contains affiliate links. We will receive a small commission if you book through our links. This is at no extra cost to you. This way you're helping us write awesome travel guides and keep providing you with free content. We only recommend products we like and trust ourselves.
The Ultimate Guide to the Best Restaurants in Marrakech
Morocco is famous for many things, such as its golden sand deserts, vibrant colors of the souks, gorgeous Moorish architecture, but also the flavors of its rich cuisine. Many people find themselves traveling to indulge in the local cuisine of this country located in North Africa. Whether you like fine dining or are more into street food, Marrakech has it all. If there is one thing we love doing during our travels, it's discovering authentic cuisine. We usually prefer to try out places recommended by locals rather than going to tourist hotspots. Sure we tried out a few popular places and we will share our honest opinion on whether they are worth it or not.
Essential Tips for eating out in the best restaurants in Marrakech
Alcohol | Morocco is an Islamic country, meaning that alcohol is forbidden. Therefore many bars and restaurants won't serve alcohol.
Currency | In Morocco they use Moroccan Dirham, one EUR or USD equals around 10 MAD. Check out xe.com for the current currency rates.
Money | Morocco is still mostly a cash-based country, so make sure to always carry cash with you. Only in giant malls or some restaurants outside the medina, they might accept card payments. You can find ATMs all over the city, even in the old town, so it's easy to locate a machine if you need one.
Tipping | Tipping in Morocco is customary but not mandatory. For small meals, you should count on around 5 MAD. For a full dinner, typically you should count on around 10% of the bill as a tip. Please note that you should always tip in cash and leave it on the table.
Go where the locals go | Avoid going to restaurants located near the main square of Jemaa el-Fna, most of these are tourist traps, and the quality isn't that great. You will not find the same care in these places and you might get disappointed. If you decide to find something around here, look where the locals go, usually, you can't go wrong with that.
Escape to the oasis of a Rooftop Terrace in Marrakesh
While looking for a place to eat, you will notice that many places have seating areas located on three levels. Often they have some tables on street level or on a courtyard if the restaurant is set within a typical riad building. Further, you will find sitting areas on the first floor inside, and then on the rooftop terraces. The architecture of most buildings is that they have flat roofs, which lend perfectly to a rooftop terrace. So looking up to the top of buildings is the best way to find a nice place (and double checking TripAdvisor!). Not only do rooftop restaurants give you an amazing view over the medina it's also a peaceful respite from the chaotic streets.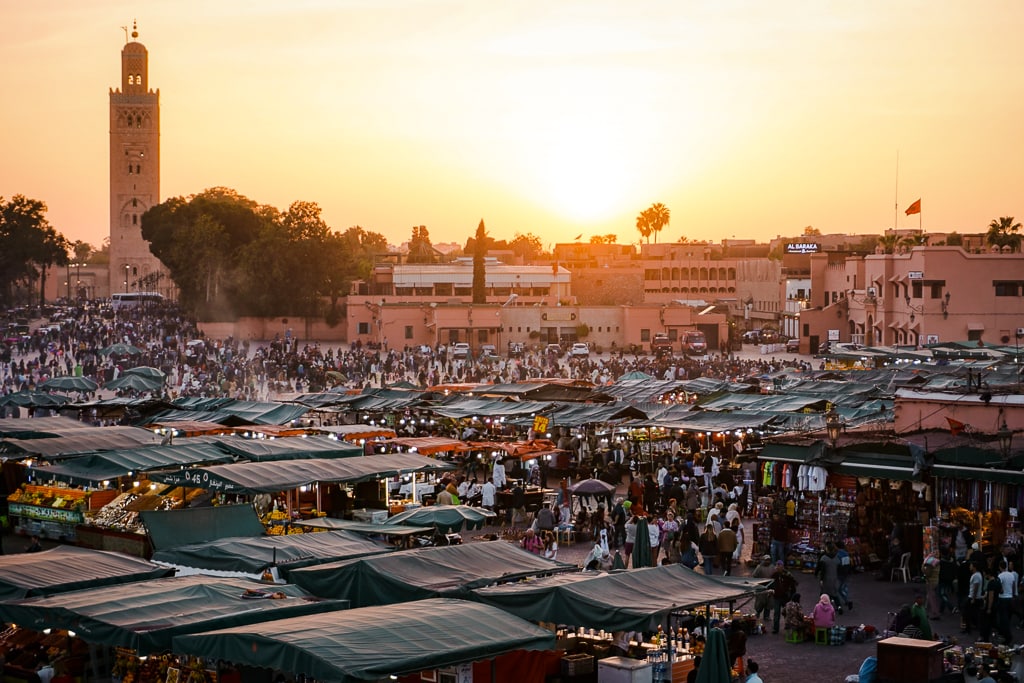 Eating at the Food Stalls of Jemaa el-Fna
Nothing sounds more authentic than eating at one of the food stalls around Jemaa el-Fna. The markets here are arguably one of the main draws of Marrakech for a tourist to try out local food. Jemaa el-Fna is known as the cultural heart of the city and is definitely a spectacle to see. It is for a reason listed as Unesco World Heritage Site. The place comes fully alive when the sun sets and musicians, storytellers, and snake charmers find their way to the square.
Usually, we would be the first ones to try out street food, however, the food stalls here don't have the best hygiene reputation. Just like many of the surrounding restaurants on the square, many food stalls are typical tourist traps and you might be left disappointed. We personally didn't want to take the risk as the hygiene isn't the best, so only passed by quickly. We also had other reasons for not sticking around that we mentioned in our top things to do in Marrakech guide. Better options can be found in the small alleys of the Medina. However, plenty of people have dinner at the square without any problems. In case you do want to give the stalls a try, here are some pointers.
Tips for eating at the food stalls
Go eat at stalls where the locals go, and check for places that have Moroccan families eating.
If the menu is entirely in English, it's probably a tourist trap, so don't expect high-quality food
Double-check and agree on prices upfront even if prices are displayed
Don't accept things offered at the table, such as a pot of mint tea, it's unlikely these things are free and more probably will end on your bill
Avoid salads and uncooked meat. Seafood is also somewhat risky as Marrakech is not located by the seaside you don't know the freshness of the fish.
Try to stick to food that is freshly prepared in front of you, so also don't buy fruit that has been precut or anything. If you go to one of the popular orange juice sellers for a refreshing drink, make sure they squeeze it fresh in front of your eyes. I read they add a little bit of water, which is common and they use bottled water though.
The square can be intimidating with many touts trying to get you to their stall. If you are not interested, remain firm and just keep walking.
Do a food tour in Marrakech, Morocco
A great way to kick off your Marrakech trip and get a first introduction to Morrocan cuisine is by joining a food tour in Marrakech. During a tour, you will learn more about the spices, where to shop in the souks for olives and other snacks, and taste many Moroccan delicacies at once. This way you get a better idea of what to expect when you go to a Moroccan restaurant during your trip and you will know what to order.
During this small group food tour, you will eat like a local and learn more about the local food culture. You will visit around 10 food spots in the medina in the area of Jemaa el-Fna. There you will sample delightful treats such as pastries, olives, and other specialties. The tour will be finished with a delicious 3-course Moroccan dinner at a rooftop restaurant.
BOOK A FOOD TOUR | Join a food tour in Marrakech and learn more about local cuisine while sampling it!
Take a tajine cooking class with a Marrakech local
If you don't only want to try Moroccan food but also want to learn how to make it yourself for back home, there are several cooking classes with a local that you can join.
You can attend the following cooking class with Khmisa and Kawtar, led by two Moroccan women passionate about cooking. You will be welcomed in Khmisa's house located in the heart of the Medina. After being welcomed with a traditional mint tea you will go together to the local markets to get some fresh groceries and spices to make the traditional dishes. Once home you will prepare a menu together with typical dishes such as couscous, tajine, pastilla, and more. The menu exists out of starters, the main course, and dessert. The whole class takes around 3 hours for preparing the menu and afterward, you of course get to eat it! Learn more about the secrets of Moroccan cuisine in a warm atmosphere with a small group.
BOOK A COOKING CLASS | Take a cooking class with a local to learn how to make traditional Moroccan dishes.
Often riads also offer the option to participate in a cooking class with the staff from the riad. So definitely make sure to check with your riad if they offer this possibility!
Dining In Your Marrakech Riad
The majority of the restaurants in Morocco are actually targeted at visitors since locals don't really have the culture of going out for dinner. So the best place to eat traditional Moroccan food is actually at home. If you are staying in a riad, it's the perfect opportunity to eat a beautiful authentic dinner.
Most riads in the medina of Marrakech offer the possibility to have dinner at their place. One of the best dinners we had during our trip was at Riad Kasbah. Dinner is served around the pool in the middle of the courtyard, which is nicely decorated in the evening with candles. A good tip is to request dinner at your riad on the first evening of your arrival. This way if you have a late flight you can enjoy a nice dinner without the hassle of still finding a place last minute. You just need to arrive, put your luggage away and find yourself at a lovely candle-lit table. The settings are so relaxed and romantic, perfect for a slow arrival. Often they also offer wine in riads, at Riad Kasbah you have the opportunity to try one that originates from Morocco itself!
TIP | If you want to enjoy a dinner at your riad, it's advised to request this a day upfront. This since many dishes need some time to prepare.
What to eat in Marrakech
The main dishes most people associate with Moroccan food must be couscous and tagine. However, this vibrant city has many more things to offer to food lovers. Marrakech has an incredibly diverse and delicious cuisine to try. Not to forget its famous mint tea that you can enjoy with all kinds of sweets and desserts. Below you can find an overview of the local specialties and snacks you have to try while strolling around the Medina. After that, we will go to the best restaurants in Marrakech where you can try these traditional dishes. The best part is that most restaurants in Marrakech are rather affordable compared to Europe or USA.
Local Dishes you have to try in Marrakech
Couscous | This Maghrebi dish is made from tiny steamed granules of semolina flour. You will often get it served with a stew or chicken.
Tajine | This dish gets its name from the type of pottery it's cooked in, a cone-shaped ceramic. Tajine is also a typical Maghrebi dish which usually includes meat such as chicken, meatballs (kefta), or lamb. Often it also comes with vegetables such as carrots, zucchini, and a variety of dried fruits such as prunes and apricots. We suggest the Lamb tagine with prunes, which is our personal favorite!
Tangia | Typical from the Marrakech region, and similar to tajine. Tangia is a lamb stew with preserved lemon slowly cooked overnight. Unlike a tajine which is cooked on a stove, the Tangia is cooked in the furnaces underneath the hammams.
Harira | Traditional Moroccan lentil soup made with tomatoes, chickpeas, lentils, and all kinds of spices. A lovely warm-hearted soup!
Brochette | These are Moroccan kebabs, grilled meat on skewers usually served with a side of rice and vegetables. This is one of the most popular street foods you will find in Jemma el Fna.
Mechoui | A whole sheep or lamb spit roasted on a barbecue.
Pastillas or B'stilla | A meat-filled flaky pastry with spices. Traditionally this classic dish was made with pigeon but these days you will usually find it with chicken on the menu.
Snacks & Side dishes you have to try
Zaalouk | A smoked aubergine dip usually served as a starter, either warm or cold. The dip is made with eggplant, tomatoes, garlic, and spices, best scooped with bread.
Briouats | Quite similar to samosas, these flaky triangular-filled pastries are stuffed with chicken or beef, or simply cheese or vegetables.
Amlou | Another dip but this one is sweet, it's a delicious mixture of honey, almond paste, and argan oil. Usually, you will get this for breakfast, where you spread it on Msemen. Some call this dip the Moroccan Nutella!
Msemen | A square-shaped kind of pancake or flatbread served with either sweet or savory spreads. You can find these at the food stalls served with the above Amlou or the typical honey with cheese. Simple, but absolutely divine!
Khobz | Another type of flatbread served with every meal. This one is more crusty and bread-like, great for dipping and scooping dips!
Makouda or Ma'qooda | Little deep-fried potato balls
And of course, snacks like olives, nuts, dates, and dried fruits are also omnipresent that you can purchase at one of the many markets.
Traditional Moroccan Mint Tea
A must while in Morocco is savoring some delicious Moroccan Mint Tea also referred to as "Moroccan Whiskey". The tradition of having mint tea in Morocco is a deep-rooted tradition of hospitality. Usually, upon arrival in your riad, you will receive tea, often prepared by the head (men) of the house. A tradition passed down through generations.
The drink is made of green tea and a handful of fresh mint leaves. Not to forget a ton of sugar. Expert tea pourers can pour from an ornate teapot to a small glass from a meter away. Pouring the tea from a height is not only a cool thing to see, but it's mainly to cool down the tea and aerate the water through the bubbles that appear after pouring. Sometimes the tea is perfumed with herbs, flowers, or orange blossom water. You have to try the orange blossom, it's divine and my personal favorite scent!
Moroccan sweets to order with your mint tea
Briwat or Briouats is a deep-fried pastry in a triangle shape filled with sweet almond paste.
Chebbakiya or shebakia are long dough strips that are fried and afterward dipped in honey and sprinkled with sesame seeds.
Fruits topped with orange blossom water.
Gazelle Horns are crescent-shaped cookies made out of flour, almond, dried fruit, and orange blossom water.
Orange slices sprinkled with cinnamon, simple but very delicious! You often get this offered after a meal, very refreshing!
Best restaurants to eat in Marrakech
At certain times during your trip, you will want to cool off from all your exploring with a refreshing drink. Or maybe you worked up an appetite and you are craving some delicious local food. Since this hectic city can sometimes get overwhelming, it's good to know where to go in which neighborhoods for a welcoming break. Whether you are in the mood for a nice café, cozy rooftop bar, or one of the best restaurants for some heartwarming food. We advise you to pin on your google maps upfront some recommended places to eat and drink. So whenever you need an oasis to escape the intensity of the Medina, you have something around.
Best Rooftop Restaurants in Marrakech
Kafe Merstan
Kafe Merstan offers a great lunch experience on their comfortable relaxing rooftop terrace. This Moroccan restaurant is located right in the center of the Medina and offers both traditional cuisines as well as some Western-inspired salads. Although the place is still a hidden gem among tourists, it's pretty easy to find! We spotted it while shopping at the market in the adjacent square. Their beautiful & colorful decorated rooftop terrace popped out from the square and gives you a fantastic view.
We went here for some lunch and had one of their traditional Moroccan tajines and couscous. We opted for the lamb tagine with candied oranges, a delicious combination and the lamb was so tender! Their briouats also looked amazing as appetizers. However, we decided to leave some space for mint tea with pastries. You have to try the millefiori dessert here. Lastly, their staff is really friendly and helpful. It's the ideal place to make a stop for a delicious lunch between shopping at the souks and for a fair price.
Price Range | $$ – $$$
Location | 2 Rue Souk Chaaria Kast Benahid, Marrakech 40000 Morocco
Nearby Sights | Ben Youssef Madrasa, Musée de Marrakech, Maison de la Photographie
Atay Cafe
If you are looking for the perfect views over the Medina while enjoying some amazing food on a sunny terrace, head over to Atay Cafe. A cozy rooftop terrace with lovely decor in the heart of the medina at a very reasonable price. It's mostly a beloved place for their couscous platters, like the chicken one that comes with steamed vegetables and dips on the side. To cool off they serve fresh cold juices that you can enjoy on their soft seats in the sun or in a shaded area according to your preference! Also, a nice place to get your daily coffee fix in between sightseeing.
Price Range | $
Location | 62, Rue Amsefah Sidi Abdelaziz, Marrakech 40030 Morocco
Nearby sights | Le Jardin Secret , Ben Youssef Madrasa
Souk Kafe
We came here for our last lunch in Marrakech and although we picked it because of location convenience, Souk Kafe didn't disappoint! We had the kefta tajine and it was absolutely finger-licking good! If we would have stayed another day I would have come back. I didn't see it on the menu but apparently, they also serve the traditional Tangia dish. As mentioned above it's similar to tajine. The major difference is that it's cooked in a clay pot in the ashes under a Hammam for more than a day. So definitely a must-try if you would come here! Amazing traditional food, in a pleasant setting with friendly service at excellent value.
Price Range | €4 – €18
Location | 11 Derb Souk Jeldid Sidi Abdelaziz -medina, Marrakech 40000 Morocco
Nearby Sights | Le Jardin Secret , Ben Youssef Madrasa
Naranj
This Syrian-Lebanese-owned restaurant is the perfect stop if you are in the mood for some Middle Eastern flavors. Naranj serves delicious falafel, hummus, and baba ghanoush on a lovely rooftop terrace. Their menu is rather small but offers a nice selection of traditional Lebanese bites and mezze platters.
Their staff is really attentive and prices are reasonable. It's open both for lunch and dinner, however, we recommend enjoying their rooftop during the day. Conveniently located close to some major sights, just off Place des Ferblantiers, this place is becoming more popular. So it's highly advised to make some reservations here.
Price Range | $$ – $$$
Location | 84 Rue Riad Zitoun Jdid Medina, Marrakech 40000 Morocco
Nearby sights | Bahia Palace, El Badi Palace, Dar Si Said
Nomad
High likely you already heard of the restaurant Nomad before, as it's Marrakech's most famous hipster restaurant. It's the place to be seen and a favorite amongst fashionistas. They have several levels with tables available, but if you want to sit on the rooftop terrace you should book at least a week in advance. People love coming here for sunset as it has a wonderful view of the souks, especially the lively Place des Epices. On the ground level, they even have a store where you can buy all kinds of kitchenware as souvenirs, for a higher price than on the souks obviously. It's not gonna be the most authentic place you will find in Marrakech and it became really popular among tourists over the years. The dishes on the menu are a mix of traditional with international cuisine with a Moroccan twist.
Since we were curious we decided to check it out for lunch and in all honesty, we were pretty underwhelmed. I ordered the lamb tajine, which was already served after a good five minutes which isn't a good sign. It really tasted like it was just warmed up and not fresh from that day. The meat was rather tough and dry, so I was pretty bumped. I know a lot of people love this place, so maybe we just had a bad experience. Many people rave about their feta zucchini fritters with fresh yogurt and spiced lamb burgers with aubergine. Another thing they are known for is their homemade ice creams and sorbets created with local flavors and apparently famous orange cake.
Price Range | $$-$$$
Location | 1, Derb Aajrane Raba Lakdima, Marrakech 40000 Morocco
Nearby Sights | Souks near Place des Epices
Best Courtyard restaurants in Marrakech
Ksar Essaoussan
Ksar Essaoussan, this restaurant is quite a hidden place, but worth your time to find if you want to experience traditional Moroccan cuisine. If you are having trouble finding the place, they have a man in a red cloak leading you through the hidden alley. You can dine here for a very reasonable price in a wonderful candlelit setting with excellent service.
The restaurant offers three types of menus. As a starter, they have a selection of Moroccan salads being served on a four-tier plate. As the main course, you can choose for example one of the tagines or a typical pastilla, which is very filling. To finish off there is the traditional mint tea and as dessert, you can choose between the orange with cinnamon or a sweet pastilla with milk. This place is perfect if you want to dine in a romantic setting. Make sure to make reservations for this one as they don't have that many tables.
Price Range | $$$$
Location | Rue des Ksour 3 Derb El Messaoudyenne 3derb El messaouienne ksour, Marrakech 40000 Morocco
Nearby Sights | Dar El Bacha garden, 7min walk from Jemaa el-Fnaa
Limoni
Limoni is located in a beautiful tranquil courtyard right around the corner from the lively souks. A delightful little oasis away from all the lively markets. As the name already implies, you can enjoy a meal here in the courtyard which is filled with scented lemon trees. At Limoni you have the choice to eat traditional Moroccan or Italian cuisine. So it's the perfect place if you would like a change of cuisine for once during your stay. During our whole week in Marrakech, I mostly indulged in Moroccan food, so I can't speak for the pasta here. While I was checking reviews I did notice that the spaghetti carbonara and ravioli are supposed to be really good here. I had the chicken tagine made with lemon and rosemary, which was delicious. However the portion was for me personally not enough, so I recommend taking an appetizer like the pastilla.
Price Range | €6 – €30
Location | 40, Dyour Saboun Bab Taghzout, Marrakech 40000 Morocco
Nearby Sights | This restaurant is located north of the medina away from the sights. Ben Youssef Madrasa is a 7 min walk away.
Café Restaurant Dar L'hssir
Café Restaurant Dar L'hssir is a family-run restaurant that serves amazing authentic food. If you want to experience a local atmosphere with some of the best tajines you want to come here. You will taste some of the best food in Marrakech here and at a really affordable price. The place is rather small but has a really cozy vibe. It almost feels like you are at somebody's home, eating a wholesome homemade dinner. Definitely here make sure to bring cash with you.
Price Range | $
Location | 15-12, Rue Tachenbacht, Marrakech 40030 Morocco
Nearby sights | Maison de la Photographie & Souks
Le Jardin
Another of the best restaurants in Marrakech is Le Jardin. Tucked away in a little alleyway within the medina, this idyllic courtyard restaurant is full of luscious plants. Take a seat in their comfy lounging terraces surrounded by chic decor in its signature forest green colors. This tranquil outdoor place is the perfect retreat to take a break and enjoy a spot in the shadow. The garden riad is ideal for a coffee break with some sweets or one of their tarts. Le Jardin is mostly known for its famous pastillas, but most of the food on the menu is more internationally inspired.
Price Range | €2 – €13
Location | 32 Souk Sidi Abdelaziz, Marrakech 40000 Morocco
Nearby Sights | Souks & Ben Youssef Madrasa
Dar Cherifa
Pass by in the afternoon at this beautifully refurbished riad for a delightful Moroccan mint tea with a piece of orange cake, fresh fruits, or sweets. The architecture of this place is simply breathtaking, with similar carved wooden details that can be found at Ben Youssef Madrasa. Interestingly fact, the building used to be a library, of which aspects can still be found in the interior. Not many people know that Dar Cherifa also has a rooftop terrace, a truly serene hidden gem. We actually had a hard time finding it at first as it's deeply hidden in the alleyways of the medina. The restaurant also has the opportunity to have dinner on its patio around a romantic rose petal fountain. Fine dining in a lovely setting with impeccable service.
Price Range | €10 – €17
Location | 8 derb Cherfa Lakbir, Moussine Medina, Marrakech 40000 Morocco
Nearby sights | Souks & Le Jardin Secret
La Famille
I absolutely wanted to visit La Famille during our visit to Marrakech, unfortunately, they were fully booked. It seems like the perfect lunch place! Please note that this restaurant is fully vegetarian and only open a few days a week for lunchtime only. So indeed making a reservation is a must! The place has this Mediterranean-inspired-looking garden that has flower bushes serving as natural dividers between the seating areas. La Famille works with a daily changing minimalistic menu created with fresh seasonal produce. They serve mainly veggie bites such as healthy dips with homebaked flatbreads, vegetarian quiches, and refreshing salads.
Price Range | €55 – €80
Location | 42 Riad Zitoun Jdid Closed: Sunday, Marrakech 40000 Morocco
Nearby sights | Bahia Palace, Mellah & El Badi Palace
La Table Du Riad
If you feel like splurging on a romantic dinner to close off your beautiful Marrakech trip, this would be the place to go. Enjoy a relaxing atmosphere at La Table Du Riad at 72 Riad Living in a gorgeous and luxurious setting. Take place in the beautiful courtyard where you are surrounded by lush green trees while having a candle-lit dinner. They are known for their slow-cooked stews such as lamb and beef which should be pre-ordered if you wish. Not only is the food here delicious, but also the staff and overall atmosphere are outstanding.
Price Range | €50 – €110
Location | 72 Arset Awzel, Bab Doukkala Taxi stop: Dar el Bacha, Marrakech 40000 Morocco
Nearby sights | Le Jardin Secret
Best Coffee & Tea places in Marrakech
You can probably enjoy coffee or traditional Moroccan mint tea at most of the above-mentioned places. However, we quickly wanted to mention the two below places that were particularly lovely to enjoy an afternoon coffee or tea.
Bacha Coffee House
Bacha Coffee House is an absolute must-visit for every coffee lover. The coffee shop is located inside Dar el Bacha (Musée des Confluences) and is partially a small shop as well as a café. At the café, they offer over 100 different coffee bean varieties sourced from 33 different countries. The knowledgeable staff will advise you on a coffee based on your taste & strength preferences. Relish an afternoon coffee with some small bites, while seated in an exquisite decor. The place has a colonial feeling like you are stepping back in time. Be aware that you might need to wait a while before you get a table and you already have to pay 10 DHMs to enter. Regarding the prices, you can expect more European prices here compared to places inside the medina.
Location | Route Sidi Abdelaziz, Marrakech 40000 Morocco
Nearby sights | Le Jardin Secret
Le Jardin Secret
Located in the heart of the bustling medina, the secluded Le Jardin Secret is like an oasis of peace amongst its surrounding chaos. It's one of the few green spaces in Marrakech, but the perfect place to take a seat on one of the benches and enjoy some peace. There is also a café inside where you can order some traditional mint tea and Morrocan biscuits. Perfect to unwind in the afternoon!
Location | 121 Rue Mouassine, Marrakesh 40030, Morocco
We hope this guide to the best restaurants in Marrakech helped you out. You can show some ❤ and support for the blog and help us share more adventures! Our travels are entirely self-funded, so any show of support is greatly appreciated. It allows us to keep writing helpful travel guides and gather information to make it easier for people to discover the world.
Pin it to Pinterest for later!