Picture a bustling medina filled with colorful souks, secret gardens, majestic palaces, and gorgeous Moorish architecture. The magical city of Marrakech is a true delight for your senses. It's a place that will feel overwhelming at first, but once you give in to its spell you will have an unforgettable experience. One of the best things to do in Marrakech is to get lost in the alleyways of the historic Medina with its many unexpected treasures. Vibrant colors of spices & intricate textiles, the smells of delicious tajines & fresh mint tea, and the beauty of its ancient palaces & tombs. After a day exploring and taking in the many impressions, the best way is to spend the night at one of the many enchanting riads. With the Atlas Mountains and the Sahara desert as its backdrop, the atmosphere of the red city is truly unlike any other.
This Moroccan city is the perfect destination for a short getaway. After just a small flight from Europe, you are already catapulted into a totally different world. Continue reading to discover the best things to do in Marrakech to capture the essence of this chaotic lively city.
No time to read now? Pin it to Pinterest for later!
* Disclosure: This post contains affiliate links. We will receive a small commission if you book through our links. This is at no extra cost to you. This way you're helping us write awesome travel guides and keep providing you with free content. We only recommend products we like and trust ourselves.
The Most Wonderful Things To Do In Marrakech
The ancient city of Marrakech is known for its vibrant colors, buzzing sounds, smells of spices, and mouthwatering flavors. The hidden little palaces with lush gardens, bustling souks with trinkets, maze-like streets, and entrancing snake charmers easily sketch the image of an Arabian night's tale.
Below we are listing all the best things to do to get a taste of Moroccan culture, both ancient and modern. From the best markets to some of the most stunning architecture, authentic cuisine & ravishing riads, we got you covered. We advise to not only tick off the typical tourist attractions but also allow yourself to soak up the unique energy of Marrakech.
Get Lost in the Medina
The ancient part of Marrakech can be found inside the red walls, known as the Medina or Old Town. Walking the narrow centuries-old streets with their many aromas and colors feels like a journey into the past. Being infamous for its labyrinth layout it's inevitable not to get lost at one point. Only by finding yourself lost in the mazes, you might stumble upon some real treasures. As Marrakech is popular for its many cute rooftop bars, keep your eyes open for colorfully decorated roofs. It's the best way to find some undiscovered gems. Head to one of the rooftops to get a panoramic view of the city and hear the sounds of the call to prayer echoing from the many mosques.
TIP | Learn how to get back to your hotel or Riad from a popular place like Djemma el-Fna (the main square). If local people see that you are lost they might try to help you get back to your stay. However, it does happen that they will lead you in circles and ask for an unreasonable fee.
While roaming around you will pass by some of the best things to do within the walls such as the Koutoubia Mosque, Le Jardin Secret, or Bahia Palace. However, it's often the small things like a hidden shop or encounters that make up for the best travel memories. Everything within the hustle & bustle of the Medina moves quickly. From one moment you find yourself in a peaceful street all alone, the other moment you are dodging vegetable carts & donkeys at a market. The energy of this place is on another level, so it's best not to lose yourself in its enticing vibes. 
Shop at the Souks
If you want to find the true soul of the old city, head into one of the many souks. These are open-air markets spread all over the medieval Medina in the labyrinth of narrow streets. Losing yourself in the chaos of the myriad of stalls is one of the most interesting things to do in Marrakech. Souks are the best way to get a better insight into local culture and its trading route history. And not gonna lie, Marrakech is an absolute shopping heaven if you are into boho style! Generally, most of the goods are of nice quality and still handmade in the small shops themselves or in nearby factories. Only few things are imported with a "Made in China" label ;).
The main souk area is called Place Rahba Kadima, with the most famous Souk Semmarine, near Jemaa el Fnaa. Many souks are usually specialized in a specific craft like silverware or textiles, but this particular souk is packed with all kinds of small shops. Colorful tapestry & textiles, beautiful high-quality leather goods, shiny silverware, earth-toned ceramics, and scented spices,… There are enough options to find your perfect souvenir! If you are looking for specific spices, Place des Epices (or Rahba Lakdima), a traditional spice souk, is just around the corner. La Criée Berbère is known for its gorgeous Berber carpets, while Souk Haddadine is the metalwork area where you will find jewelry, plates, and trinkets. For leather goods head over to Souk Cherratine and Souk des Babouche to hook up some traditional Moroccan slippers. 
Tips for shopping at the souks
TIP | Make sure to bargain when shopping for souvenirs! Haggling is part of the culture, and vendors are always up to negotiate the price. 
Never pay their first asking price, because you will for sure overpay! A good rule of thumb is to aim at half of the price they start at. If you don't feel good paying a certain price, just walk away. Often walking away helps to get the desired price ;). Another tip is to not show too much enthusiasm or 'interest' when looking around, which will be to your advantage when haggling. 
It also might happen that shop owners will try to hassle you into their shops to buy something. If you are not interested, remain firm and politely turn down their offer by saying 'La choukran' (Means no thank you) and keep walking. Overall I only had pleasant encounters with local vendors, just one that got slightly aggressive and almost literally threw me out of his shop.
Admire the Koutoubia Mosque
An iconic landmark you can't miss is the Koutoubia Mosque, the largest one in Morocco, located near Djemaa El Fna (the big market square). You will recognize it immediately from afar as it towers over the city with its 77m high minaret. Making it an excellent point of reference if you end up lost in the Medina's alleyways. The Moorish mosque was completed in the 12th century with its beautiful tile work and served as an inspiration for many other buildings that can be found in Morocco.
Fun Fact | The meaning of the name means Mosque of the Booksellers in Arabic. As the neighborhood around it used to be the former souk location of manuscript merchants (Al-Kutbiyyine). Even today you can still spot some sellers. 
Unfortunately, you will only be able to admire the magnificent architectural structure from the outside since only Muslims can enter the building. However, you can still stroll around in the surrounding gardens of the Mosque. Especially at night, it's a sight to see when the ornate tower is beautifully lit.
GOOD TO KNOW | Depending on where your riad is located you will hear the call to prayer coming from the Mosques, first one starts at 5 AM!
Marvel at Ben Youssef Madrasa
The Saadi Dynasty ruled over Morocco for over a century, during which it contributed some exceptional historical architecture. The 16th-century Ben Youssef Madrasa is one of the best-preserved representations of Moroccan architecture. The theological college was the main hub of Koranic Study in Morocco, once home to around 1000 students. At one time the madrasa (place of education) was the largest Qurʾānic school in North Africa, today it's one of the most splendid things to do on your Marrakech itinerary.
Located right next to the Ali Ben Youssef Mosque, the madrasa consists of several rooms built around multiple ornate courtyards. Each courtyard is brilliantly decorated with richly decorated prayer halls and intricately mosaic tilework. The main attraction is without a doubt the central and largest courtyard, which features a large shallow reflecting pool, remarkable wood-crafted detailing with Arabic script, and traditional tiling. 
GOOD NEWS | After years of renovations since 2018, Ben Youssef Madrasa has finally opened its doors again for the public (early 2022).
ENTRANCE FEE | 40 DH (around €3,5)
OPENING HOURS | Daily, Summer 9 AM – 7 PM; Winter 9 AM – 6 PM
Visit the Saadian Tombs
Another must thing to do while in Marrakech is to visit the Saadian Tombs. Located in the south of the Medina in the Kasbah quarter, you can find the stunning Saadian tombs just a ten-minute walk from the Bahia palace. With over 60 tombs, the mausoleum is home to some of the key members of the Saadian dynasty. The Saadi family is an important name in Morocco's flourishing history, hence you will see their name connected to many monuments.
The tomb site first came into existence in the 14th century, but it took over another 300 years before the intricate features were added that you can see today. These rich details include Italian marble headstones, cedar ceilings the gorgeous mosaic tiling. The most famous room is the twelve columns one, mostly thanks to its astonishing beauty and since it contains the remains of the Sultan's son. People of great importance to the sultan were buried the closest to the center of the tomb complex. Others can be found buried throughout the gardens which are filled with fragrant orange trees.
A fun fact is that the Saadian Tombs were sealed off & remained hidden for many centuries. Even when Sultan Moulay Ismail plundered the city of Marrakech in the 18th century, he didn't succeed in finding the tombs. It was only in 1917 that they were rediscovered through aerial photography. Today you can access the magnificent tombs through a small passage near the Kasbah mosque.
ENTRANCE FEE | 70 DH (around €6)
OPENING TIMES | Daily from 9 AM – 5 PM
Explore El Badi Palace
El Badi Palace was once the home of royals and the city elite in the 16th century, commissioned by the Saadian Sultan Ahmad el Mansour. It was originally designed to showcase the Sultan's wealth, using the finest Italian marble, onyx, gold, and other expensive materials. It took over 15 years to fully complete "The incomparable palace" (its Arabic meaning), showing the finest craftsmanship of the Saadian era. At its prime, El Badi had 360 rooms decorated with handcrafted furniture and courtyards filled with reflecting pools.
Today merely its garden walls and orange orchard ornaments remain as the palace was stripped from all its value by the sultan's successor. It takes quite some imagination to depict how it once was in its heyday. You can roam among the red-colored ruins of the four sunken gardens & emptied pools. The former palace stands in the center of the city in total contrast to Marrakech's other well-kept historic buildings. While El Badi palace is only a shell of its former splendor, the ruins site is vast, making it still an interesting sight to visit. Count on at least an hour to visit the full grounds of the former palace. From the walls of the palace, you can enjoy an excellent view of the sprawling medina and old Jewish neighborhood (also known as Mellah).
ENTRANCE FEE | 70 Dh (around €6)
OPENING HOURS | Daily from 8 AM – 5 PM
Find your way through the Mellah Mazes
Another interesting area to pass by is the old Jewish Quarter, known as Mellah. It's located near many of the popular things to do, such as Bahia and El Badi palace, so you might even pass through without realizing it. The Quarter was created in 1558 by the Saadian Sultan of that time as a safe haven for Jews. It had the purpose of protecting those that fled persecution from the Iberian Peninsula. At the time the atmospheric neighborhood was known for its flourishing trade and jewelers, rivaling the medina.
The lanes in this neighborhood are even more narrow than those of the medina. The layout of the quarter developed during the French Protectorate rule in 1912. Under their rule, the Jewish community was forced to live within the parameter of the quarter. This resulted in them growing bigger within a small place, using every possible inch of their district. Under the strain of the Protectorate, the community started to diminish over time.
In recent years the neighborhood started to revive with the re-emergence of cafes and markets. When visiting it's almost like getting a glimpse into what the Jewish quarter was like back in the day. The area is definitely less chaotic than the rest of the medina with a more local vibe. The perfect place if you want to escape the chaos from the ever-buzzing medina. The entrance to the area starts at Place des Ferblantiers, a palm-lined square surrounded by souks specialized in lamps and homeware. The two major sights in Mellah are the Slat Al Azama synagogue which features stunning blue traditional tiling, and the Jewish Cemetery.
People Watching at Jemaa el-Fnaa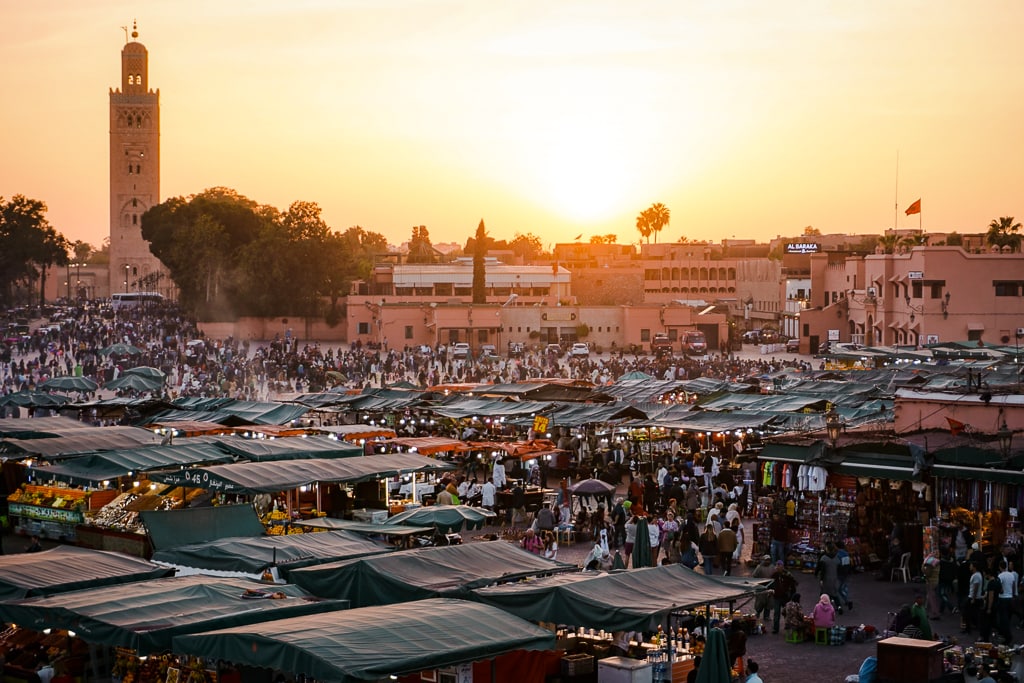 At a certain point you will wind up on the sprawling Jemaa el-Fnaa, there is no escaping. This square is one of the top things to do while in Marrakech. It shows at the same time some of the best and worst of what the city has to offer. Together with the souks, Jemaa el-Fnaa is the heart and soul of the city. This open-air market brimming with cafés, hotels, and stalls, is a popular meeting point amongst locals. The medina's main square has been a trading hub and place of entertainment since 1000 AD.
Jemaa el-Fna goes by many names but the most suitable one is the "gathering and congregation area". Many noises, aromas, and chaotic interactions give the market a significant atmosphere. While wandering around you will encounter fortune tellers, street performers & merchants, snake charmers, and other exotic animals. Experiencing Jemaa el-Fnaa can be quite overwhelming at first and feels like traveling into another mystique world. During the day the place is buzzing with stalls filled with typical Morrocan food. Street vendors will surround you trying to sell their specialties or throw a dressed-up monkey around your neck. 
The main square at night
When the sun sets and the light fades, the night market comes in full swing, with music and entertainers taking over the square. The nightly performances resulted in UNESCO declaring Jemaa al-Fna as a Masterpiece of the Oral and Intangible Heritage of Humanity in 2001. Unfortunately, there is also another side to the medallion of the square. Monkeys are kept in cages on a chain, used for entertainment. Unethical practices by the snake charmers are also not uncommon. While these entertainers are trying to distract you with their tricks, pickpockets are doing their magic. If there is one place to be alert and assertive it's here. The best way is to not take any photos of the people offering henna or posing with monkeys. Walk around them in a big circle.
We don't want you to discourage visiting, we only want to make you aware of what to expect. This constant madness tends to people either loving or hating the city's vibe. A safer way to enjoy the hassle of the square is by going to one of the many rooftop terraces that Marrakech is known for. From there you can overlook the colorful & chaotic square while sipping a fresh mint tea.
Visit Beautiful Bahia Palace
Bahia palace is another extravagant example of the lavish life of Marrakech's elite. Built in the 19th century, this palace was home to the Grand Vizier Bou Ahmed. It took more than 40 years to complete the glorious palace, for which craftsmen from all over the country were brought to work on it. Its ornate tiles in bright blue, green, orange, and yellow are flanked by carved woodwork showing the skills of local artistry. Originally, the building comprised 150 rooms overlooking multiple gardens and patios. After the vizier passed away, all the furnishing and artwork were taken by his wives and the sultan, leaving the palace abandoned.
Today members of the royal Moroccan family still reside within parts of the palace. However many areas are open to the public, including the marble courtyard. Inside you can wander through the perfectly symmetric courtyards, centered around water elements and surrounded by lush orange trees. Rooms are wonderfully decorated with carved ceilings and colorful stained glass windows. Here you will see some of the finest Moorish architecture in Morocco. The main showstopper is the Grand Courtyard, characterized by a huge geometrical patterned marble floor and colorful painted wooden galleries.
Try to come early in the morning, we made the mistake to visit during midday when crowds are swerving the courtyards, making it a bit hard to admire all its beauty. There is not much information at hand within the palace, making it hard to understand which room served what purpose. So opting to get a tour guide might be interesting. The following guided tour is a good option, as it also includes other must things to do in Marrakech such as Koutoubia Mosque and the Saadian Tombs.
ENTRANCE FEE | 70 DH (~€6 )
OPENING HOURS | Daily from 9 AM – 5 PM
Relax in Le Jardin Secret
Located in the heart of the bustling medina, the secluded Le Jardin Secret is like an oasis of peace amongst its surrounding chaos. It's one of the few green spaces in Marrakech, but the perfect place to take a seat on one of the benches and enjoy some peace. In the café inside, you can order some traditional mint tea and Morrocan biscuits.
The garden was originally built by the Saadian dynasty over 400 years ago, after which it was passed on to the sultan. However, over time it was neglected until in 2008 the garden was privately acquired and got restored. Only in 2017, Le Jardin Secret finally opened to the public for the first time in history. Visitors can discover its gardens with surrounding buildings which are prime examples of Islamic art and architecture.
You will notice its balanced symmetry again, and as in most Islamic gardens the many water elements. The garden is divided into four flower beds with an intersection leading you into the central pavilion. A tower rises up in one corner of the garden, almost as high as the minarets. It's possible to visit the tower for a fee, from where you can enjoy a bird's eye view of the medina and its surroundings. On a good day, you can even spot the Atlas mountains!
ENTRANCE FEE | 80 DH (around €7) for the garden, an extra 40 DH for the tower.
OPENING HOURS | Daily from 9.30 AM – 6.30 PM
Taste Traditional Moroccan Food & Mint Tea
If you love good food, you will love Marrakech! Trying out local cuisines is one of our favorite things to do while traveling, and the Moroccan one is amongst our favorites. The medina has no shortage of amazing places to eat, you will find plenty of restaurants surrounding the squares. A good tip here is to check where local Moroccan families go to eat.
The most beloved traditional Moroccan dishes to try out are:
Couscous
Tajine – kefta meatball tagine, chicken with preserved lemon and olives, lamb or beef with prunes…
Tangia – similar to tajine, these are stews made in their specific clay pot.
Harira – Moroccan lentil soup
Nice side dishes or snacks are:
Zaalouk – smoked aubergine dip scooped with bread
Pastillas – filled puffed pastries
Briouats – similar to samosas, fried dough stuffed with chicken or beef, or simply cheese or vegetables.
Makouda – little deep-fried potato balls
Msemmen (Moroccan pancakes) – pan-fried dough, typically spread with honey and cheese
and of course snacks like olives, nuts, dates, and dried fruits
You will find these dishes in most restaurants, as well as more trendy ones that serve fusion cuisine. While looking for a place to eat, you will notice that many restaurants are located higher up.  The architecture of most buildings lends itself perfectly to a rooftop terrace, due to the flat roofs.
NOTE | Morocco is an Islamic country, meaning that alcohol is forbidden. Therefore many bars and restaurants won't serve alcohol. The funny thing was that one of our riads served wine that was actually locally made…
Looking up to the top of buildings is the best way to find a nice place (and double-checking Google!). Not only do rooftop restaurants give you an amazing view over the medina it's also a peaceful respite from the chaotic streets.
Popular rooftop bars to eat in Marrakech
However, there are so many more hidden gems and less popular places that are worth visiting! In our humble opinion, some of these Instagram popular restaurants are overhyped and were very disappointing. For some of our favorite recommendations for places to eat, check out our Marrakech Restaurant Guide.
Do a food tour
One of the best things to do to get an introduction to Morrocan cuisine is by joining a food tour in Marrakech. This will help you through the rest of your trip, to know what to pick and what you like. During this small group food tour, you will eat like a local and learn more about the local food culture. You will visit around 10 food spots in the medina in the area of Jemaa el-Fna. There you will sample delicious treats such as pastries, olives, and other specialties. The tour will be finished with a delicious 3-course Moroccan dinner at a rooftop restaurant.
BOOK A FOOD TOUR | Join a food tour in Marrakech and learn more about local cuisine while sampling it!
Drink Moroccan Mint Tea
A must while in Morocco is savoring some delicious Moroccan Mint Tea also referred to as "Moroccan Whiskey". The tradition of having mint tea in Morocco is a deep-rooted tradition of hospitality. Usually, upon arrival in your riad, you will receive tea, often prepared by the head (men) of the house. A tradition passed down through generations.
The drink is made of green tea and a handful of fresh min leaves. Not to forget a ton of sugar. Expert tea pourers can pour from an ornate teapot to a small glass from a meter away. Pouring the tea from a height is not only a cool thing to see, but it's mainly to cool down the tea and aerate the water through the bubbles that appear after pouring. Sometimes the tea is perfumed with herbs, flowers, or orange blossom water. You have to try the orange blossom, it's divine and my personal favorite scent!
Our favorite Moroccan sweets to order with mint tea:
Briwat or Briouats, a deep-fried pastry in a triangle shape filled with almonds.
Chebbakiya or shebakia is a flower-shaped, fried sesame cookie dipped in honey.
Fruits topped with orange blossom water.
Immerse yourself in Jardin Majorelle
Did you know that the fashion designer Yves Saint Laurent once lived in Marrakech? His former home Villa Oasis is nowadays one of the most popular tourist attractions. Other parts of the sight include a museum of his life's work, the adjacent Berber museum, and the colorful Majorelle Garden.
The garden was designed by the French artist Jacques Majorelle and it took him over 40 years to complete it. He fell in love with the rich blue color that is often used in Berber houses and made it the prime color of the home, giving its signature look. The intense vibrant cobalt blue color, later on, got patented by the painter and is now officially called Majorelle blue. The aesthetically pleasing garden is filled with exotic succulents and cacti everywhere you look. Walking here feels like you are in a tropical oasis, surrounded by plants from all over the world. They look stunning against the blue & yellow hues of the house.
Later on in the 1980s the property was purchased and renovated by none other than Yves Saint Laurent. Apparently, after he passed away his ashes were scattered over the garden. Nonetheless, it's a wonderful place to stroll around and very unique in its design. Definitely looks peculiar compared to the rest of the city.
TIP | Expect major queues at the ticket office outside the Garden Majorelle. However, here is a trick! Buy a combination ticket at the Yves Saint Laurent museum, which is right next to it, and you can just enter the gardens straight after.
ENTRANCE FEE | Majorelle Garden 70 DH (~€6); Berbere Museum 30 DH (~€2,5); Yves Saint Laurent Museum 100 DH (~€9); Combination ticket 180 DH (~€16)
OPENING TIMES | Daily from 8 AM – 6 PM; last entry at 5.30 PM
Pass by the Yves Saint Laurent museum
Yves Saint Laurent spent a lot of time in Marrakech together with his partner Pierre Berge and was known to love it dearly. As just mentioned they even bought and renovated the Marjorelle Gardens. As he was an influential designer and Marrakech is also known for its luxury & design aspect, a new museum was opened a few years ago dedicated to the French designer and his work. The museum is located right next to the Majorelle Gardens in the Gueliz district (the new part of Marrakech outside the Medina walls).
ENTRANCE FEE | Yves Saint Laurent Museum 100 DH (~€9); Combination ticket 180 DH (~€16)
OPENING HOURS | Daily from 10 AM till 6 PM, last entry at 5.30 PM; Closed on Wednesdays.
Stay in a traditional riad
The best way to fully soak up the atmosphere of Marrakech is by staying in a traditional riad somewhere in the medina. A riad is an authentic Moroccan house, sometimes hundreds of years old, often owned by a family. Riads often look like little palaces, hidden behind wooden doors and mud walls. From the outside, most of the buildings in the medina look the same, with basic architecture in sandy color. However, you never know what palace you might find once you open the door to a riad. It will feel like you stepped into a Moroccan fairytale of 1001 nights. Staying in a riad is the best way to experience Morrocan architecture firsthand.
They are usually built in a way that all the rooms are connected to the central courtyard. Most of the courtyards are designed with symmetrical opulent tilework focused around a central swimming pool or fountain and lush vegetation. The perfect secluded oasis to come home to at the end of a day full of exploring. You will find riads in all kinds of styles, from trendy to traditional, from glamorous to boho.
What I love the most about staying in a riad, is the warmth and genuine Moroccan cultural feeling you get, which often misses in a hotel. It's definitely an experience you don't want to miss out on! If you want to know more about staying in a riad in Marrakech, we provide some of our personal recommendations.
Visit Maison de la Photographie
La Maison de La Photographie is an interesting museum located inside a riad. It exhibits an extensive collection of photographs and portraits showcasing Moroccan life from the 19th and 20th centuries. They celebrate the traditions, cultures, and life of Moroccans. Very interesting to see, not only for photographers but also history lovers. Most of the works that can be found in the museum are also for sale in the gift shop. For more information on temporary exhibitions and events check out the official website of Maison de la Photographie.
ENTRANCE FEE | Adults 50 DH (around €4,5); Younger than 15 yrs FREE
OPENING HOURS | Daily from 9.30 AM – 7 PM
Do a traditional hammam
Marrakech is an absolutely beautiful and vibrant city, but exploring the medina can get quite exhausting. Escaping all the madness by booking a spa day is an excellent idea. You might have heard of Hammam before, a steam treatment in which you get exfoliated and cleansed in a steam room. In Morocco and Middle Eastern countries going to the hammam takes a central role in cultural and religious life. It's a tradition going back to the times when having a private bathroom with running water wasn't very common. In recent years hammams became more of a place for socializing and relaxing. Most Moroccans still go to a (public) hammam every week to purify and cleanse skin & mind before prayer. Hammam is one of the 5 traditional elements next to the mosque, school, bakery, and fountain (water elements).
Going to a Hammam while in Marrakech is not only a rejuvenating thing to do but also another way of exploring Moroccan culture more. There are different types of hammams that you can experience, going from very local to ultra-luxurious. You can go to a local public one to fully immerse yourself in the culture. These are usually cheap, where you only need to buy soap and a bucket, but might be less of that spa feeling. If you are looking for a more pampering experience, there are also Westernized hammams specific for tourists where you can get private treatments. Both Heritage Spa & Hammam de la Rose have a great range of services, where you can relax in a soothing environment for a decent price. If you don't mind splurging you can book at the famous Mamounia Hotel, one of the most luxurious & Instagram-famous hammams.
Take a tajine cooking class with a local
If you don't only want to try Moroccan food but also want to learn how to make it yourself for back home, there are several cooking classes with a local that you can join.
You can attend the following cooking class with Khmisa and Kawtar, led by two Moroccan women passionate about cooking. You will be welcomed in Khmisa's house located in the heart of the Medina. After being welcomed with a traditional mint tea you will go together to the local markets to get some fresh groceries and spices to make the traditional dishes. Once home you will prepare a menu together with typical dishes such as couscous, tajine, pastilla, and more. The menu consists of starters, main course, and dessert. The whole class takes around 3 hours for preparing the menu and afterward eating your creation! Learn more about the secrets of Moroccan cuisine in a warm atmosphere with a small group. 
BOOK A COOKING CLASS | Take a cooking class with a local to learn how to make traditional Moroccan dishes.
Wake up early for a hot air balloon ride over the desert
The city of Marrakech is surrounded by mountains and desert landscapes, what better way to admire these surroundings than from the air? Get on your very own hot-air balloon to experience the wonderful views of the red city against the background of the Atlas Mountains and the Sahara Desert. Going up on an early morning flight allows you to see the sunrise, painting the desert in warm red and orange hues. Enjoy the tranquility of hoovering in the air while capturing some unforgettable moments that look like the perfect painting canvas. Can you already picture the sun rising over the oasis of palm groves and its majestic landscapes from a hot air balloon? One of the most magical experiences!
This hot air balloon tour includes door-to-door round-trip transfers from your stay in Marrakech. After soaking up the spectacular sunrise from your hot air balloon, you get to savor an authentic Berber breakfast in a Morrocan tent. All of this takes place in a small group so you can enjoy a more intimate experience.
BOOK A TOUR | Book a hot air balloon ride over the desert of Marrakech.
End the day with a sunset camel ride
Aside from going on a hot air balloon ride, the ultimate thing to do in Marrakech is of course riding a camel in the beautiful Palmeraie (Palm Grove). This way you will enjoy the scenery right outside the city. Actually correction, in Morocco you will ride on a dromedary (the one-humped camel). Many offer half-a-day tours where you also get the chance to drink a mint tea at a remote Berber village after your camel ride. Some even offer the combination of a sunset ride with a romantic dinner under the stars in the desert. You can book a sunset camel tour online via Viator or locally in Marrakech itself.
Make sure to check some reviews on the provider regarding the treatment of the camels. The ethics of riding animals for tourism is something that concerns us a lot as animal lovers, and we do suggest looking into this. This is always a complicated topic, but basically, animals like camels ( just like horses and donkeys) can be used for transportation (unlike elephants!). However, they require adequate food, water, and shelter (and the needed rest). So the price for the camel ride shouldn't be super cheap, to ensure it's enough for the camel's welfare. Of course, don't overpay immensely, otherwise, you are getting ripped off ;).
Adventure through the Palmeraie on a quad
If you are more on the adventurous side and enjoy a need for speed, there are also quad bike tours in the Palmeraie. Enjoy an afternoon of adventure in the desert right outside the city. You will drive by remote Berber villages, stark landscapes, and palm groves. A break takes place at a local family where you can enjoy some Mint tea and snacks. This tour takes place in small groups (usually a limit of 5 guests) so you can enjoy the rugged desert on an intimate ride. For more information about the tour and its safety measures check out this quad-bike tour in the Palmeraie of Marrakech.
We hope this list with best things to do in Marrakech helped you out. You can show some ❤ and support for the blog and help us share more adventures! Our travels are entirely self-funded, so any show of support is greatly appreciated. It allows us to keep writing helpful travel guides and gather information to make it easier for people to discover the world.
Pin it to Pinterest for later!